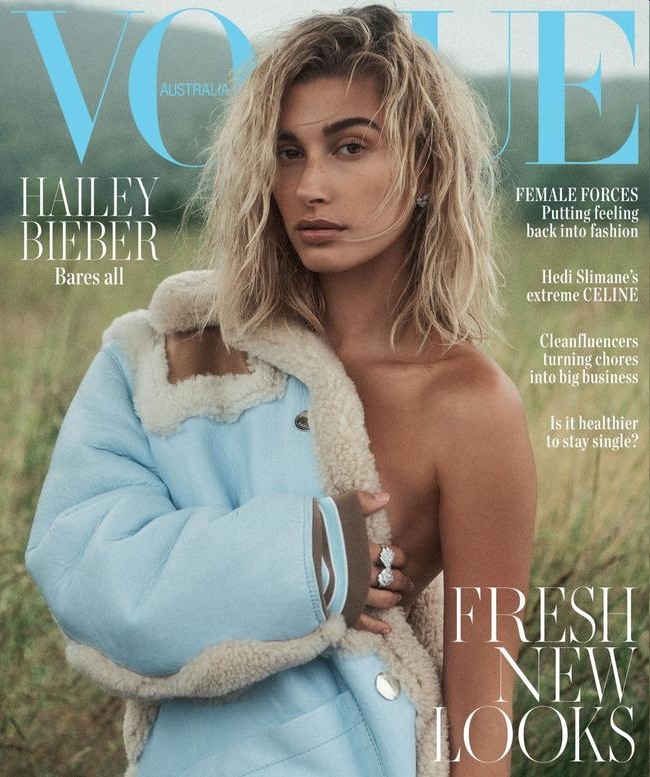 I will fully admit it: I never thought much of or about Hailey Baldwin before she got with Justin Bieber. I thought she was an interchangeable nepotism model who kind of sucked at modeling and had a bland look. I'm not proud of finding Hailey more interesting once she married Justin. In my defense, she legitimately has more of a "look" now, right? Like, she's changed up her look subtly and she's doing more interesting stuff with her hair and makeup. But yeah. I guess I'm that person who finds women more compelling when they're with someone famous. Hailey covers the latest issue of Vogue Australia, and it's a sort of lowkey desert shoot – you can see the photos here. The interview was conducted by Derek Blasberg, who is friends with everyone. He's like 2019's Truman Capote, I guess. Some highlights:
When she gave up ballet: "When I was about to turn 17, I was in Miami doing the summer program at the Miami City Ballet and I had to decide if I was going to stay there and train for the rest of high school or if I was going to go back to New York and try to make it as a model instead. As a dancer, I got hurt a lot, and I didn't know if I was going to be good enough to make it into the company when I was done. I finally said to myself: 'You know what? I don't feel like you're a prodigy at this.' Yes, I loved it and I did it well, but I knew I wasn't going to be a professional dancer. I wasn't devastated, because I was realistic about it."

Her modeling career: "My burn in the modelling industry has been slow and I've had to learn to be okay with that. I'm shorter than most of the girls. Even though I'm five-foot-eight, I'm not a runway girl and I totally used to feel inferior to some of my friends. Look at Kendall [Jenner] and Bells [Bella Hadid] and Gigi [Hadid] … they're all tall and doing every runway. For a while, there was a part of me that didn't know if I could have the career I wanted if I couldn't do runway. I don't think that anymore. I had so many people, like casting directors, say: 'We don't think she's a real model.' It was disappointing until I found my own lane. I don't look short in photos. You can make it work and not have to do runway, and I've done a good job with that. I'm proud of myself for building a more commercial career that worked for me and being confident about it. I've hosted a show, I did major American campaigns, and a bunch of other things that I've really enjoyed. Sometimes I feel like I'm still finding my lane, but now I know I'm going in the right direction."

Whether marriage is still hard: "I said that when we had first married. Look, marriage is always going to be hard and I think good relationships are the relationships that you put the work into. Specifically, I said that when there were a lot of new things. I had never lived with someone before. I never had to cohabit with somebody in that way, so I was learning how to share space with someone for the first time. We were trying to bend in each other's direction and learn what was comfortable… Now it's easier, because we've found a rhythm. We have more fun together, which is what should happen when you spend more time with someone you love."

Going to church: "I grew up in a Christian church, same as my husband, and I've been vocal about my beliefs. That's something that makes a part of our relationship easier, too. When you both believe in the same thing, it eases conflict. It's important for people to have something to believe in. It doesn't have to be Christianity, by the way. The church I go to is what I believe to be true, but that doesn't mean it's going to be true for you, or true for another person. Spirituality and having something to centre yourself is important. I live my life believing that when I die, I'm going to go to heaven. If I so happen to die and there's nothing at the end of it, at least I lived my life believing in something."
She also talks a lot about her personal style (she loves oversized clothing), how she wants to do a skincare line with Justin (since he already owns all of the trademarks) and how they live a very lowkey life when they're at home in Canada. I found the modeling stuff interesting – Hailey does do runway work, but yes, she's more of an editorial/print model. That's how she's been able to fudge her height all these years!
It does sound like she's handling marriage a bit better one year in – the first year was rough on both of them, I think, and they were pretty much in therapy and marriage counseling from the word go. I always get the feeling that Hailey is just.., organized. She's a very logical, organized, driven, focused person. I think she stabilizes Justin and he leans on her strength every day they're together. And I still think that's A LOT for her to deal with.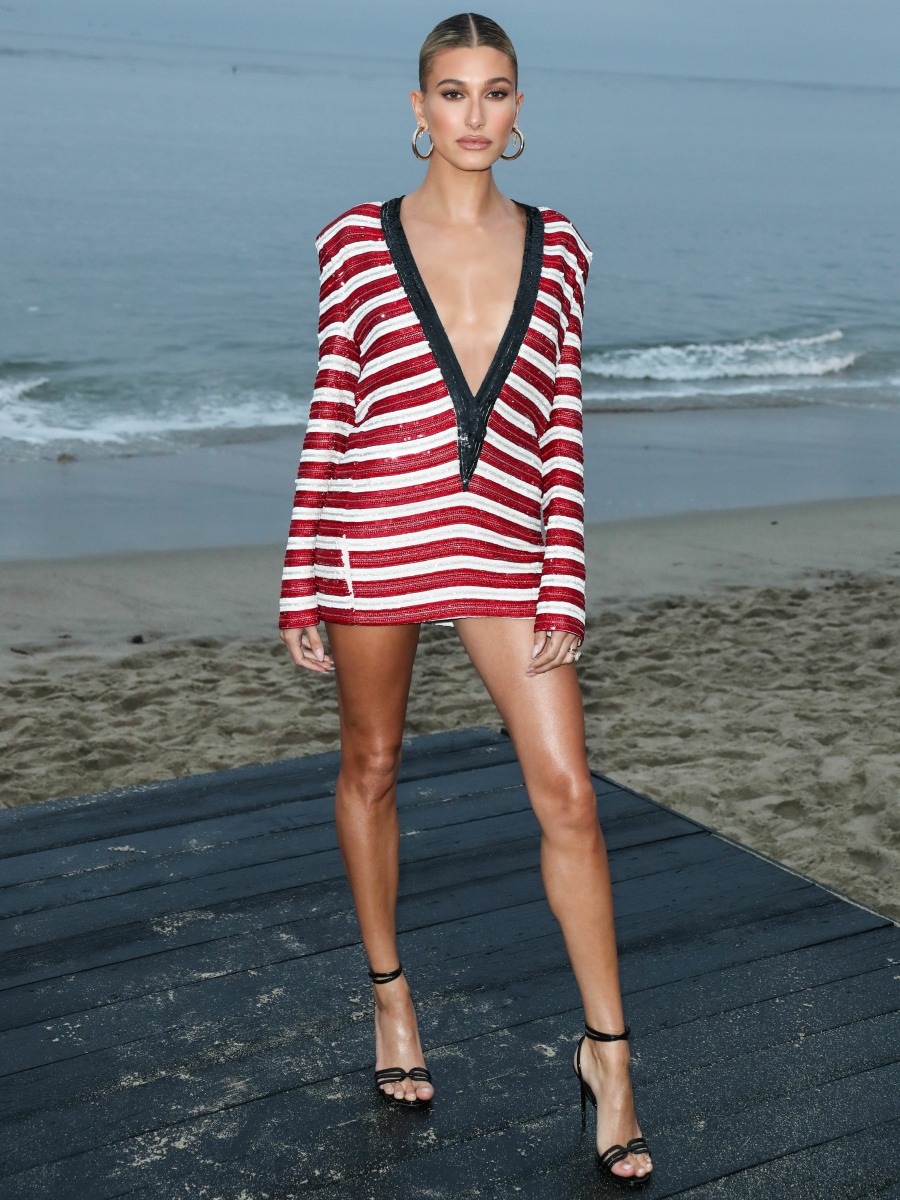 Photos courtesy of Avalon Red, cover courtesy of Vogue Australia.