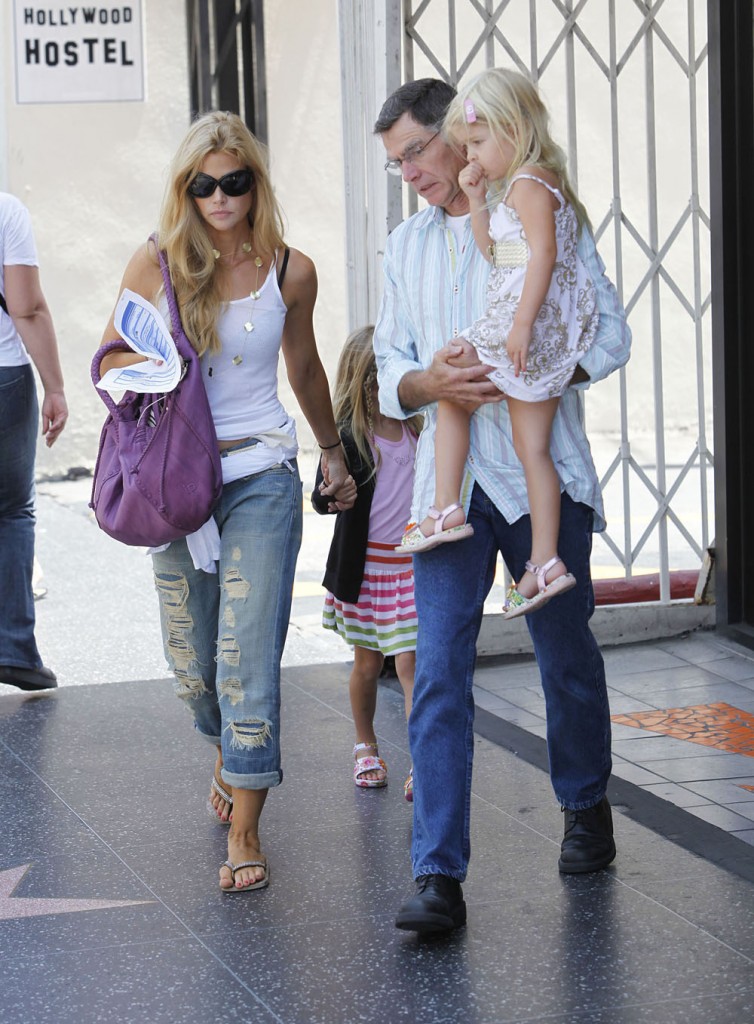 A couple of weeks ago, Star Magazine reported that Bradley Cooper and Denise Richards had gone out for a cozy, romantic dinner at Il Cielo "for almost two hours on July 6." According to Star's sources, "They never stopped talking. Denise was smiling at him, giving him her undivided attention." They even had Bradley wiping Denise's mouth. My thoughts on the report were that, yes, those "Bradley is gay" rumors were probably true. But unlike the constant "Is he dating Jennifer Aniston?" rumors, Bradley didn't come out and issue some kind of pissy-yet-hilarious denial, so I thought that there might be something there. Alas! This time it's Denise Richards doing the denying:
Controversial couple Jon and Kate Gosselin have come under fire in recent weeks following the exposure of Jon's wandering ways, and if there is anyone to empathize with a sticky marriage situation, it would be fellow reality star Denise Richards.

"I've been through a divorce and it's not easy. None of know [sic] what goes on behind closed doors, all I know is there will be light," Richards told Tarts at last week's Give & Get Fete benefiting Dress For Success Worldwide-West at the Frédéric Fekkai Salon in Beverly Hills. "So if I can get through a place of being great parents, there's hope for anyone!"

On the note of love affairs, or lack thereof, the starlet was also quick to slam rumors she was dating Bradley Cooper.

"It's such bullsh-t. I hate it and it's such an example that some of these magazines literally concoct something from a piece of [expletive] and make up this whole story that we're down at the restaurant," Richards scoffed. "It is BS and I barely even met the guy. We were both guests on Jimmy Fallon's show. That is it, it's another one of those. Christ, if it's Bradley Cooper it's fine, but I've had so many awful stories about me but this just pisses me off that they can just make something up and print it."
[From Fox News Pop Tarts]
Jesus, Denise. It's not that horrible to be connected with Bradley Cooper in the press. If anything, it makes him look bad, like he's a serial first-dater, only interested in romancing 40-something women for brief press hits. Or it makes him look gay, whatever.
I actually like Denise, and I'd like to see her with someone hardcore, with a heart of gold. Someone like Sandra Bullock's husband Jesse James, only not him, you know? Someone tough, who can appreciate Denise's gutter mouth, but will still treat her and her daughters well.
Here's Denise with her daughters (and security guard) and her Dad on July 31st and August 2nd. Images thanks to WENN.com .