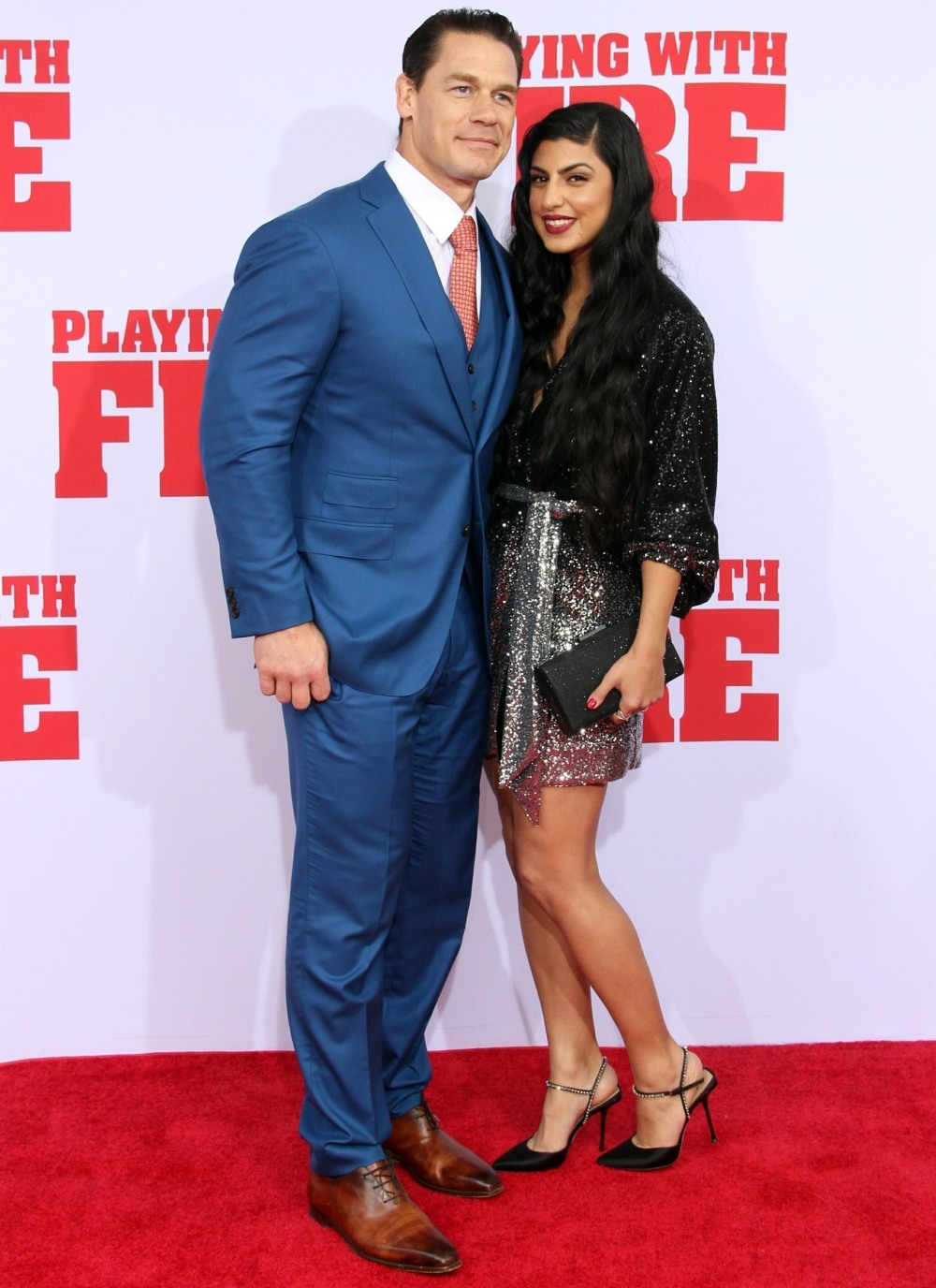 Did you know that John Cena has a pretty new Canadian girlfriend? It's true. They made their coupled-up debut at the LA premiere of Cena's new film, Playing With Fire. Her name is Shay Shariatzadeh and she's not in the entertainment business. She's a college-educated engineer who works for Avigilon in Vancouver. They met in Canada, where I guess Cena was filming a movie. She's very beautiful, but man, does John Cena have a type or what? He loves women with long dark hair, dark eyes and olive skin. I think (??) Shay is Cena's first serious girlfriend post-split from Nikki Bella. And to hear John tell it, he's lucky to have met Shay because he has no "game" with women:
John Cena insisted he's not as suave as people think — or at least he's not trying to be. "No," Cena said, flat out, when asked if he has game. "If I have a connection with someone, I believe we're defined by our actions, and how you treat them is a reflection on how you will treat them in the future."

Cena, who made his red carpet debut with Shay Shariatzadeh at the Playing With Fire premiere just hours later, said he doesn't think his relationship philosophy is gender-specific.

"I think when anyone has a connection with someone, and someone says like, 'Hey, there's something here, and by the way, I appreciate who you are, I appreciate who you want to be, I appreciate how you live your life,' I don't think that's gender-specific," he explained. "I think that's something we all want to hear."
I've seen some weird headlines about Cena's quotes, but really… isn't he just saying that men and women want the same thing, which is to be seen and appreciated? I mean… that's not gender-specific. But the headlines are like "Cena's love is not gender specific" and that's not what he said. Anyway… he sounds like a nice guy. It will tear up Nikki if John ends up marrying Shay and starting a family with her though. Sigh…
Photos courtesy of Backgrid, Getty.