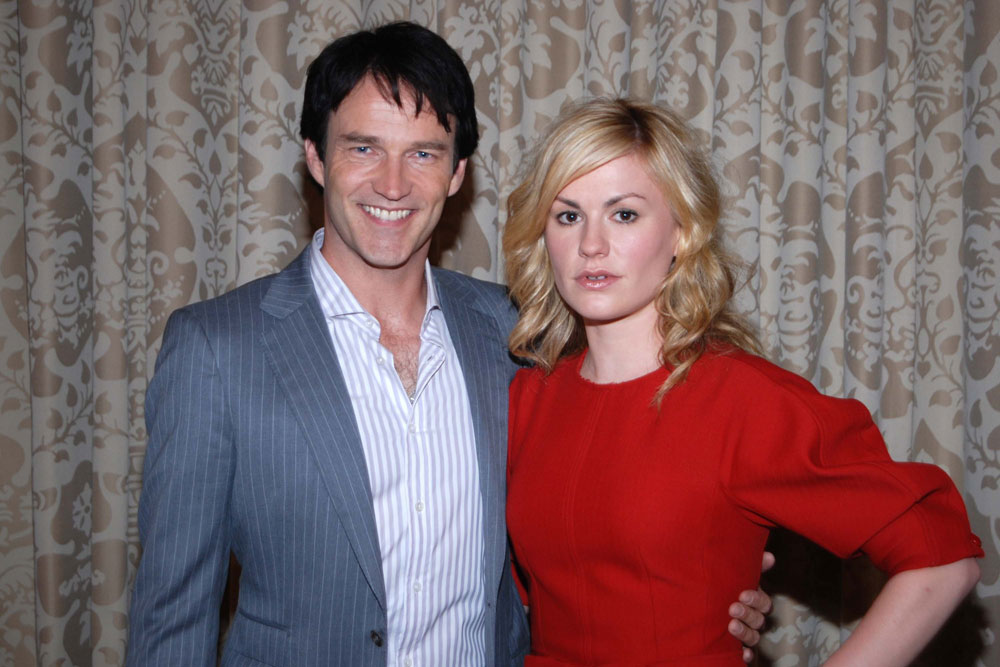 A vampire is getting married! Thankfully it's not Sparkly McDiet-Coke-of-Vampires (aka Robert Pattinson). It's none other than True Blood hottie Stephen Moyer, who proposed to girlfriend and costar Anna Paquin. The engagement news was released yesterday to People Magazine. Anna and Stephen have been dating since the first season of True Blood began filming in 2007. There are even some questions about whether there was some overlap between the end of Stephen's seven-year relationship with British journalist Lorien Haynes, and the beginning of his relationship with Anna. Stephen and Lorien share custody of a daughter, Lilac, and Stephen has an older son, Billy, from another previous relationship.
It's true love for True Blood couple Anna Paquin and Stephen Moyer. The two are engaged to be married, reps for both actors on the HBO vampire series confirm to PEOPLE exclusively.

No further details were available.

Paquin, who plays telepathic Sookie Stackhouse on True Blood, is originally from New Zealand and won a 1994 Supporting Actress Oscar for her role as the precocious child in The Piano.

Moyer, from Essex, England, plays bloodsucking Bill Compton on the series. He also has two children from previous relationships: a son, Billy, born in 2000, and a daughter, Lilac, born in 2002.

Last month, Paquin, 27, said of her nude love scenes with Moyer, 39: "Obviously, if you're already with that person then you're not having to sort of get over the 'Wow, I'm naked with someone that I don't even know the middle name of!' "

For his part, Moyer has said of his lady love, "My girl is hardcore."
[From People]
I think they're a really hot couple, and congratulations to them. But I do wonder about Stephen. He seems to really love Anna, but I question if his devotion will last after True Blood goes off the air. He just seems like the kind of guy who moves on from women very quickly. But I'll stop being such a Negative Nellie. I hope they'll be fine, and I hope Anna gets the wedding of her dreams!
Stephen Moyer and Anna Paquin are shown in the header on 7/22/09, they're also shown in candids on 7/29/09, at an event on 5/2/09, and in stills from True Blood. Credit: WENN.com