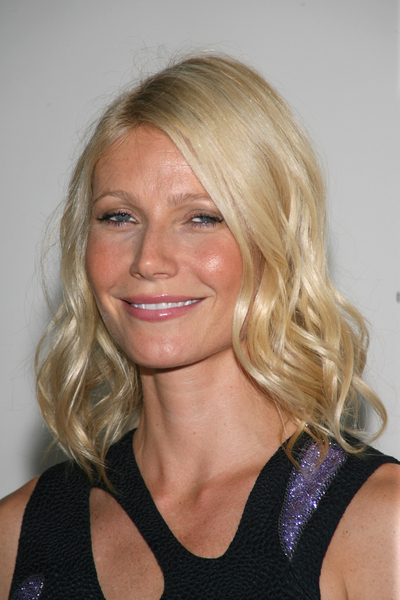 Gwyneth Paltrow knows we're all too fat. She needs us to only eat salads for a while, so we'll be nice and thin for when she returns from her vacation to look down her nose at us. You heard me correctly, the Goop is going on vacation. It's a Goopcation, and Gwyneth dropped the bad news at the end of this week's newsletter, just a brief little "Goop is going on vacation…we will see you in September!" Gah! What will do without Goop? Nevermind, she's left us a few recipes for salads, which I think is the only food we're supposed to eat while she's gone. The salad recipes are reminiscent of the time she taught peasants how to make a sandwich, but not as hardcore as when she taught us to de-bone a chicken.
For the dog days of summer. These very tasty, wonderfully easy-to-make salads are terrific on their own, as side dishes or for rounding out your picnic basket. Love, Gwyneth
[From Goop]
On the menu is a chicken salad that is glorified and goopified with walnuts and arugula to make it better than the "standard deli chicken salad (which does have an appeal of its own)." Gwyneth should have added, "(which does have an appeal of its own…for peasants)." To make a Goopy chicken salad, add "peppery arugula, apple and walnuts to the chicken-mayo-celery combo and finished it off with a squeeze of lime for some zing. I love this as an open-faced sandwich on grilled sourdough." She puts green apple into her chicken salads, which I hate. For me, apples in a chicken salad throw off the texture and overwhelm the wonderful chicken-and-mayo taste.
Gwyneth also has a recipe for an avocado and crab salad with "Marie rose sauce" which Gwyneth describes as "very similar to Russian dressing, is said to have Irish origins." From what I can tell, "Marie rose sauce" is mayonnaise, ketchup, shallot and lemon juice. Isn't that, like, McDonald's special sauce? Just fancy and goopified? Uh… I guess. Her last two recipes are for "cold soba noodle salad" and "Lee's Asian slaw". You can read those recipes here.
Bless her snotty, superior heart, she's trying. She's trying to make Goop a brandequal to Oprah or Martha Stewart. Lately, she's been on a real food kick, and I kind of miss Goopy's musings on clothes and shopping. But, hey, at leastshe's not calling us "roaches". To our faces, at least.
Gwyneth is shown on 7/29/09. Credit: PRPhotos