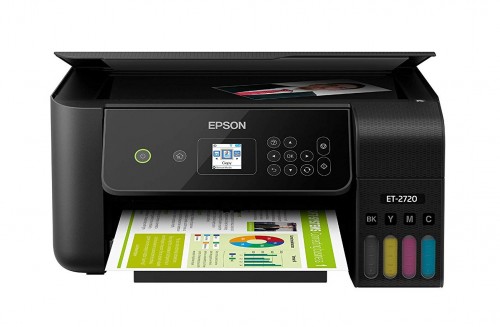 I bought the wedge pillow and it does work to reduce snoring! I've put the memory foam cooling pillow on top of it as I noticed my neck hurt a little if I just used it alone. Plus I use the Bucky with it, that seems to be the perfect combination for me. The older I get the more complicated my pillow situation. A friend who owns a similar wedge pillow says it's great for back sleeping, but it's hard to sleep on your side. I can sleep on my side on it, but it's better for back sleeping if you're considering getting one. I got an Epson EcoTank all-in-one printer about five months ago. It was easy to set up, it's still working great and I'm still on the original ink! Plus I ordered more ink with it so I'm not likely to run out soon. I'm very happy with that purchase.
A little outlet shelf for small appliances and phones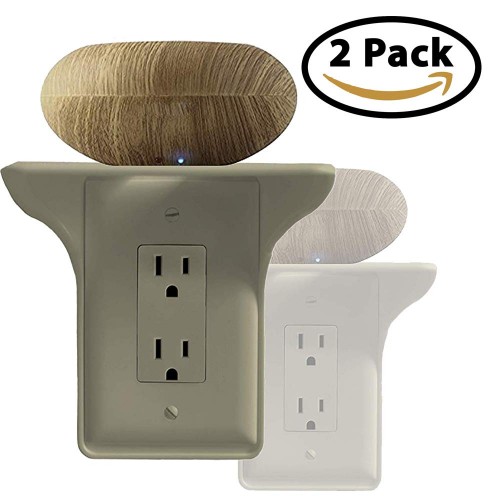 I've seen other outlet shelves recommended which have F ratings on Fakespot. This one has 4.4 stars, 631 ratings and a C on Fakespot. This is a little shelf you put over an outlet to hold small items like your phone or an Echo Dot. You can get two for 9.99. It's called "very easy to install, well made," and "a nifty little perch." People say it holds a lot of weight and works perfectly. You can also use it flipped under to hold items that way. It can hold things like essential oil diffusers, little speakers and baby monitors. You will want to make sure you have screw-in faceplates before purchasing this.
A tank top/bra and leggings hanger to organize your delicates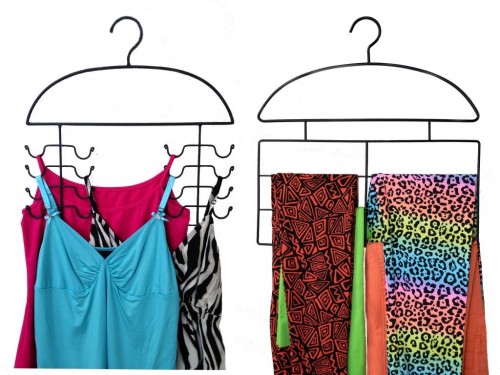 I didn't know that a bra hanger existed but I want one now! This would save so much space in my drawer. This is a set of two specially designed hangers, one which works for tank tops and/or bras and another for leggings or stockings. You can also use the tank top version for lingerie. It's under $10 for a set of both kinds or you can get two of either. This has 4.5 stars, over 2,000 ratings and an A on Fakespot. People call it "very good quality," "sturdy" and a "great space saver."
Under $40 Bluetooth headphones with almost 30,000 ratings and over 4 stars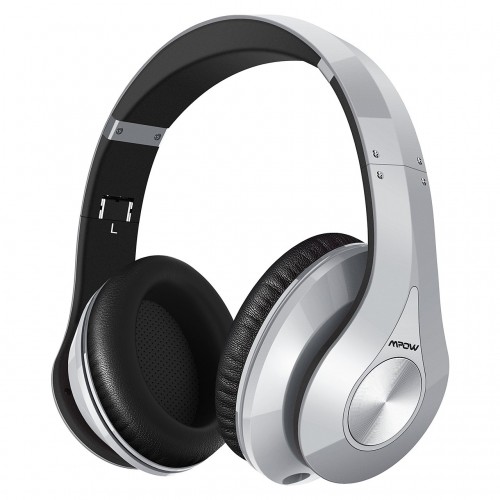 It's so rare you see a product with tens of thousands of ratings like this and it's impressive! Name brand headphones can cost a fortune and if your household is like mine you go through cheaper headphones. These foldable MPow bluetooth headphones range from $30 to under $40 depending on the color. They have almost 30,000 ratings, 4.4 stars and a C from Fakespot, making the adjusted rating well over 4 stars. They're called "super comfortable," "perfect price and quality" and with "clean rich sound."
A bed sheet holder to keep your sheets tucked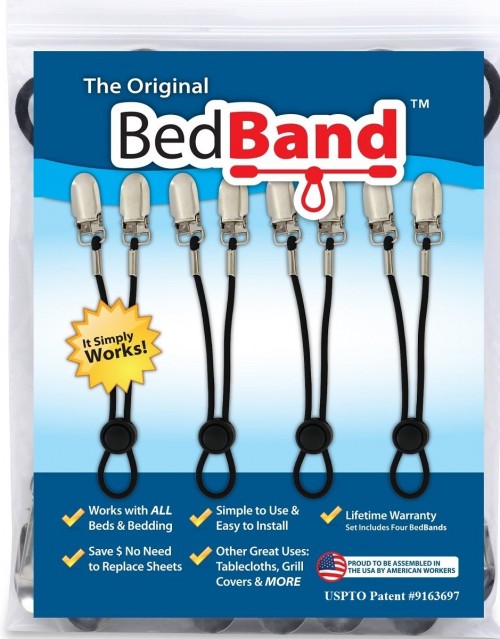 This is a set of adjustable bed sheet holders to solve that annoying problem of fitted bed sheets coming undone. The Bed Bands have 4.5 stars, over 7,000 ratings and a C from Fakespot, making the adjusted rating still very good. People with thick mattress toppers say that they no longer get woken up during the night by the sheets coming undone. Active sleepers who kick off the sheets also like it and say it works well. Reviewers say to buy the XL version as they're easy to adjust to all mattresses.
An easy-to-use auto shutoff outlet for your iron, coffee maker and more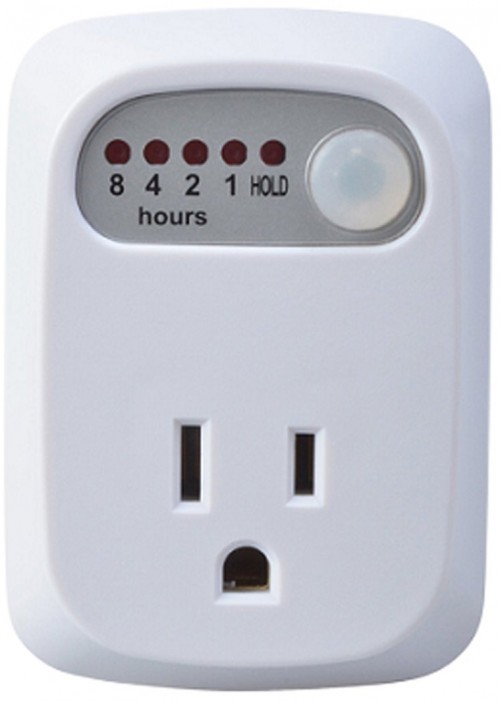 I'm one of those people who constantly worries that I left the iron plugged in because I have done that. My son sometimes forgets too. We have those smart outlets as my mom gave them to me as a gift but I haven't bothered to program them yet. These are very easy to use and understand outlets that would be ideal for you or as a gift. You can set them in four increments from 1 to 8 hour shutoff. They have 4.5 stars, over 300 ratings and an A on Fakespot. It's just $12 for one and there are other versions with two outlets and an outside one with a remote.
A fire extinguisher that takes up less space and won't make a mess, just in case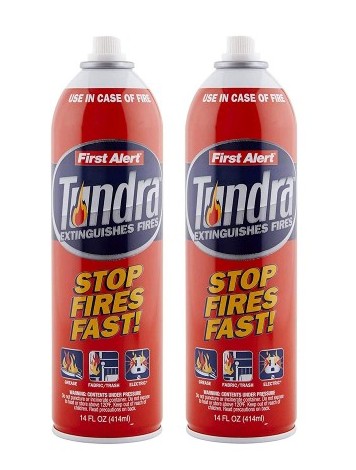 Do you have a can of this in your kitchen? Because if you don't, get one. I've never had the occasion to use mine, but my son and I know where it is. The First Alert Tundra is a fire extinguisher that emits a spray to quickly put out fires. This has 4.7 stars, over 1,000 reviews and a B on Fakespot. People who have experienced kitchen fires say it works fast, is easier to clean up than a traditional extinguisher, and saved their house. Some reviewers recommend that you take a sharpie to the top to mark the direction of the spray so you're not searching for it in the event of an emergency.
A hanging file folder organizer to keep your desk clutter free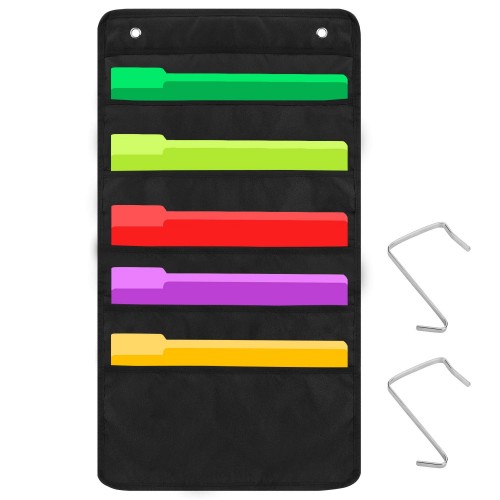 I'm about to set up my new large office and I'm really excited about that! I definitely have an issue with paper clutter. I have a little receptacle on my desk of current papers but I have to sift through everything. This is a hanging file organizer so you can color code and keep all your important papers visible but off your desk. You do have to buy the folders separately. It comes with the hooks to hang it on a door or you can hang it on the wall with command hooks. It's so affordable at under $8 for a 5 pocket or $9 for a 10 pocket version. There are also larger versions and some with slots to label the file underneath. It has 4.6 stars, 87 ratings and an A on Fakespot, unlike all the other hanging file folders I checked. People say it's "very nice quality" for the price that makes "organization at school so easy" and "holds plenty of folders and papers."
A 5 pack of slime for cleaning keyboards, car interiors and other hard to reach places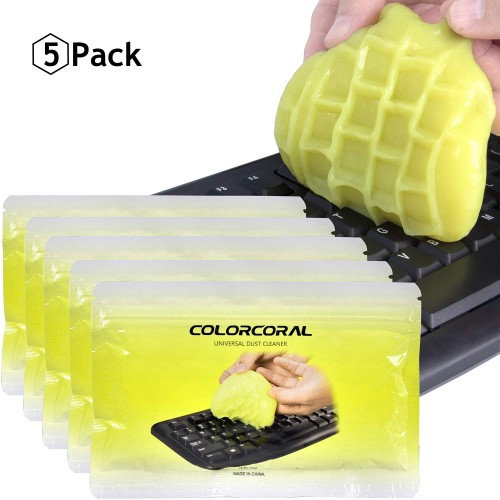 You know the dust that accumulates in your car interior that you're either ignoring or trying to wipe off with windex and not succeeding? Sometimes I steal the grocery cart wipes to clean my dashboard and cup holders. It turns out there's a product for that! This universal cleaning gel is specially made to get into the hard-to-clean and reach spots like keyboards, car vents and laptops. Each pack is reusable, however you're not supposed to wash it. You get a 5 pack for just $12. It's got 4.3 stars, 233 ratings and an A from Fakespot! People say it "works great to pick up dust and crumbs," "gets the dust out better than anything I have tried," and picks up "a LOT of dirt before you have to replace it." They also admit it's really fun to play with.
Thanks for reading and commenting on our affiliate post! If you make any purchases from these links we get a small percentage.