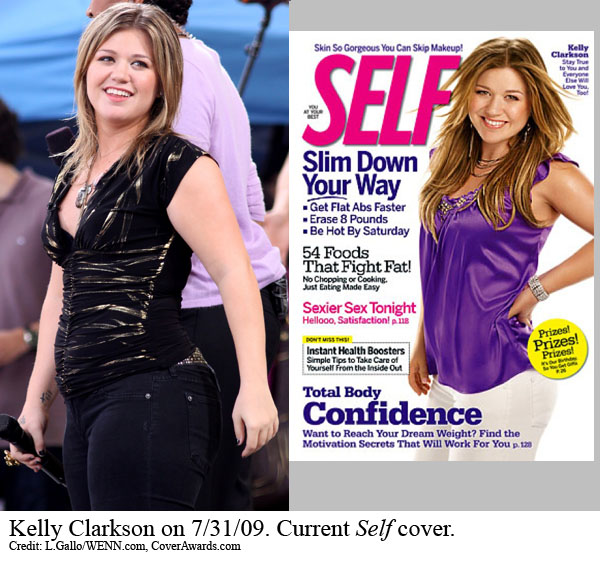 Self Magazine editor Lucy Danziger, who counts J.Lo among her best buddies, has issued a cringe-inducing statement in response to the outcry over how much thinner Kelly Clarkson looks on the cover of Self this month. Without outright admitting that Clarkson was Photoshopped to look thinner, Danzinger claims that the picture was retouched to "make her look her personal best," adding "I think this photo is the truest we have ever put out there on the newsstand." Give me a break. If that's the case, it shows how "true" Self normally is.
Kelly Clarkson may not have an issue with her weight, but a digitally slimmed-down image of the singer on the cover of Self magazine is causing waves online.

Lucy Danziger, editor-in-chief of the women's health magazine, is speaking out in defense of "retouching" the 27-year-old singer in order to make her "look her personal best" on the September issue.

"Yes. Of course we do retouching," Danziger writes in a post on Self.com. "Did we alter her appearance? Only to make her look her personal best."

Calling Clarkson "the picture of confidence," Danzinger writes, "I think this photo is the truest we have ever put out there on the newsstand."

But many readers have expressed disappointment and outrage over the digitally slim Clarkson. "Hey, hi, Self ladies: None this changes or explains the fact that YOU ALTERED THE BONE STRUCTURE OF HER FACE," write one reader on jezebel.com where the controversy is stewing.

Adds another reader: "Taking out red eye and airbrushing a pimple would be making her look her personal best. You completely changed the way her body looked. Why even bother asking Kelly Clarkson to pose in your magazine if you didn't think her body fit into your idea of what was best?"

In the Self article, Clarkson defends her figure. "When people talk about my weight, I'm like, 'You seem to have a problem with it; I don't. I'm fine!,' " Clarkson says. "I'm never trying to lose weight – or gain it," she added. "I'm just being!"

This is not the first photo flap the singer has been involved with: In January Clarkson wrote on her blog that "they Photoshopped the crap out of me!" on her All I Ever Wanted album cover image.
[From People.com]
How haughty was that statement from Danziger? It's like she's saying "Yes, we photoshopped the crap out of Clarkson, but she needed it and still isn't up to the Barbie standard we usually present." What the hell is that "truest" photo crap? That just makes me angry. If they didn't think Clarkson was worthy of the cover, they shouldn't have put her on it. Clarkson is lovely as she is, and it's not fair to her to Photoshop her so much slimmer and then present quotes from her inside the magazine that contradict the image they're presenting. Self's cover this month reveals their priorities. All the large text is about "Slim Down," "Foods that Fight Fat," "Body Confidence… Reach Your Goal Weight," and then – way up in the corner in much smaller font it says "Kelly Clarkson: Stay True to You and Everyone Else Will Love you Too!" Everyone except snotty fitness magazine editors who think you need a lot of help looking your "personal best" and still remain their "truest" cover ever.
Update: I read Danzinger's entire blog entry on this issue, and I stand by my original assessment: it was bitchy. Here's an excerpt where she says she even Photoshopped herself – after she ran the marathon for goodness sake!
When I ran the marathon five years ago, I was so proud of myself for completing it in under five hours and not walking a single step. But my hips looked big in some of the photos (I was heavier then), so when I wanted to put one of them on the editor's letter in SELF, I asked the art department to shave off a little. I am confident in my body, proud of what it can accomplish, but it just didn't look the way I wanted in every picture.
[From Self.com]
Here is Lucy Danziger with J.Lo last August. She helped train Lopez for that mini-triathalon she did at the time. Credit: WENN.com