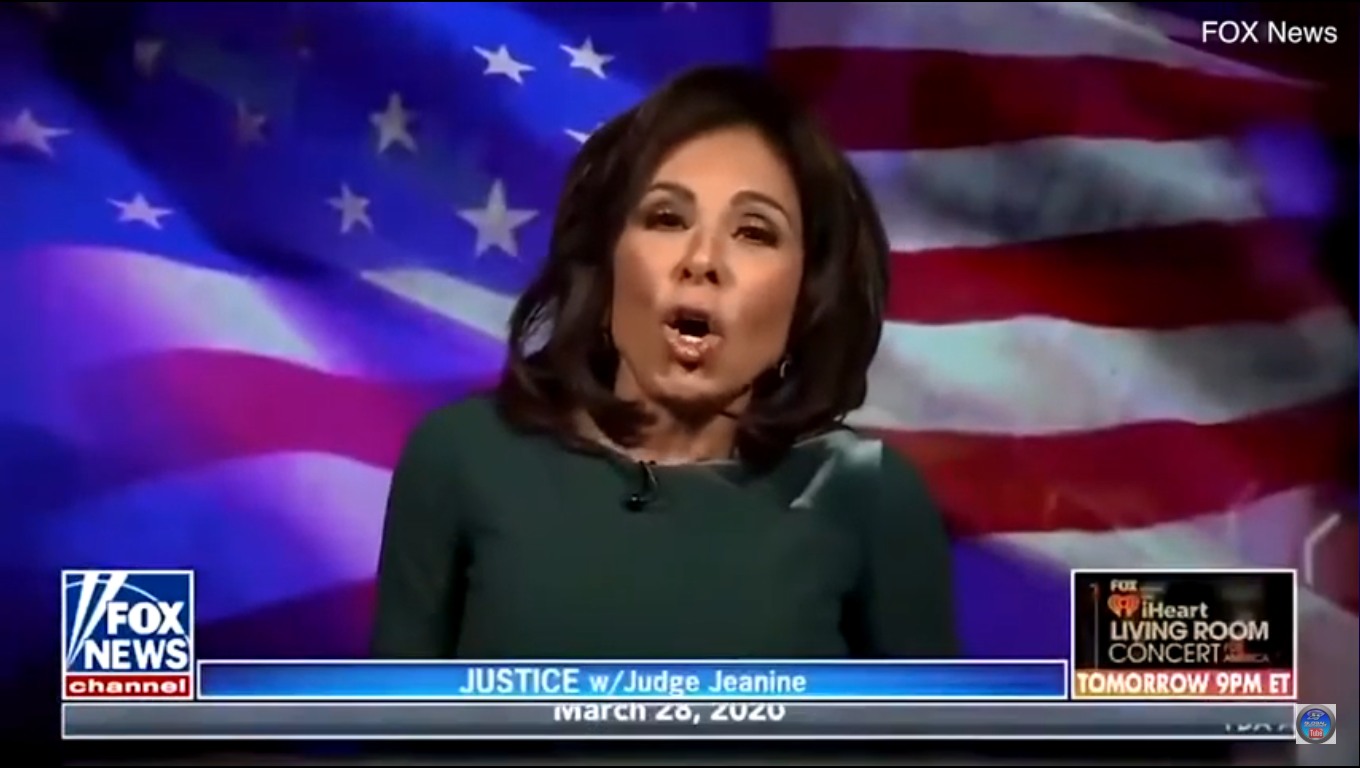 When I do watch cable news, I've been enjoying the glimpses of cable news anchors and link-up contributors in their homes. Many people choose bland office backgrounds for their set-ups, like a bookcase or a blank wall and that's kind of boring. It's also been interesting to see which women (and men) are capable of doing their own hair & makeup for television. I saw that Nicolle Wallace did an okay job with her work-from-home set-up and hair & makeup. But the Fox News ladies are having a tough time. Take Jeanine Pirro, who has a Big Drunk Energy normally. But that energy got magnified while she was broadcasting from home on Friday:
Judge Jeanine missed the first segment of her show tonight because of "technical difficulties" and then hosted the rest of it in this condition pic.twitter.com/KxGGBXUkly

— Aaron Rupar (@atrupar) March 29, 2020
Beyond parody. You can actually see Jeanine Pirro putting down her drink at the top of her show tonight…which was delayed due to "technical difficulties". pic.twitter.com/5hOC11BFtM

— ElElegante101 (@skolanach) March 29, 2020
I used to drink. It's been years, but I still remember that feeling of being really close to "drunk AF" but still managing to maintain some semblance of vague sobriety (in my own mind), and I probably sounded like this. Anyway, Pirro claims that she wasn't drunk on air. Which is a drunken lie.
Jeanine Pirro has denied accusations of being drunk during Saturday's episode of Justice With Judge Jeanine — which was the first to be broadcast from her home amid the coronavirus pandemic. Although several social media users questioned her appearance and demeanor, which included moments when Pirro seemingly stumbled over her words, as well as the Fox News show starting 15 minutes late, both Pirro and Fox News said that technical issues were to blame.

In response to a social media user who claimed she had "drunk girl hair" during the broadcast, Pirro explained that what they were seeing was an IFB, a type of earpiece worn by on-air hosts, "grabbing" at her hair. Pirro went on to write that at the time she was at home with "no staff around to notice," adding that she was broadcasting "in a truck" that had "no connection, no visual and no teleprompter."

Replying to another commenter who claimed she was intoxicated, Pirro wrote, "Keep hating. U wear it well."

In a statement, Fox News said "several technical difficulties" were at play during the broadcast.

"Jeanine Pirro was broadcasting from her home for the first time when she encountered several technical difficulties which impacted the quality of her show, including the loss of a teleprompter," a Fox News spokesperson told PEOPLE. "As we have previously said, we are operating with a reduced staff working remotely to ensure the health and safety of our employees in these unprecedented times."

A source close to the network told PEOPLE that Pirro was not drunk and does not drink. The source also said there was no producer at Pirro's home as everybody is currently working remotely. In addition, there was no one to do Pirro's hair and makeup.
Yeah, I actually believe that it was a clusterwhoops of bad sh-t happening, from technical difficulties to a janky wig to having to apply her own makeup with a shovel. But let's be clear, she was absolutely drinking. Maybe she wasn't "drunk" in the way an alcoholic would judge their sobriety. But she had definitely been drinking.
Anyone who's been as drunk as Judge Jeanine knows she did an amazing job tonight

— Helen Manfred (@helen_manfred) March 29, 2020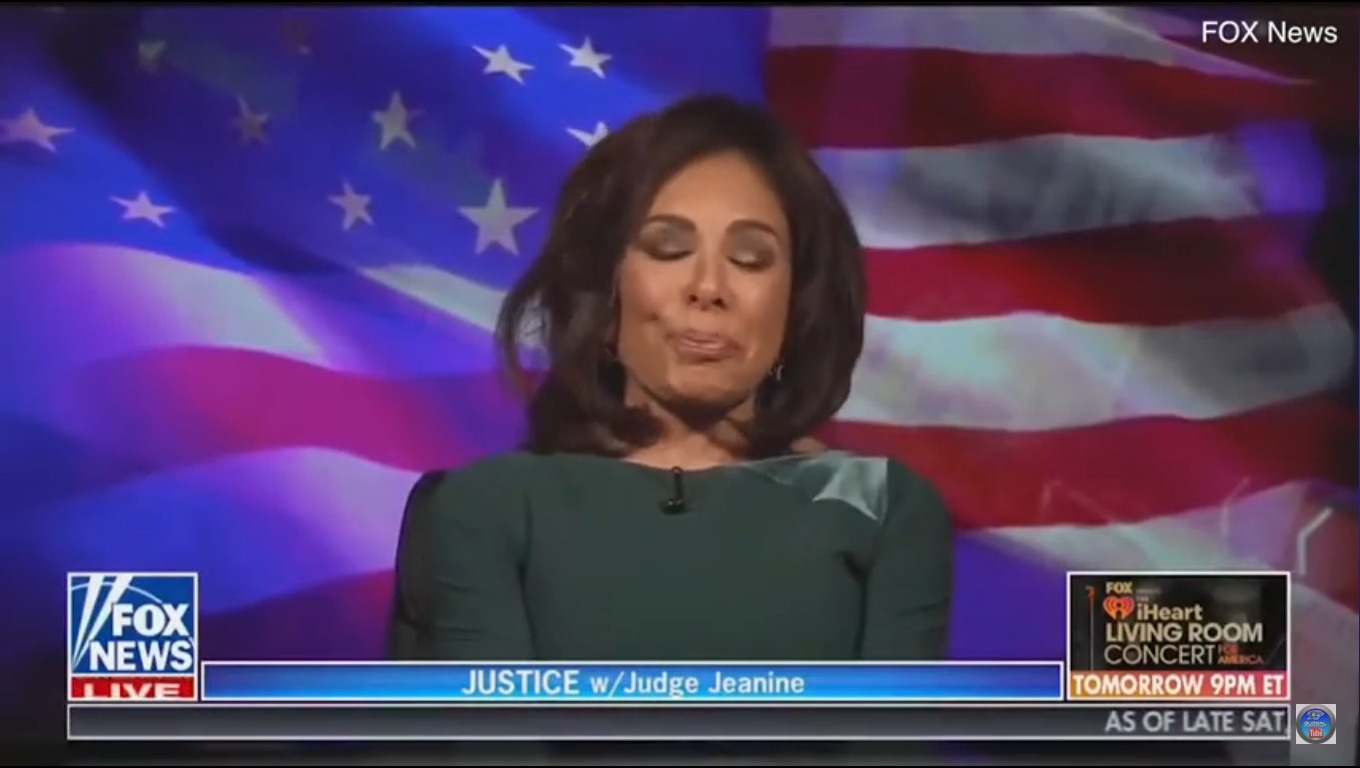 Photos courtesy of Fox News.