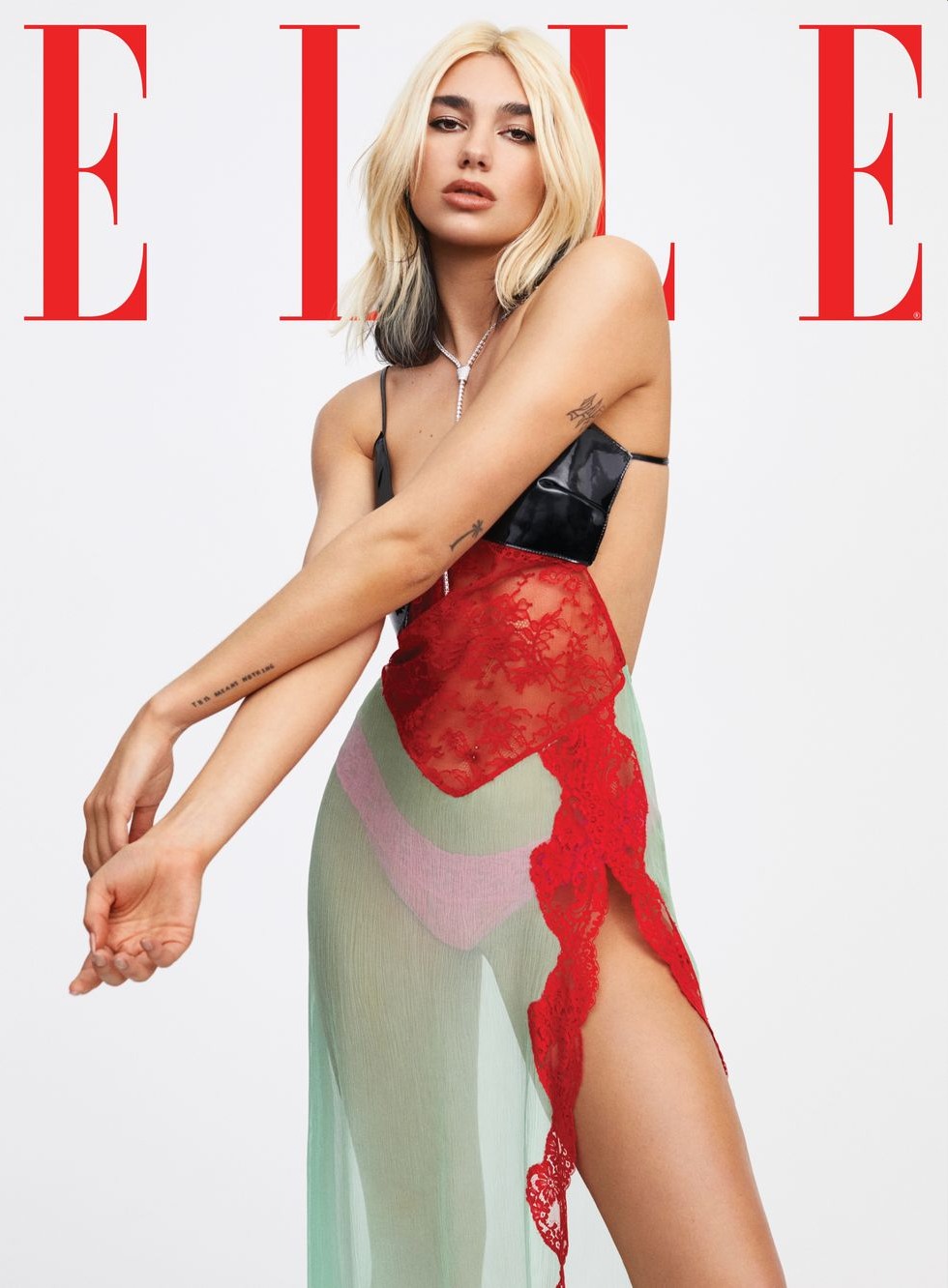 Dua Lipa covers the May issue of Elle Magazine. Almost all of the May issues had completely their cover stories pre-pandemic, so what most magazines did was just call their cover subjects during the pandemic for a few new quotes about this brave new world, then the mag will just tack on those quotes at the beginning or end of the profile. Not Elle! They did a whole new interview with Dua while she's isolating with her boyfriend Anwar Hadid in an Airbnb in London. The print magazine will have the original interview, while Elle online carried the new interview, conducted via Zoom. It's kind of cool. You can read the online version of the cover story here. Some highlights:
A London quarantine: "London tends to be one of those places where it's always gloomy and rainy—and that's not to say that the weather won't change in a couple of days, but now the trees are fully blossoming, the sky's completely blue. It's nice to see the earth almost replenishing a little bit. Everything's kind of taking a breather."

Her new album leaked anyway, so she decided to not delay the release: "But I think [the leak] just kind of solidified my choice that I wanted it to be out April 3 anyway. This is me going into my celestial beliefs, but it was like, Okay, this is just how it's meant to be. And I am really grateful that the music is out."

Doing promotional appearances via Zoom & video link-ups: For this entire virtual promo tour, Lipa's done her own hair, makeup, and styling, and considers it "a small price to pay in the grand scheme of things."

What she & Anwar have done in quarantine: "Oh my God, I've watched so many shows—Ozark, Tiger King, The Night Of, The Outsider, Servant, did I say Ozark? And lots of movies, too. I love to make lists, and normally it would be, like, lists of restaurants and places to go and stuff to do with friends, whereas now it's movie lists, and series lists." She and Hadid also recently cooked octopus, an impulse buy from a farm-to-table app. "We were just buying our normal fish and stuff, and octopus came up. So we said, 'Okay, let's try something different.' It's about making things fun, coming up with different recipes, trying out things that we've never done before."

They've had hard times too: "Of course Anwar misses his family, and soon we'll hopefully get to go back and see them… but now that we get all this extra time, we're just making the most of it. And that's been really nice. We're trying to see the bright side."

Whether the world will change post-corona: "I think things will definitely change. I think we'll tread differently with Mother Nature—we won't be as careless as we have been. I think we'll be more empathetic and make moments count. We won't take things for granted. I think our world is probably going to change forever…. I don't feel like we'll want to be reminded too much of this time. Of course, this is a major moment in history that we won't forget. But I don't know whether that's going to influence where my music is going to go next."
I tried and failed to get into Ozark and I just couldn't. Ozark fam, what am I missing? Should I try it again? I also tried to get into The Outsider, but my problem there was that I tried watching an episode out of nowhere, and I didn't understand anything that was happening. As for Dua's vibe… I think there's a fine line between being oblivious to people really struggling and simply trying to be positive in a bad situation. I think Dua walks that fine line – she seems happy to have had this "time off" and she's making the most of it and doing the best she can in lockdown.
PS… I'm pretty sure Elle Photoshopped the crap out of her thighs and crotch because her proportions on this cover make her look like she has doll parts.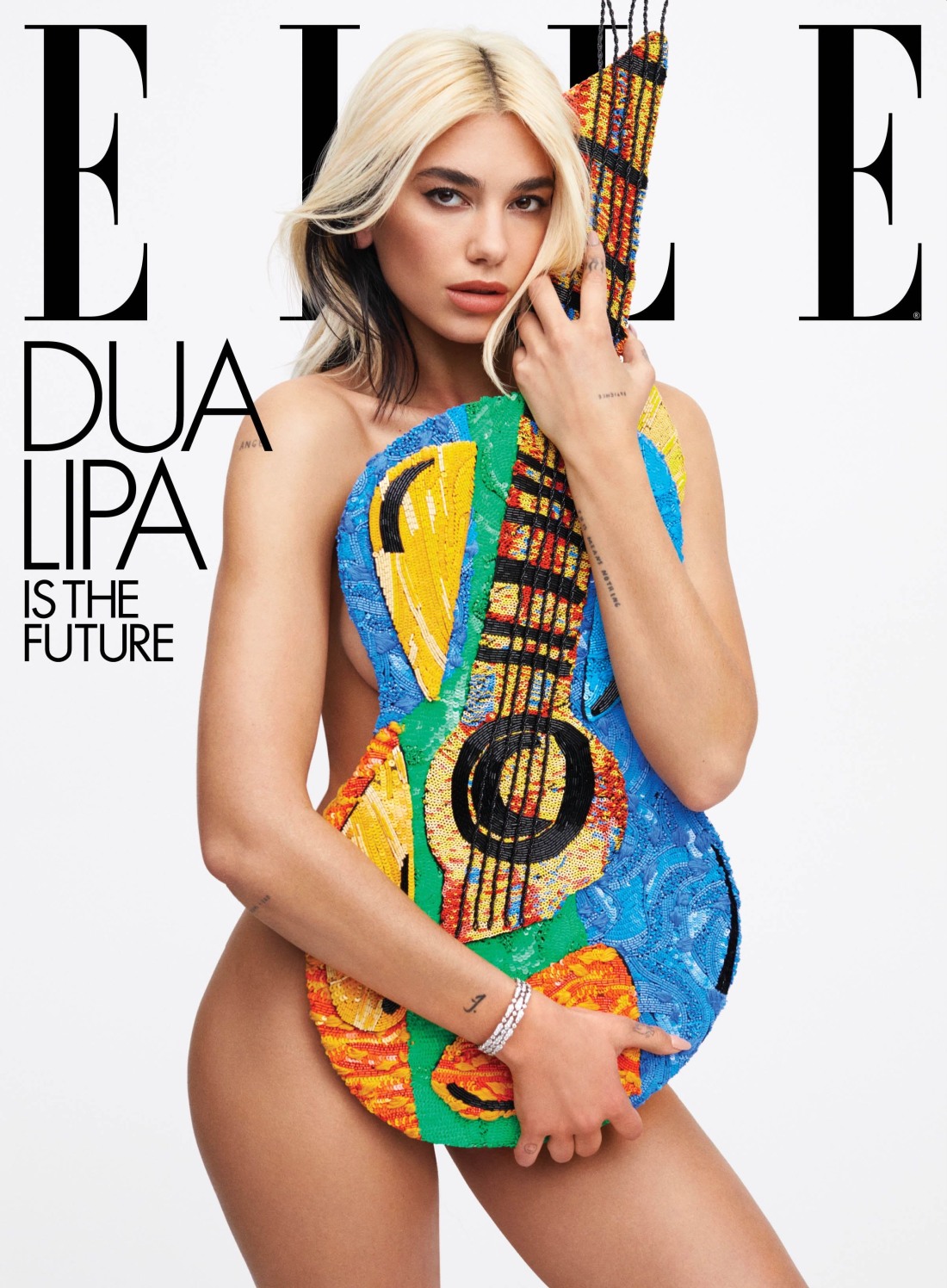 Covers courtesy of Elle.