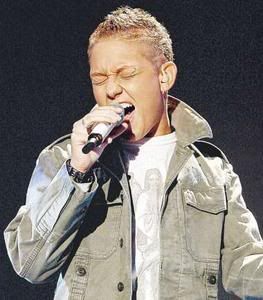 25 year-old Didi Knoblauch, who made it into the top ten of Germany's Idol on a technicality when one of the other finalists had to leave, recently admitted to being a woman trapped in a man's body. Didi, who was born Diana Knoblauch, told Germany's Bild that he felt like a boy from a young age. (Article is in German)
Didi, whose over-the-top out-of-tune performances and arrogant personality made him an unlikely Idol star, inexplicably lasted until the Top 5. He swayed and swaggered on stage in an attempt to overcompensate for his lack of masculinity. When told by one of the judge that a performance was poor, he snapped back that at least he was a better singer than the judge.
Didi, aka Diana, had surgery at a cost of 2,200 Euro two years ago to remove his breasts. He is considering cosmetic surgery that will create a penis out of skin taken from the forearm, but the operation is out of reach at more than 50,000 Euro.
In the interview with Bild, Knoblauch, whose last name means "Garlic" in his native German, said that he was dumped by his girlfriend 9 months ago and is not over it. He also said that the women who date him are not looking for "Long John Silver," they fall in love with him as a person. He also claims to be a favorite of his girlfriends' mothers.
We wish all transsexuals a happy and productive life in a body that they're comfortable with. There's nothing wrong with that and society should be more accepting. Didi is just an idiot and will remain so regardless of the gender he chooses.
Here is Didi's official website, and here he is with some thrilled fans. Two more pictures after the jump