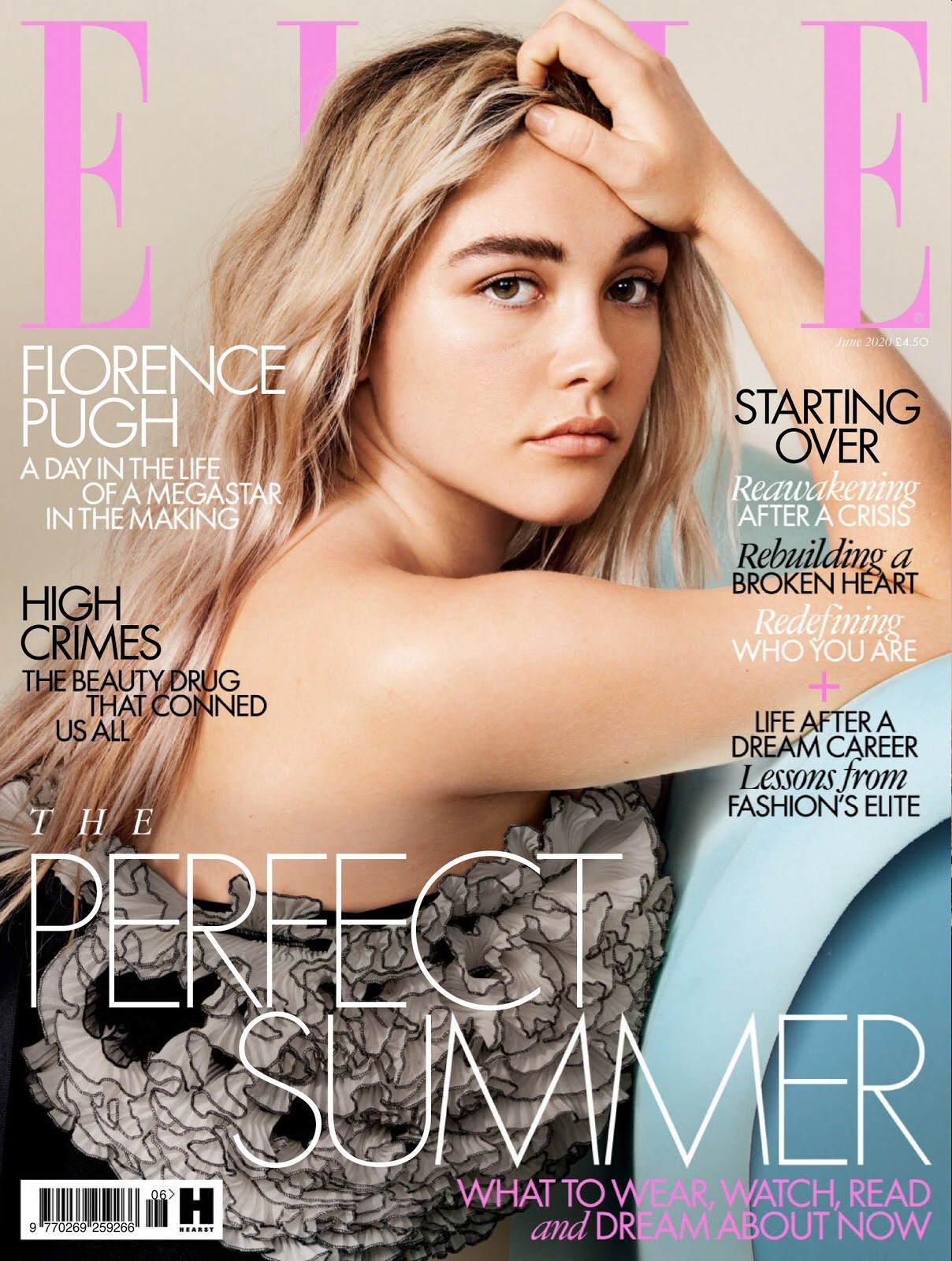 Having finally watched Little Women during the lockdown, I can safely say some stuff about Florence Pugh – she did her best with what was written in that role, but the film is such a trainwreck and the script adaptation is so awful, I find it shocking that Florence was nominated for an Oscar for THAT and not Midsommer. She was SO much better in Midsommer, and that film worked (while Little Women did not). Anyway, Florence covers the latest issue of Elle UK, in an interview which took place in two parts: in London just a few weeks after the Oscars, and then in LA during the lockdown. Florence was supposed to be promoting her role in Black Widow (she plays ScarJo's sister), but like so many actors, she promoting something which got pushed back because of the pandemic. You can read the full Elle UK piece here. Some highlights:
She's been cooking in lockdown: 'When the world lockdown started and it obviously got serious very quickly, I found myself desperate to chop. Feed. Eat. Repeat! It keeps me calm, stirring and creating.' She's not been immune to the sourdough-making frenzy either: 'I've become a sourdough bread creator. 've saved a slice of each loaf in the freezer so my mum can try the progress, from beginning to end when the lockdown eases.'

Lockdown self-reflection: 'I was so surprised by how unkind I am to myself! Living in lockdown I found there's no point or energy in being annoyed at yourself for not reading that book, writing that song or working out that day. I'm teaching myself to find joy as much as I can and ease in these open long days.'

Her relationship with Zach Braff, who is 21 years older than her: When paparazzi shots emerged of them holding hands trolls weighed in on the Scrubs actor saying: 'You're 44-years-old', Pugh replied with the simple retort: 'And yet he got it'. When she looks back on her reply, she says it was 'necessary'. 'Because people need to realise that it's hurtful. I have the right to hang out and be with and go out with anyone I want to.'

The attention on her love life: 'I've always found this part of what people do really bizarre. I'm an actor because I like acting and I don't mind people watching my stuff, but people have no right to educate me on my private life.' She is, however, aware that dating another actor might attract more attention: 'I know that part of being in the spotlight is that people might invade your privacy and have opinions on it, but it's bizarre that normal folk are allowed to display such hate and opinions on a part of my life that I'm not putting out there. It's a strange side of fame that you're allowed to be torn apart by thousands of people even though you didn't put that piece of you out there. I don't want to talk about it because it's not something I want to highlight, but my point to all this is that isn't it odd that a stranger can totally tear apart someone's relationship and it's allowed?'

On the reports of a Marvel-mandated diet & fitness regime: 'When I got the job, I wanted to know what the regime was. I wanted to know whether it was them or me calling the shots. That was a big deal for me. I didn't want to be part of something where I was constantly checked on. And people making sure I was in the "right" shape. That's not me at all.' Still, she says she ate well, cooking in the morning and taking in a Tupperware of homemade food each day. 'Scarlett had this amazing guy who cooked beautiful things for her and her team. I thought that was clever because you're doing fitness all the time and you need to have someone who's on top of what you're eating and the nutrients you're getting. I remember her asking, "Why are you cooking for yourself? Just let us feed you!" And I was like, "Nope.'"
I've heard from many other actors that Marvel is perfectly willing to set their actors up with full-time specialty chefs and full-time fitness people, so it's interesting to me that Florence refused that because she loves to cook. I wonder about that. I'm sure Marvel hired a full-time fitness person for her though. As for the Zach Braff stuff… I mean, it's her business and whatever. I continue to be amazed by the sheer volume of people who think it's okay to go into a celebrity's social media profile and insult them in the comments. That to me is crazy-rude. But it's also idiotic for Florence to be like "IS THAT ALLOWED?" Yes, people are allowed to have rude opinions.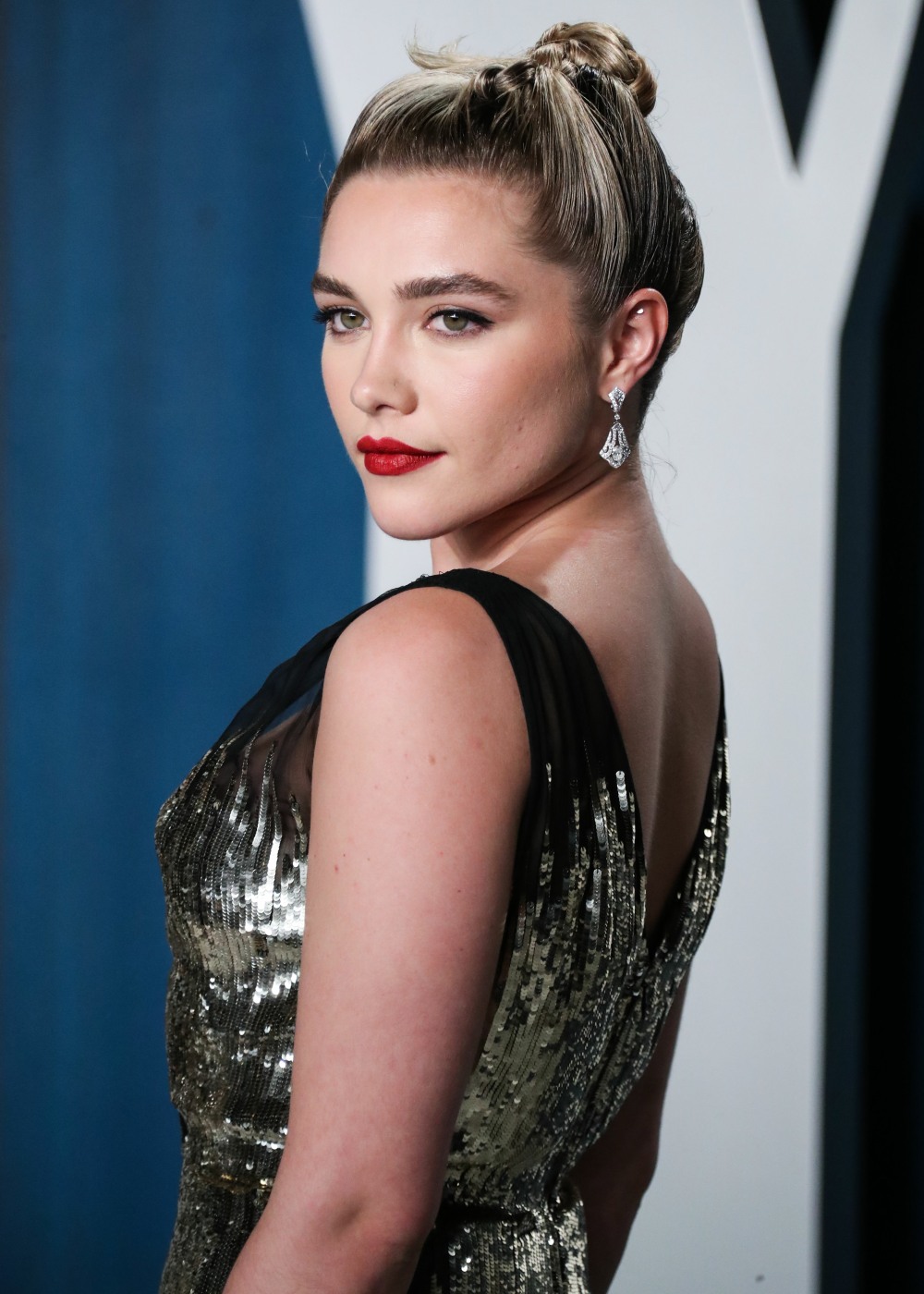 Cover courtesy of Elle UK, photos courtesy of WENN.