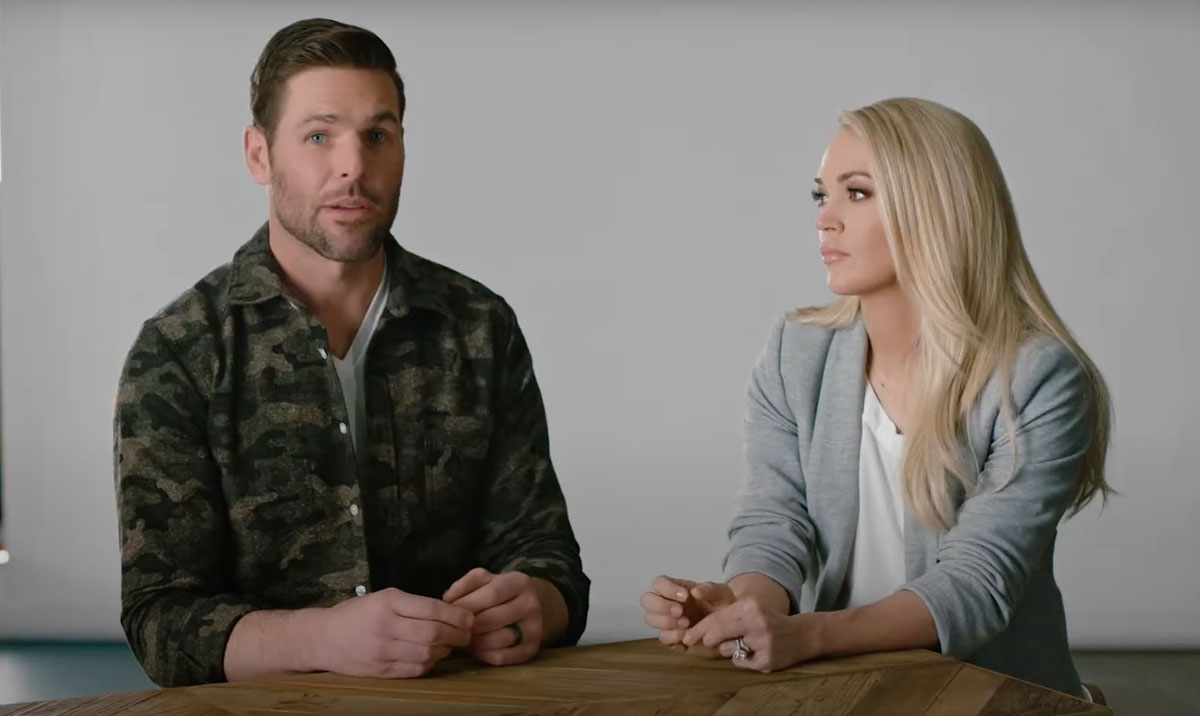 I was talking to some friends on Zoom Sunday about lockdown breakups we're anticipating. Carrie Underwood and Mike Fisher came up, particularly because we've heard for years that their marriage is strained, but also because Carrie just posted a bikini pic. When women who don't typically post photos like that start doing it, my spidey sense goes up. Well Carrie might have actually been promoting something, because CMT just covered the fact that there's a four part series with Carrie and Mike, premiering tomorrow, called God and Country. I really hope someone else does the highlights for me, but I'll watch it if I have to. It's going to be published on a site called I Am Second, which Wiki calls "a platform for Christian evangelism." It's a non-profit founded by Norm Miller, the CEO of Interstate Batteries. Anyway Carrie and Mike are being used to get the message out about Jesus, because he doesn't have enough followers in 'Merica. (I'm sorry for phrasing it that way! I respect Christianity's core beliefs, just not the way they're misinterpreted and weaponized by the right.)
In the series trailer, Underwood admits that she always swore she'd never marry a hunter before she met Fisher. "As a child, never, not in a million years. We just differ drastically," Underwood admits.

And after their storybook wedding in 2010, when their first son Isaiah came along in 2015, she recalls thinking, "Oh my gosh. I'm in love," she said. But after Isaiah's birth came three miscarriages, and Underwood explains how that was when she chose to lean into her faith instead of away from it. "I just had an honest conversation with God. I was hurt," she says through her tears, "and I told Him how I felt."

According to a press release about the series, the show will giver viewers an up-close and unfiltered glimpse into Underwood and Fisher's life together, their relationship and faith, along with some much-needed inspiration on how they continue to sustain their marriage and find purpose beyond their careers as a country singer and a retired NHL player.

"We wanted to do this to share some of our personal journey in hopes that viewers will be inspired by it, and maybe even take one more step in pursuing a relationship with God," Underwood said of the new series.

"Since first filming with I Am Second six years ago, I have seen God continue to grow my faith as Carrie and I have together walked through the natural joys and struggles of life. This new series is not only a continuation of the 2014 White Chair film, but hopefully a reminder to individuals of God's faithfulness in all situations," Fisher added.
I watched the trailer, below, and Mike seems kind of… how do I put this, pretty but dim. That could be because he's got one of those faces that doesn't look real. It's telling that Carrie said "we just differ drastically" and "I was never good with other people's kids" while Mike said that he's always wanted "lots of kids." Carrie and Mike got married in the summer of 2010. She said, later that year and as late as 2012, that she wasn't planning on having children. She and Mike have son Isaiah, 5, and Jacob, 1. (She's been open about her miscarriages, which were in 2017 and 2018.) So something changed for them to have kids, but I've always had the impression that it wasn't Carrie's idea at first.
Here's the trailer.