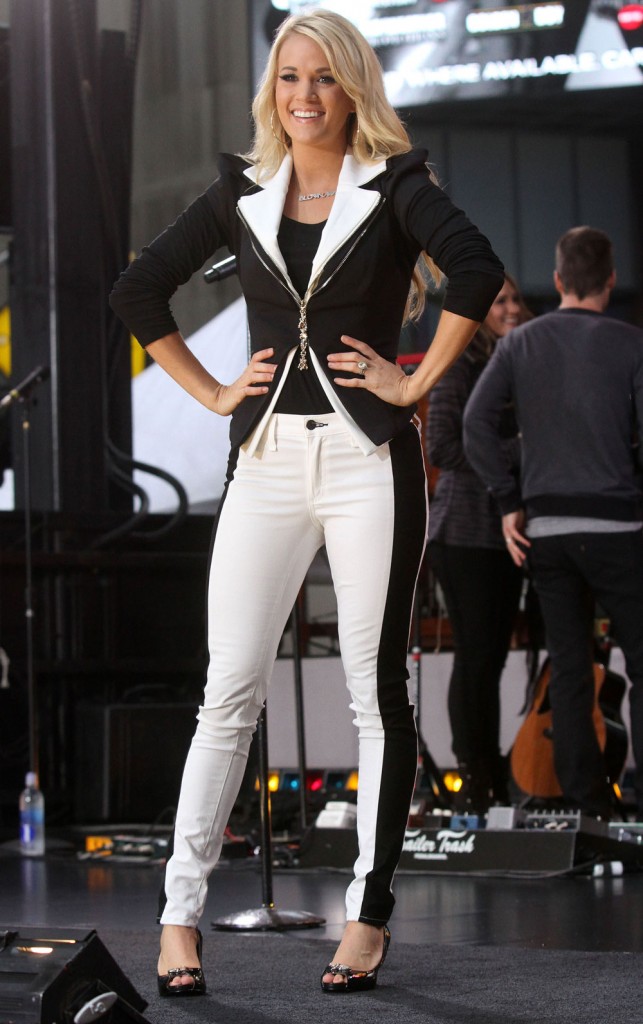 Carrie Underwood has a new interview in US Weekly to promote her album and upcoming tour. Carrie, 29, has been open in the past about how she's not ready to have kids with her husband of a year and a half, hockey player Mike Fisher. She's also used almost this exact same PR stance before – she's just like us. It may be true and I don't doubt that she does things around the house and likes to watch TV like everyone else. She had an US Weekly cover and accompanying interview last year around this time that was very similar to this one. At that point she was trying to present a softer image after some stories came out that she was bitchy and difficult. I think it worked in that we haven't heard any negative stories about her in a while. In this one it sounds like she's trying too hard to convince us that everything is fine in her marriage. Maybe it is, but it just gets my spidey sense tingling. Here's some of what she told US, with more in their print edition with Guiliana and Bill on the cover. (Do you think Carrie was hoping for another cover with this interview? Of course she was.)
You kissed a lot of frogs before Mike, huh?
I've had my share of loves gone wrong. But I couldn't ask for a better husband and best friend. I'm finally happy in love, so there's a reason some things don't work out. At the time, it seems like the world is ending, but then something great comes out of it and you realize everyone ended up exactly where they belong.

What's your big secret to a happy marriage?
We don't bring our work home with us very often. Because we're so busy, we make our time together count, like by going on date nights. And while we love being together, we also realize time apart is important, so we try not to crowd each other. I love a good girls' night out just like he loves hanging out with his friends.

Describe a typical weekend? Do you even have one?
We're the most normal couple in the world! What I enjoy most is a quiet day at home with Mike and our doggies. We watch a lot of TV – I've seen every episode of American Idol this season, and we love Modern Family and The Walking Dead. And I do laundry, buy groceries and clean the house. I also make tofu-salad sandwiches and healthy versions of comfort food, like pizza and quesadillas.

Sweet! It must be tough to go out on the road.
I'm actually excited to tour again this fall, and Mike always comes to every show he can. It'll be hard to be away from him for so long, but he is so understanding and supportive – just like I am with him during hockey season.

Any plans for kids?
We're not looking to have children any time too soon. Both of our lives are so crazy. Something would have to change drastically in our schedules before we can entertain the idea. But for now, married life is wonderful.
[From US Weekly, print edition, May 14, 2012]
Does it sound to anyone else like she's laying it on thick? The "most normal couple in the world" and "married life is wonderful" stuff is what got me. If she really feels that way, then good for her I guess. It just sounds like she's overcompensating.
Here are some photos of Carrie performing on GMA Tuesday, and in LAX yesterday. That pant suit is just ridiculous. I saw those photos on Lainey Gossip yesterday. Lainey also linked to this story on ESPN with Carrie being interviewed about her husband's hockey career. They asked her for three things she loves about playoff hockey and she said "winning, winning and Mike winning." She's hardcore. The photo of Carrie with Mike is from January, 2010.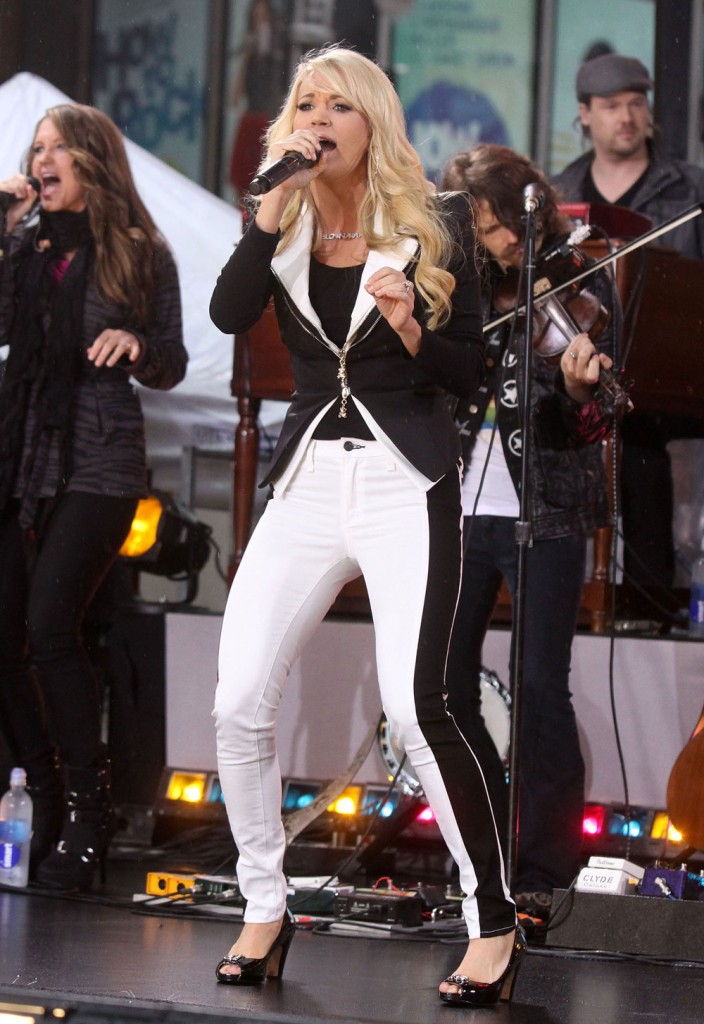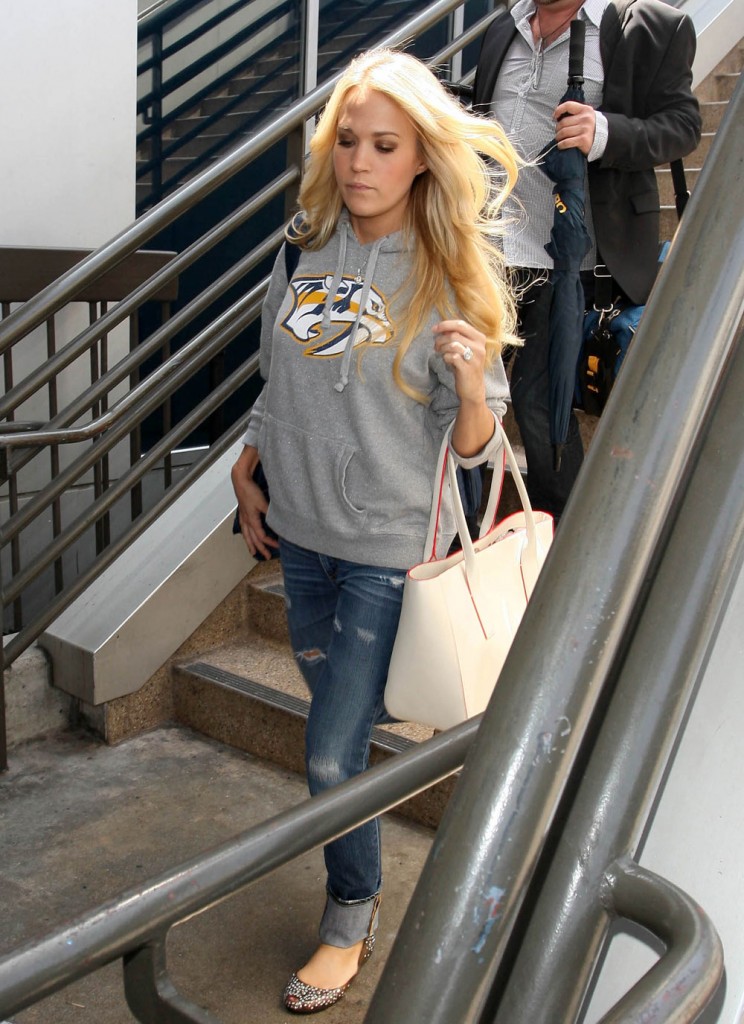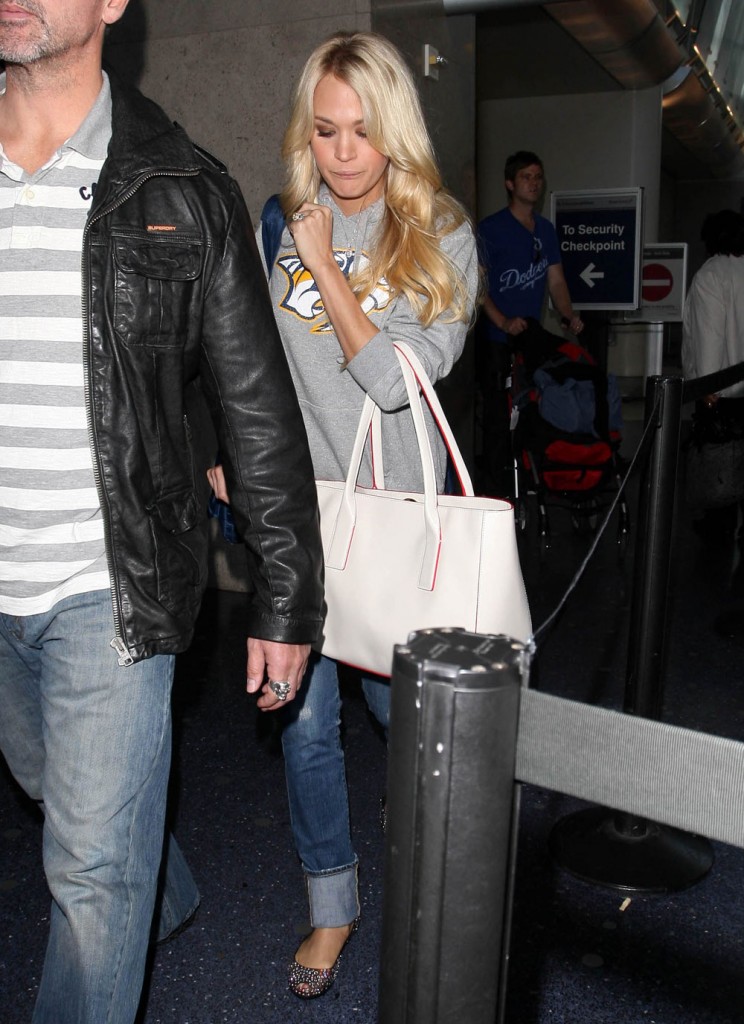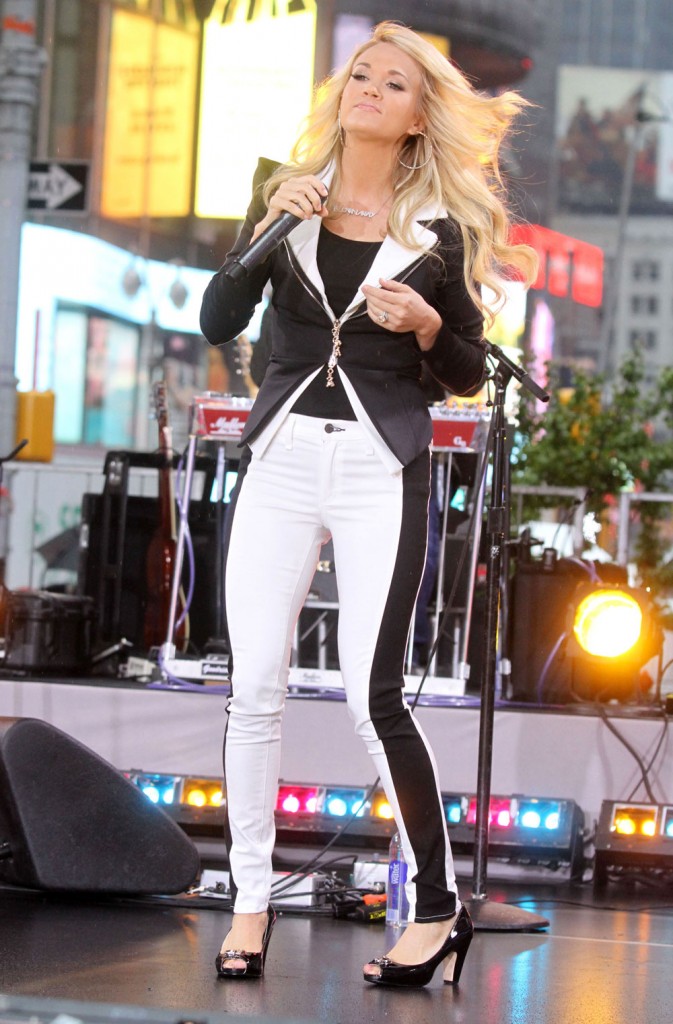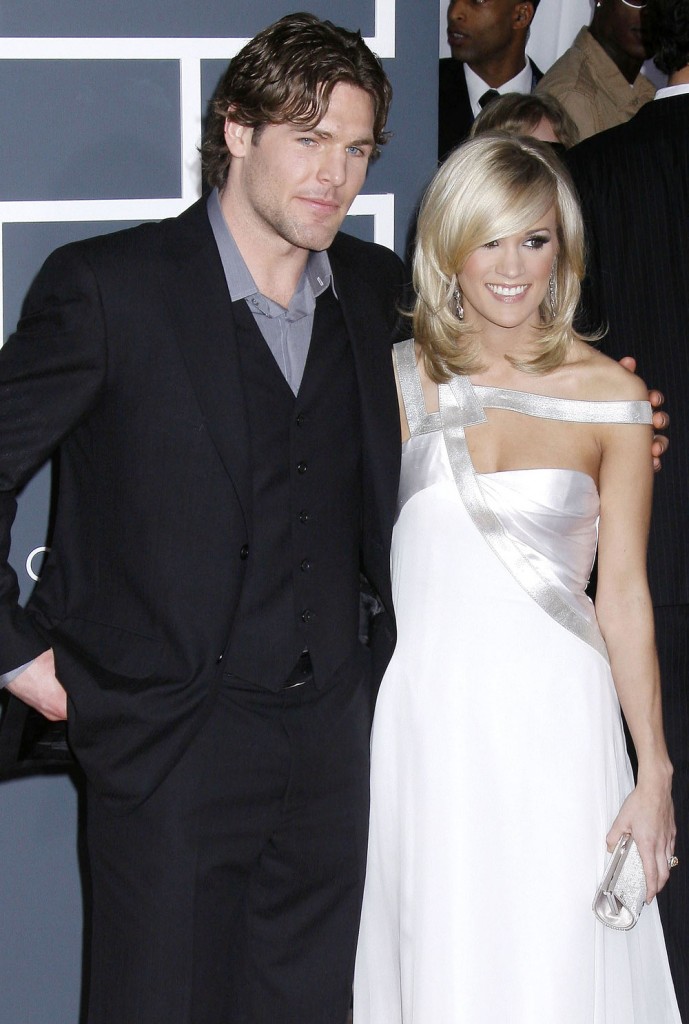 Photo credit: Fame Flynet, Inc and WENN.com