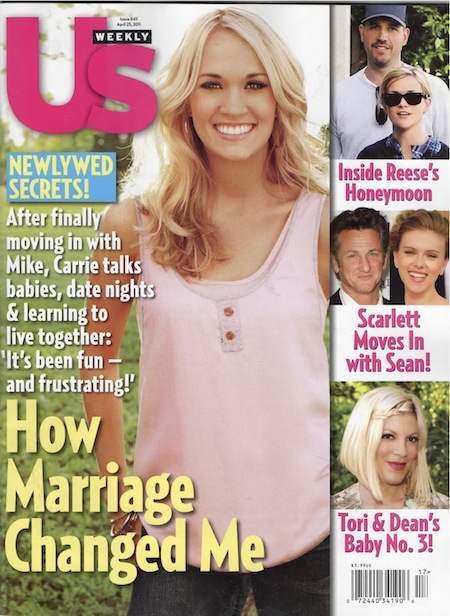 Carrie Underwood plays a supporting role in the new movie Soul Surfer, which tells the true story of a teen surfer who lost her arm to a shark attack. She's on the cover of US Weekly this week and the article is your typical publicist approved piece about how she's just like us and has a normal life during her scant down time. Carrie's husband, hockey player Mike Fisher, recently got traded to the Nashville Predators and they're finally living together. So the story is about how they're so normal now, and it also includes some gems about how Carrie isn't a difficult person anymore, while acknowledging that she has that reputation. They do a decent job at trying to make her seem like she's softened up. I've never really disliked her, but I think she's bitchy behind the scenes and is very competitive. I like that she's acknowledging that she's not going to have kids anytime soon and that she'll be focusing on her career at this point. She's not a bullsh*tter when it comes to playing the press usually, although this article may be an exception. Here are some highlights:
On how she's "lightened up"
Everything is coming together for Underwood, including the luxury of sleeping under the same roof with her husband for good. And pals says she's happier than ever. "She's lightened up a lot since she got married. Now she is so much fun," says a source. "She's always in the best mood."

Acknowledging how she was standoffish
The superstar wasn't always so social. While competing on season 4 of American Idol in 2005, a very focused Underwood, then 21, kept her distance from the other contestants. "We'd get done with rehearsal, and she would go right into our room, close the door and not come out until the next morning," Underwood's roommate on the show, Mikalah Gordon, tells US. "She didn't let anything distract her." And while the five-time Grammy winner is still a hard-driving professional – she's working on her fourth album in six years, a source says – she has become less guarded thanks to the friendly Fisher, who is known to wave and to chat with neighbors. "Mike's outgoing attitude helps her feel a bit more outgoing," says an insider of the popular center, who pulls in about $4 million per year. "With him by her side, she feels less vulnerable."

On how she's adjusting to life with Mike
[Life] together has had its challenges. "Just learning how to live together has been fun and frustrating and everything in between," she tells US. In fact, the two are facing the usual newlywed negotiations. "He brought all this crap with him [to Nashville," Underwood joked April 7 on Ellen. He's like, 'Babe, I need more space in the closet,' and my heart just sinks." But it's not a one-sided argument. "I know he would say I'm too controlling and I nag at him to get his stuff put up," the star admitted.

On their life together
Underwood, a long-time vegetarian, prepares meatless meals for her carnivorous husband, who "is up for being exposed to new ideas," says their trainer, Tony Greco. "To be honest, on our collective days off, we just hang out," the star tells Us. They watch TV and read the Bible, says a source, who adds, "They're not into partying at all."

How she's just like us
Underwood is still an Oklahoma farm girl most at ease in sweatpants. "I think if I were 'Carrie Underwood the brand' everywhere, my friends wouldn't like me very much, you know what I mean?" she admitted to US. "If I always wore makeup, they would be like, 'What are you doing? We're going to TGI Fridays!"

On if she'll have kids
"We haven't even been married a year. We have plenty of time... We have dogs and are very content with that now."
[From US Weekly, print edition, April 25, 2011]
This is not a bad move for someone like Carrie. The bible-reading stuff was too much, but maybe they really do that. It's a profile-raising piece and she's not above that and she hasn't reached some A-list level where this would seem like overselling. (see her fellow workaholic: Reese Witherspoon.) I also like that she's letting anecdotes and insider information tell her story and isn't giving some big long interview talking about her normal life. That type of thing is getting old, and too many celebrities are trying too hard. This is smart, and it leaves a little mystery while giving us a glimpse into the sort of life her people want us to believe she has. Plus, she's changed! Did you get the memo?
Header image via Cover Awards. Carrie is shown at The Academy of Country Music Awards on 4/3 at the Soul Surfer premiere on 3/30, at the Golden Globes on 1/16 and at the American Country Awards on 12/6/10. She's shown with Mike on 1/31/11. Credit: WENN and Fame