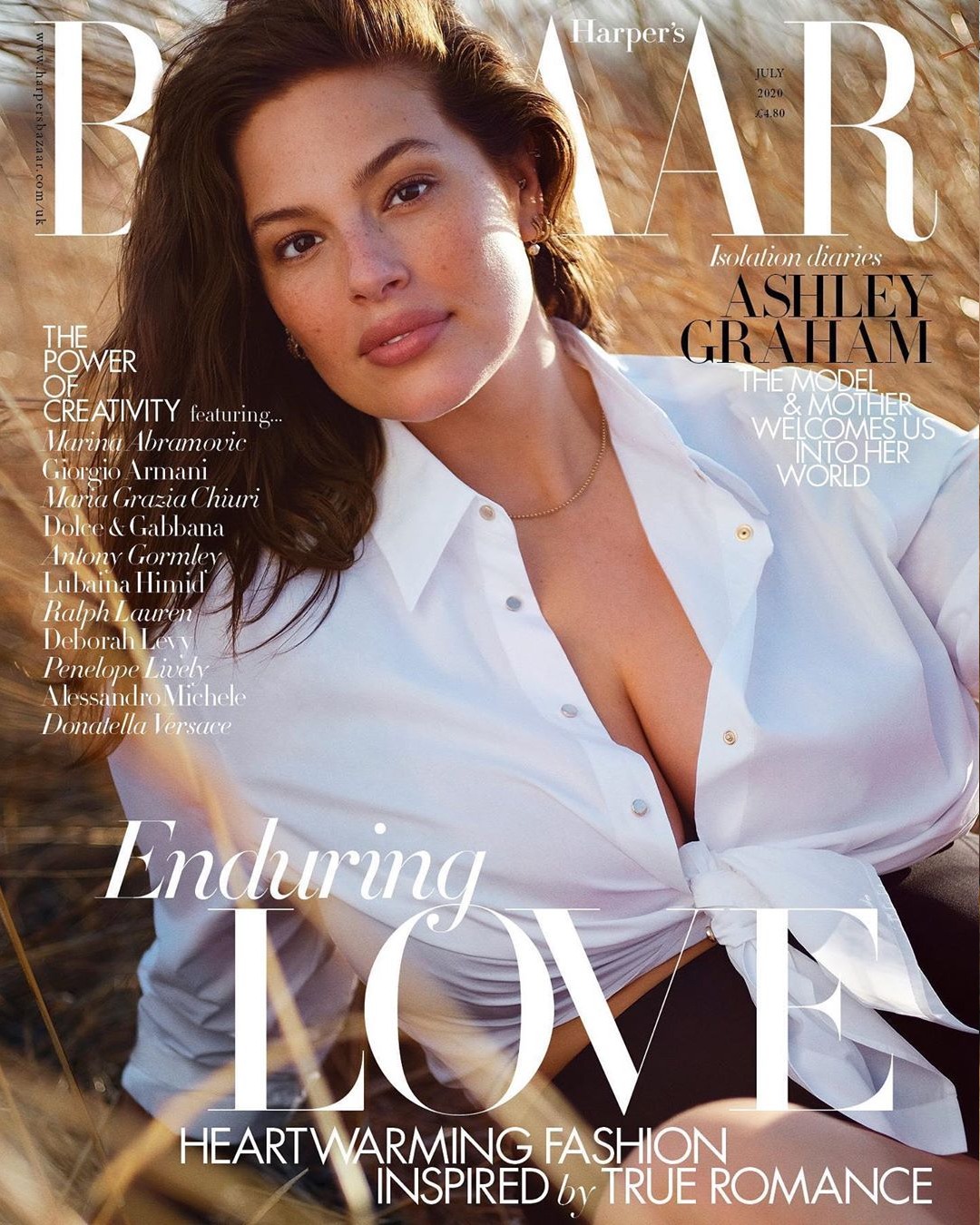 Ashley Graham covers the latest issue of Harper's Bazaar UK. The editorial was shot by her husband Justin Ervin, on her mom's Nebraska ranch. Ashley, her mom, her baby and Justin were all in New York at the start of the pandemic, and they decided to drive across the country to stick out the pandemic in Ashley's hometown. The photos are rather gorgeous – her husband is a great photographer, and she looks so relaxed. She posed for most of the photos with her son Isaac. Most of the interview is about her pregnancy, childbirth and baby too – you can read the full piece here. Some highlights:
When she found out she was pregnant: "I was so excited. I knew immediately I was going to be a great mom." But the poster girl for body positivity finds it unexpectedly hard to cope with the changes of her own body. "That was the wildest part. I thought, 'What about the things I've told myself? What about the affirmations I've gone through?' None of these mattered because my body was changing so rapidly. It really took me some time to figure it out mentally, because it was like there was an alien taking over my body." She thinks she has 'pre-natal depression'. "When you go from laughing to crying in 30 seconds, you do wonder if you are OK. Unbeknown to me, that's pregnancy.

She had a home birth in a birthing pool with a doula & two midwives: "Justin wanted to be as helpful as possible, and the midwife told him: there's nothing you can do, nothing. There's a photo of him rubbing my arm as I'm hanging over the edge of the pool, gazing into the eyes of the midwife, who's keeping me focused and helping me count. You can tell there's a tear running down his face – it was agonising for him to see me in so much pain and not to be able to do anything about it." In the end, Justin decides to make dinner in case Graham is hungry after giving birth. "I was in the pool, and I looked over to see him in the kitchen cutting up meat and adding seasoning, because it was all he could do…"

Spending afternoons in Nebraska with baby Isaac: "He's such an outside baby – he likes the grass, he likes the sun." Once a week, she and Justin go on a 'date night'. "All we're doing is driving to the park, watching the sunset, having a kiss in the car. It's the simplest thing, but it's a game-changer."

The photoshoot: "I kept it easy-breezy, I let my hair air-dry and I didn't even wear mascara, because I'm the kind of girl who runs around like this. I also did the styling and helped to art-direct." Meanwhile, Justin is the photographer, cinematographer, art director and fashion assistant. "Everyone knew their role, but man, it was a lot of work."

Motherhood: "I actually feel really good. I don't know what it is – mother-resilience? I've learnt that I can function without sleep – I didn't know that."
The idea of giving birth upsets me in general, but giving birth in a birthing pool in a Brooklyn apartment with a doula and two midwives? Lord. I could NOT. She also talks about how her water broke while she was doing yoga and a lot about how much pain she was in. Again, why not take the drugs?!? I'll stop with this, not because I know people will yell at me, but because I need to stop visualizing all of this stuff because I feel sick to my stomach. And I kind of think pre-natal depression is a thing too – pregnancy hormones are very real, just the same as the postpartum hormones/crash.
Cover & IG courtesy of Harper's Bazaar UK.