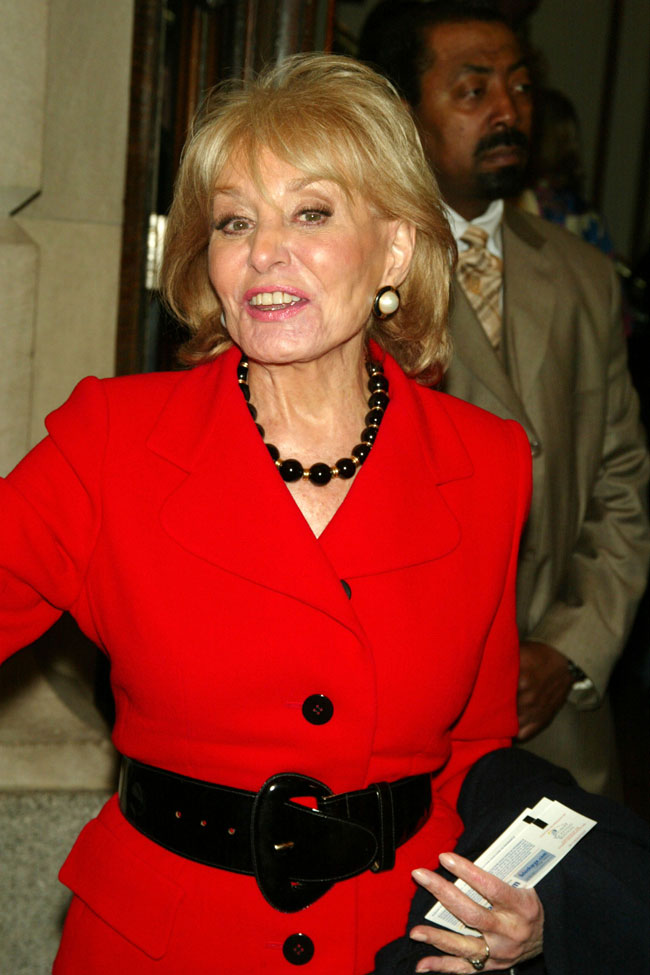 Just before Elisabeth left The View to go on maternity leave (and give birth to a healthy baby boy), it seems she and Barbara Walters had a huge fight. The fight wasn't what I expected – it was nothing about politics or the strained atmosphere of The View. No, Barbara and Elisabeth fought about Elisabeth having a messy dressing room. Barbara demanded that Elisabeth clean up the mess before she left on maternity leave. The whole thing doesn't really reek of professionalism, actually. It sounds like Barbara was really condescending to a very pregnant woman who probably had a hard time bending down and picking anything up. That being said, whatever happened to the nesting instinct? Shouldn't pregnancy make Elisabeth want to clean up her nest?
Talk about tough love! "View" Big Momma Barbara Walters ripped into expectant momma Elisabeth Hasselbeck just before [she] took off on maternity leave to drop her bouncing baby boy – bitching that her filthy dressing room looks like a Dumpster with a door!

Barbara flipped, says my ABC insider, when she stopped by Elisabeth's between-scenes lair, found it littered with discarded mags, newspapers, junk mail, clothes, etc and screamed at staffers: "There have been rat problems in this building, but you wouldn't even be able to find them in this mess!"

Walters called Elisabeth in for a big-girl talk and stormed: "Clean your messy dressing room!" Worse, she insisted Little Lizzie had to tidy up her room BEFORE splitting on maternity leave.

Luckily, Big Momma's scolding didn't induce premature birth.
[From the National Enquirer, print edition, Mike Walker's column, August 31 2009]
My biggest "messy" peeve is people who don't probably dispose of food. That's the height of grossness for me, people who just leave food laying out, or leave it to rot. But it doesn't seem like Elisabeth is that person – most of her mess seems paper-oriented, which I can relate to. I'm not a messy person, but I have real problems throwing away magazines. I need to get a better system for my old Vogues and Vanity Fairs, because right now I just have piles of magazines laying around. But they are organized! I have my own system. Don't yell at me, Babs!
Two of the temporary "replacements" for Elisabeth (while she's on maternity leave) were just announced today. For much of September, we're going to be graced by either Meghan McCain, or E.D. Hill. Meghan is the daughter of Sen. John McCain, and she's been a guest and a guest hostess of The View before, famously telling a weight-critizing Laura Ingraham to "kiss my fat ass!" E.D. Hill is the former Fox News anchor who famously called the Obamas' fist-bump a "terrorist fist-jab". So, yeah… these are the women who they get to replace Elisabeth. Should be interesting.
Barbara Walters is shown on 2/4/09. Elisabeth Hasselbeck is shown on 5/5/09. Credit: WENN.com