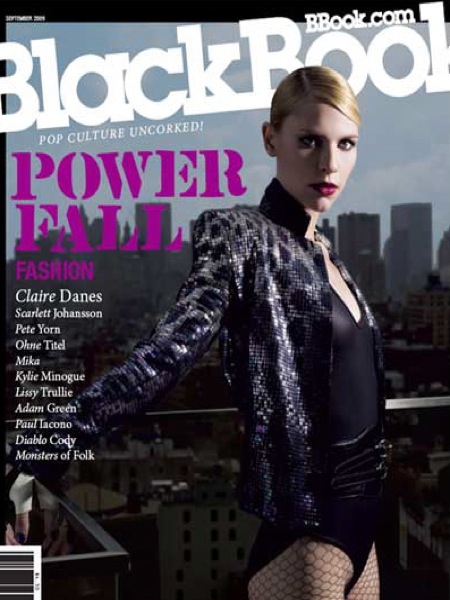 Last week, Jaybird covered an early excerpt from Claire Danes' interview with BlackBook Magazine. The excerpt seemed to show Claire in an unpleasant light as she waxed philosophical about how "we just can't shake monogamy… It definitely demands a kind of rigor and discipline and selflessness." Coming from the young woman who dumped Ben Lee to have an affair/relationship with Billy Crudup (who was with the then-seven-months pregnant Mary Louise Parker) and then dump/cheat on Billy for current squeeze/fiancée Hugh Dancy, well, it all seemed a bit rich. And by "rich" I mean "hypocritical asinine bullsh-t". It gets worse, though. Because now the complete interview is out, and Claire seems so far stuck up her own ass, she's giving Dame Gwyneth Paltrow a run for her goopiness.
Claire answers questions about her relationship with Billy Crudup, and she uses words like "choice" and "integrity". She whines about how the controversy that relationship caused was "unavoidable". As in, she couldn't avoid his wang? When she tries to explain how she feels knowing Hugh Dancy is The One, she says "I can apply myself in other ways now. I have more time and energy to get sh-t done." Because her schedule was so grueling what with all the homewrecking? What? Too much? Here's more from the interview:
Anyone versed in tabloid culture knows the strength of will she had to summon to endure the scrutiny she came under when Billy Crudup left a seven-months pregnant Mary-Louise Parker for Danes. The pair began dating after they met on the set of 2004's Stage Beauty. "That was a choice I made to fall in love. It's unpleasant to be cast in such an unflattering role, but I just had to remain steadfast," she recalls, her body language going into self-protection mode with an arm cradling her hunched-over frame and crossed legs.

"I was living with the same kind of integrity that I had always lived with. As a public person you're serving a certain function, and you're a canvas for people to project their own hopes and fears onto, so you do have to perform a kind of mental trick and distance yourself from it. But there are times of weakness in which you wonder if what they wrote is relevant to you or representative of you."

How much of that has stayed with her? "Not very much. I never really took too much of it on. It's nice not to be ridiculed—nobody wants that—but it's also unavoidable. Everyone gets the stick." But all the rumors now seem a distant memory for Danes, who is set to wed British actor Hugh Dancy, whom she met on the set of Evening in 2006. The pair will exchange their vows in mid-September in a ceremony to be held in France.

While she's had several serious relationships in the past—she dated Australian indie-pop star Ben Lee for six years and was with Crudup for two, just prior to Dancy—marriage, she says, was never something for which she yearned. "I've always wanted to be in a partnership, I've always wanted to have that kind of intimacy and collaborate with someone in such a deep way. But I think that can be achieved in a lot of ways. I was talking to my friend recently about monogamy—is it feasible, is it realistic? I resolved that there isn't really a better model. We just can't shake monogamy. It definitely demands a kind of rigor and discipline and selflessness. But it's also fun."

Particularly when you've got a former Burberry model in your bed. "He's such a cutie patootie," she says about her fiancé, a twinkle in her bright green eyes. "Sometimes I forget just how good-looking he is."

When asked how she knew Dancy was the one, Danes hesitates. "I'm going into dangerous territory," she says, and then relents, proceeding with caution. "While relationships are work, this just didn't feel like it. It's the kind of work that feels energizing rather than enervating."

"There's that pledge, and people talk about it being claustrophobic but I find it the opposite. I find it very freeing to know that, okay, it takes constant nurturing and attention, but I can also stop looking for the one—that's established. I can apply myself in other ways now. I have more time and energy to get sh-t done."

For her wedding day, she turned to Narciso Rodriguez. She describes the process as "surprisingly emotional. I've known Narciso since I was 16, and he's made a lot of dresses with—and for—me. So it's really special that this time it's the dress."
[From BlackBook Magazine]
What's strange is that the part that pissed me off the most was when she describes asking renowned fashion designer Narciso Rodriguez to make her wedding dress. Claire says: "He's made a lot of dresses with—and for—me." With you? Bitch, please. He made dresses for you, and you didn't even look that good in them. While I had always been on Team Mary Louise Parker, I had generally given Claire a pass, favoring to just hate on Billy Crudup. But now I get it. Claire is just as bad. And then some.
Pictures thanks to BlackBook magazine