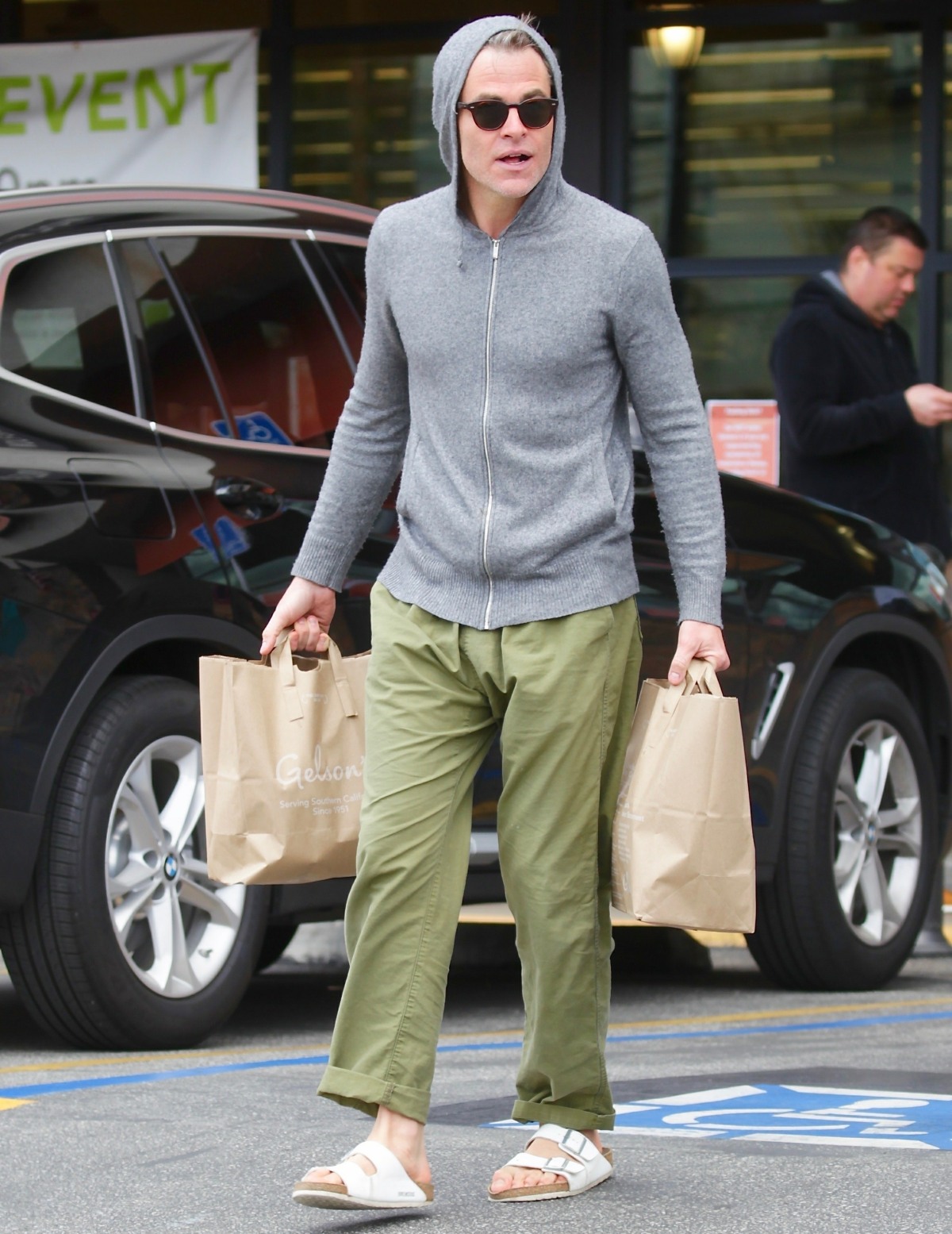 Chris Pine is my favorite Chris and it's not even close! I think Chris Hemsworth is a meathead, I think Chris Pratt is not-so-secretly MAGA, and I think Chris Evans is just… I don't know, he doesn't do it for me. Chris Pine does it for me! Chris Pine also does it for Quentin Tarantino, surprisingly. QT name-checked Pine as "hands down, my favorite" actor of his generation during a podcast early this year. Not only that, but QT is a huge fan of Pine's grandmother, actress and scream queen Anne Gwynne. I tend to forget that Pine is actually a third-generation Hollywood guy, but here we are. Pine talked about his Tarantino connection and his grandma in the new Things Are Going Great for Me podcast.
Quentin Tarantino called Chris Pine "hands down, my favorite" actor of his generation, lobbing the compliment during an appearance on The Ringer's Rewatchables podcast in January. He didn't stop there. The Once Upon a Time in Hollywood auteur got specific by saying he loved Pine's work as Captain Kirk in the Star Trek franchise and in Unstoppable for Tony Scott. Of the latter, he said, "He's filmed like a movie star and he looks it. He soaks in those colors, that lighting, those costumes. He completely holds his own against Denzel [Washington]. That's what he needed to make himself a movie star."

At the time, Quentin Tarantino's Chris Pine love helped fuel anticipation of a possible collaboration between the two, though a once-planned Star Trek outing for Tarantino no longer seems an option. However, on a new podcast, Pine keeps the hope for a pairing alive by saying he'd love to work with Tarantino someday. And fans of Tarantino's latest will perk up upon hearing Pine detail the night he met Tarantino and how it led to spotting his grandmother — legendary model turned actress turned scream queen Anne Gwynne — in Once Upon a Time in Hollywood.

Speaking to comedian and actor J. Claude Deering on the inaugural episode of his "Things Are Going Great for Me" podcast, Pine calls Tarantino "a very cool dude," then recalls their encounter one night during a Vanity Fair Oscar party. Though he doesn't mention the date, the two both attended the 2010 party hosted by then-editor-in-chief Graydon Carter.

"I've been to the Academy Awards a couple of times and I always take my mom and we have a great old time and laugh a bunch and she holds all the Power Bars," Pine recounts of his big night out. "We ended up at this great … Vanity Fair party that they always [had] at the Sunset Tower, which is one of my favorite spots, just because it feels so old-school, so old Hollywood. It has a romance to it that I think, unfortunately, we've kind of lost."

At some point during the party, Pine introduced his mother to Tarantino, famous for his encyclopedic knowledge of film, and found out the director "knows everything about my grandmother. He knows film names, co-stars, directors, production designers, just unbelievable. So [he and my mother] ended up talking for about 40 minutes and I went off and got another martini."

Years later, Once Upon a Time in Hollywood comes out, and "I love it," Pine says. "I call my folks and ask them if they'd seen it. They saw it, loved it, and my mom says, 'You know, that scene at the ranch [with Bruce Dern] and there's a TV on?' I said, 'Yeah, I vaguely kind of remember this.' But she said, 'On the television is one of my mother's films.' So, I have yet to get in touch with him, and my mother actually wrote me up an email that I was going to forward to him. Obviously, it's so sweet of him and I'm assuming that was done on purpose. … My mother was ecstatic, just over the moon."
I would honestly love to see Chris Pine take on a dialogue-heavy Tarantino role, and not just because Pine has a great voice. I just think it would be interesting, and I kind of love that Tarantino has a favorite in the Chris Wars. That's so cool about QT and Pine's mother talking endlessly at a Vanity Fair party, and that QT of course knew everything about his grandmother's life and career, and that he included one of her films in OUATIH. Damn it, now I really wish QT and Pine would collab.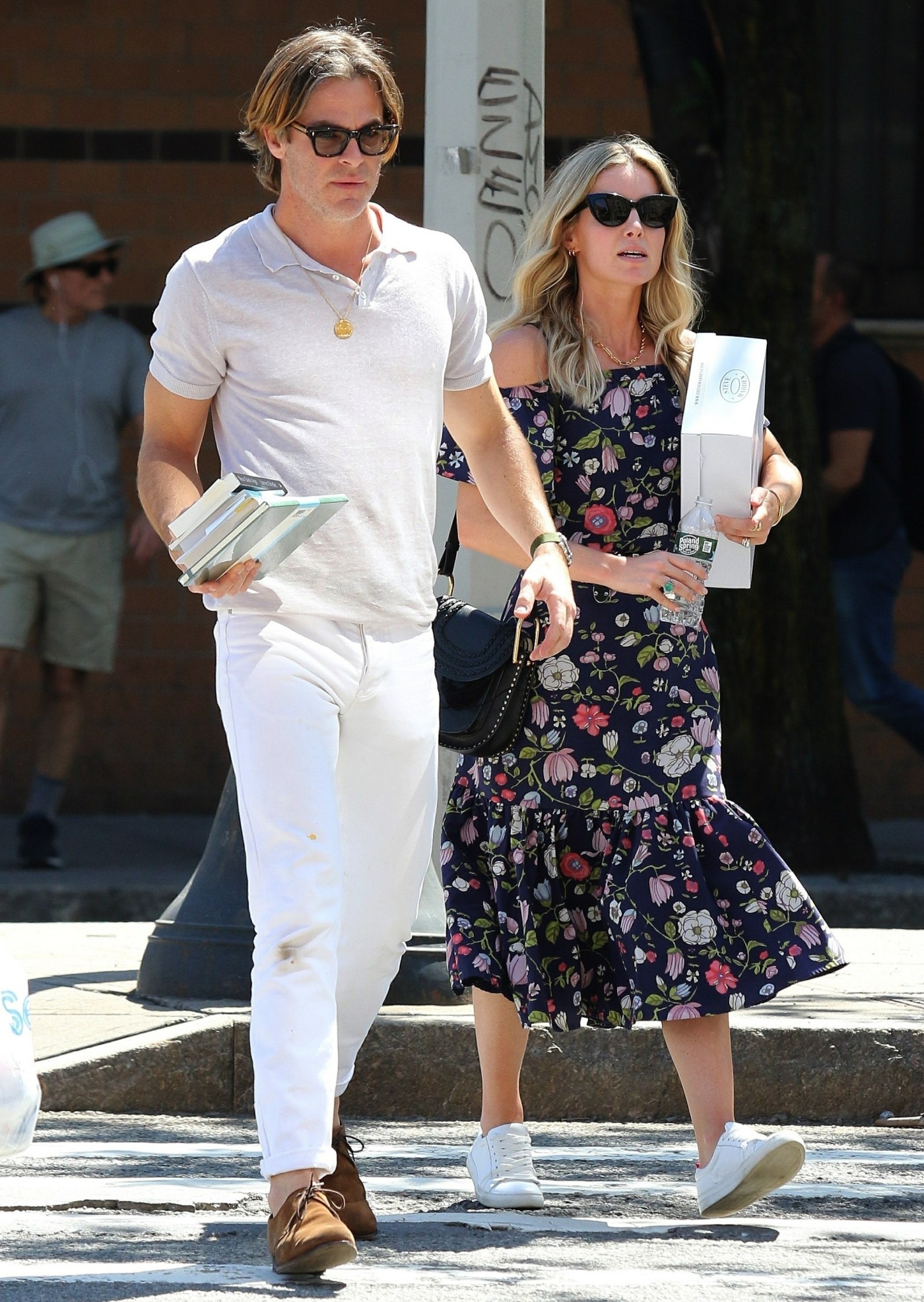 Photos courtesy of Getty, Backgrid.