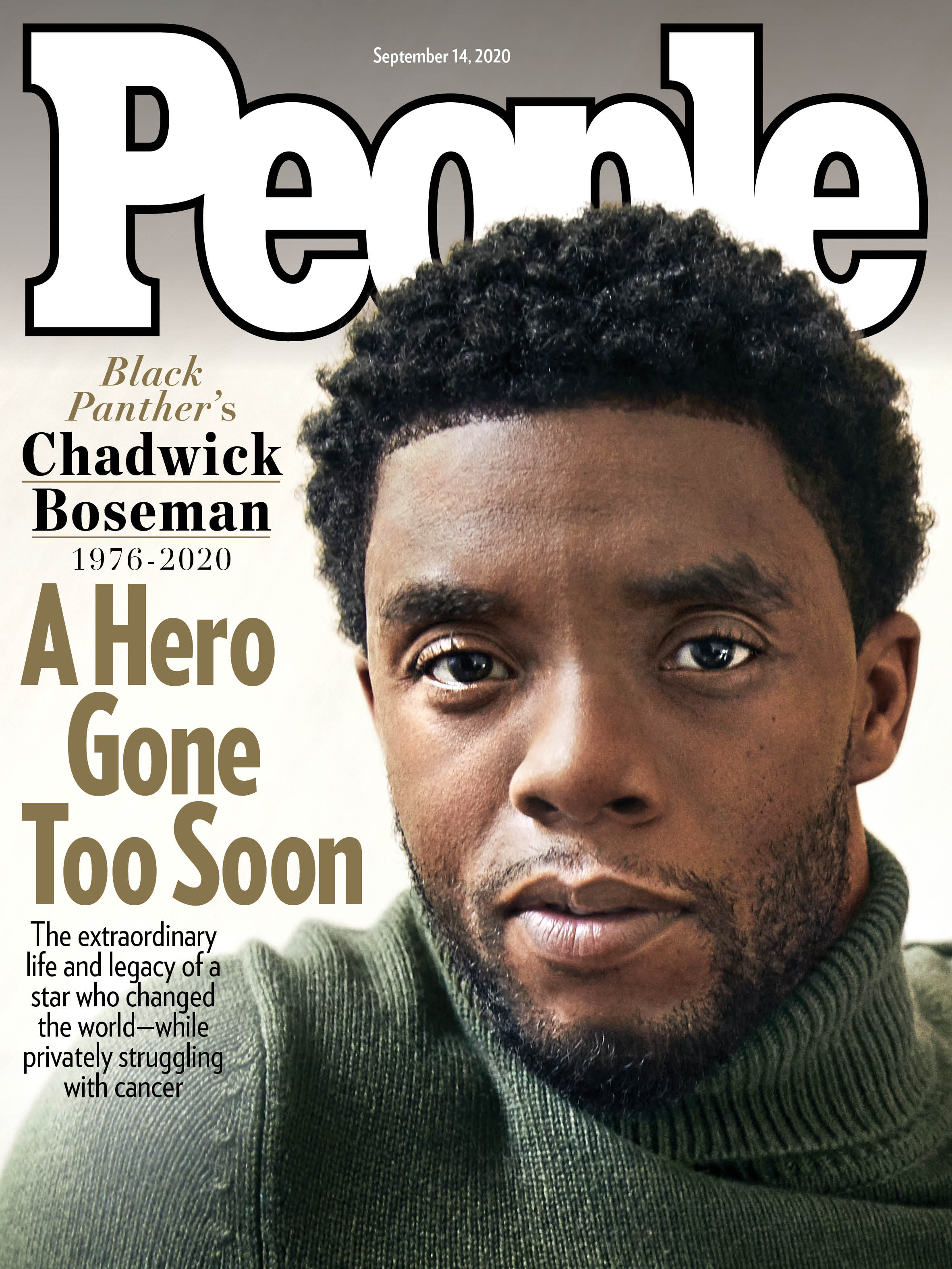 It's been about five days since we became aware of the devastating news that Black Panther star Chadwick Boseman passed. As communities around the world grapple with the sad news, people who knew Chadwick intimately, but who did not know about his diagnosis, have been writing tributes to him .
Chadwick's fellow Howard alum, vice presidential nominee Kamala Harris, connected with Chadwick during a Families Belong Together – Freedom for Immigrants March at Los Angeles City Hall in June 2018. She tweeted several tributes to him over the weekend. She called Chadwick "brilliant, kind, and humble." Chadwick covers People this week and here are a few excerpts including VP nominee Kamala's tribute:
Democratic vice presidential nominee Kamala Harris recalls the actor "was so kind and thoughtful."

"He was a listener and he was humble — but he walked with such magnificence," she tells PEOPLE of her fellow Howard University alum. "Chadwick inspired people to see something in themselves, to see something in each other. [He] had the ability to see what can be unburdened by what has been. In that way, his legacy is strong and we will be talking about and thinking about Chadwick for generations to come."

During lockdown amid the coronavirus, Boseman worked on a voice note as his character T'Challa for a young boy with cancer on behalf of the Make-A-Wish Foundation.

Nate Moore, an executive producer on Black Panther, tells PEOPLE Boseman "cared so intently" of making sure the voice recording was perfect.

"Hindsight will tell us that Chad felt that way because he too was battling a disease," says Moore. "But I don't think that's true. I think that's just who he was as a man."
I am still gutted by the passing of Chadwick Boseman. Selfishly part of that is because I was looking forward to him reprising his role as Black Panther. I cannot see another male actor taking on the mantel. On the other hand, with a passing such as his, you realize how incredibly fragile life is and that all you have is this moment.
I don't think we will ever get over this death. Every one I know, no matter their race, have been hit hard by his death. My biggest heartbreak is for his loved ones and the children who lost their hero. What I will say is, like Harry and Meghan, Chadwick has been a beautiful example of giving to others as an act of service. I don't think I could have given as he did while battling such a disease, I am not that graceful, nor do I advocate for it. But I do know he lived life fully, thoughtfully and with gratitude. That is something I feel we can all strive for.
He will definitely be missed. It's as if a void was created by his death like when Prince and so many others died. But like Ryan Coogler said in his tribute, "Chadwick is an ancestor now," and what a powerful ancestor to have watching over us. May you rest in power, kumkani. You will be missed.
Heartbroken. My friend and fellow Bison Chadwick Boseman was brilliant, kind, learned, and humble. He left too early but his life made a difference. Sending my sincere condolences to his family. pic.twitter.com/C5xGkUi9oZ

— Kamala Harris (@KamalaHarris) August 29, 2020
Black Panther was more than a movie—it was a moment of collective celebration. And that's because of Chadwick. pic.twitter.com/4aptPVyGlX

— Kamala Harris (@KamalaHarris) August 31, 2020
During his commencement speech at our beloved Howard, my friend Chadwick Boseman said, "press on with pride and press on with purpose."

In his name, let's keep fighting. pic.twitter.com/HU8Q6yQaJ4

— Kamala Harris (@KamalaHarris) August 29, 2020
We have been reminiscing about this hero, and what he meant to us. We remembered this moment below, when Kamala was just beaming with pride about her friend and fellow Bison and the glorious achievement Black Panther represented. pic.twitter.com/gS7WVQTzeN

— Doug Emhoff (@DouglasEmhoff) August 29, 2020
This was Chadwick's last tweet:
YES @KamalaHarris! 👏🏾👏🏾👏🏾#WhenWeAllVote #Vote2020 pic.twitter.com/iOU3duBAcA

— Chadwick Boseman (@chadwickboseman) August 11, 2020