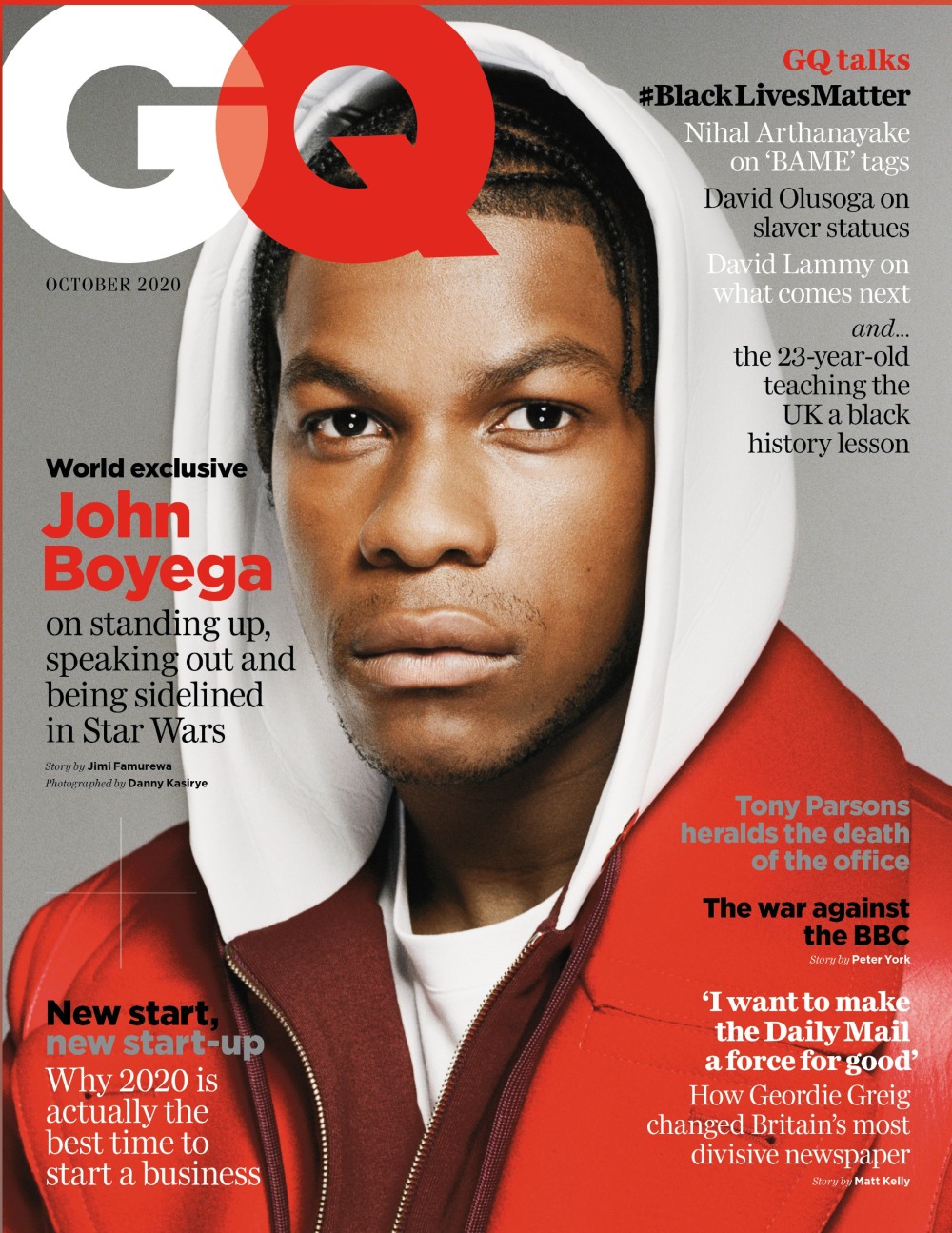 John Boyega covers the new issue of British GQ to promote his role in Steve McQueen's new limited series Small Axe, about racism and police in Britain. He spends much of the interview talking about race and racism, how disappointed he was with Disney/LucasFilm, and his extraordinary speech at a Black Lives Matter rally in June. I found his words about Disney to be the most affecting, because many will say he's "biting the hand that feeds" and tsk tsk. But he has every right to be uncomfortable with how Finn was treated within the latest Star Wars trilogy, and I love that he has the balls to talk about his issues publicly. Some highlights:
How he feels about his emotional BLM speech: "I feel like, especially as celebrities, we have to talk through this filter of professionalism and emotional intelligence. Sometimes you just need to be mad. You need to lay down what it is that's on your mind. Sometimes you don't have enough time to play the game." The rawness, he says, came from looking out into the crowd that day and seeing his own fear and weariness mirrored in the eyes of the other black men present. "That just made me cry," he adds. "Because you don't get to see that."

Growing out his hair: "When black men grow out their hair it's a very powerful thing. Culturally, it stands for something."

A stylist was a douche to him: For the first Star Wars film, he continued to notice a stylist he'd hired when he first started doing press "cringing at certain clothes I wanted to go for", the hairdresser who had no experience of working with hair like his but "still had the guts to pretend", and he decided that he could no longer grin and bear it like a grateful competition winner. "During the press of [The Force Awakens] I went along with it. And obviously at the time I was very genuinely happy to be a part of it. But my dad always tells me one thing: 'Don't overpay with respect.' You can pay respect, but sometimes you'll be overpaying and selling yourself short."

How he feels about Star Wars now: "It's so difficult to manoeuvre. You get yourself involved in projects and you're not necessarily going to like everything. [But] what I would say to Disney is do not bring out a black character, market them to be much more important in the franchise than they are and then have them pushed to the side. It's not good. I'll say it straight up." He is talking about himself here – about the character of Finn, the former Stormtrooper who wielded a lightsaber in the first film before being somewhat nudged to the periphery. But he is also talking about other people of colour in the cast – Naomi Ackie and Kelly Marie Tran and even Oscar Isaac ("a brother from Guatemala") – who he feels suffered the same treatment; he is acknowledging that some people will say he's "crazy" or "making it up", but the reordered character hierarchy of The Last Jedi was particularly hard to take.

He keeps going about Disney's choices: "Like, you guys knew what to do with Daisy Ridley, you knew what to do with Adam Driver. You knew what to do with these other people, but when it came to Kelly Marie Tran, when it came to John Boyega, you know f-ck all. So what do you want me to say? What they want you to say is, 'I enjoyed being a part of it. It was a great experience…' Nah, nah, nah. I'll take that deal when it's a great experience. They gave all the nuance to Adam Driver, all the nuance to Daisy Ridley. Let's be honest. Daisy knows this. Adam knows this. Everybody knows. I'm not exposing anything."

He ended up becoming more militant: "I'm the only cast member who had their own unique experience of that franchise based on their race. Let's just leave it like that. It makes you angry with a process like that. It makes you much more militant; it changes you. Because you realise, 'I got given this opportunity but I'm in an industry that wasn't even ready for me.' Nobody else in the cast had people saying they were going to boycott the movie because [they were in it]. Nobody else had the uproar and death threats sent to their Instagram DMs and social media, saying, 'Black this and black that and you shouldn't be a Stormtrooper.' Nobody else had that experience. But yet people are surprised that I'm this way. That's my frustration."
While he name-checks Kelly Marie Tran in a significant part of the interview, I think Kelly Marie Tran deserved a shoutout in the last part too, the "their own unique experience of that franchise based on their race." Salty neckbeard bros were soooo upset about Kelly Marie Tran because she's a woman AND because she's Vietnamese-American. But otherwise, everything he says here is the God's honest truth. One could argue that the Disney people didn't set out to sideline the non-white characters, because I honestly don't believe that was their intention. But that's a worse story, honestly, because that's the story of how Disney completely bungled this trilogy and didn't care about the stories and they were just in it for a money-grab. They sidelined the non-white characters because it never occurred to them that Boyega, Isaac or Tran's characters should have proper arcs, or could play a bigger role in the story.
Cover & IG courtesy of British GQ.