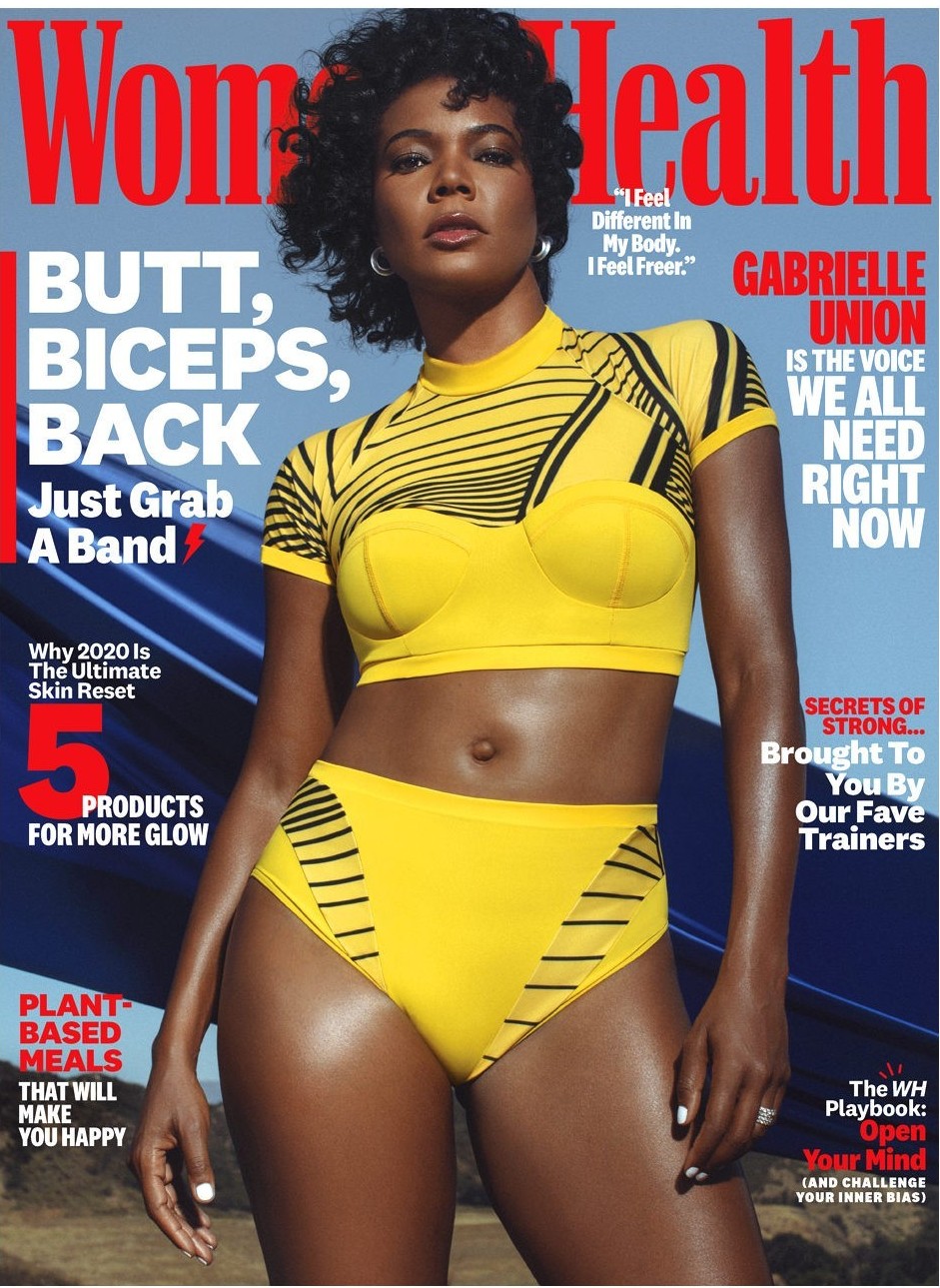 Gabrielle Union is covering Women's Health's October issue. She discusses her PTSD and speaks out for those struggling with their mental health at this difficult time. Gabrielle says that she was diagnosed with PTSD when she was 19 after being raped at gunpoint outside her job at Payless. Gabrielle wants to encourage those whose mental health has been affected due to the pandemic and the constant images of the brutalization of Black bodies. She said dealing with your mental health is not a weakness, it just makes you human. People has some advance excerpt from Women's Health:
"The combination of the pandemic and this racial reckoning, alongside being inundated with [images of] the brutalization of Black bodies, has sent my PTSD into overdrive," Union, 47, says in her October cover interview for Women's Health, shared exclusively with PEOPLE.

"There's just terror in my body," says Union.

Explaining the coping mechanisms she uses to manage her PTSD, Union tells the outlet: "I break out my emotional fix-me toolkit, and I try to run through all the situations. I call it my 'What's the likelihood of X happening?' method … If I'm fearful about going into a store because I'm anxious about being robbed, I'll make myself feel better by going to one where there will be witnesses to cut down those chances. It's been this way since '92. It's just something I do; second nature."

She has also turned to therapy to help her manage expectations: "I feel different in my body. I feel freer."

Union previously opened up about her struggles with PSTD, sharing in 2018 — for the second annual installment of The Child Mind Institute's #MyYoungerSelf social media campaign — that she was diagnosed when she was a teenager after she was raped.

"I'm here to tell you that I am PTSD survivor, thriver, bad ass motherf—– I was diagnosed with PTSD at 19 after I was raped at gunpoint — and I didn't let it stop me," Union shared.

"I didn't want it to define my whole life, and it doesn't have to. Asking for help, needing help doesn't make you weak or less worthy of love or support or success," she said.

Union added, "You can literally be anything you want to be. PTSD isn't a death sentence. You don't have to be alone or feel isolated. There are so many of us out there who are feeling exactly what you're dealing with it and it doesn't make you weak. It doesn't make you anything but human."
[From People]
It gives me joy that Gabrielle she's one of the Black voices speaking about therapy and mental health to a community where the subject is still taboo. As someone who was diagnosed with PTSD when I was 29, I know the importance of good mental health fitness. I didn't take my diagnosis seriously for years. I spent several years dealing with panic attacks, anxiety and depression. I was triggered by situations that I reacted to by making terrible decisions that affected my livelihood. It took a combination of several modalities before I accepted that this would be a life long journey.
I was one of the first people in my family to go to therapy and have been advocating for my mother and a few of my cousins to go. Many people, especially in the Black community, suffer from communal and familial traumas but rarely get help. I hope that Black celebrities and those with a platform continue to advocate and normalize therapy. Like Gabrielle says in her interview, gaining a healthy coping toolkit has helped me recognize when my PTSD is being triggered so that I can remain clear to make better choices.