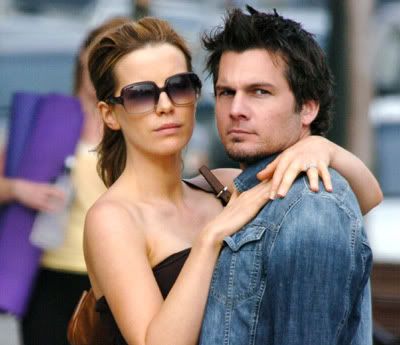 Kate Beckinsale was the first celebrity Punk'd on this season's premiere of the MTV prank show on Monday. She was out to dinner with her ex, British actor Michael Sheen, when a fat guy hit on her while he was away from the table. When Sheen returned, he lashed out at another man, believing he was the one who was bothering Beckinsale. It sounds like a typical episode:
Sheen then got upset with another poolside diner, who he pretended to mistake for the man who bothered Beckinsale, hurling him into the pool as the actress protested, 'Mike, it wasn't him.'"
Distraught Beckinsale attempted to apologise, while Sheen fought with the original pest, throwing him into the pool as well. As he climbed out of the pool, looking to continue the fight, a mock waitress ran up to Beckinsale screaming, 'You've been Punk'd,' which left the relieved actress embarrassed and giggling.
That story about Kate Beckinsale being in talks to play Wonder Woman was a mistaken report based on an April Fool's blog post. Site JoBlo.com ran a parody article stating that Beckinsale had been cast in the role and attributed obviously fabricated quotes to the director, like "I couldn't tell you how many actresses…I'm talking married women here, promised to blow me left, right and center if I gave them the part."
IMDB picked up the story and sourced JoBlo, changing the details so that Beckinsale was in talks for the role, but had not yet been cast. Then we all repeated it, believing it to be true. It made sense, considering that everyone speculated before the news came out that she was the best actress for the part.
Here is Beckinsale out in Santa Monica with her husband, director Len Wiseman.
Pictures [via]
Three more pictures after the jump.