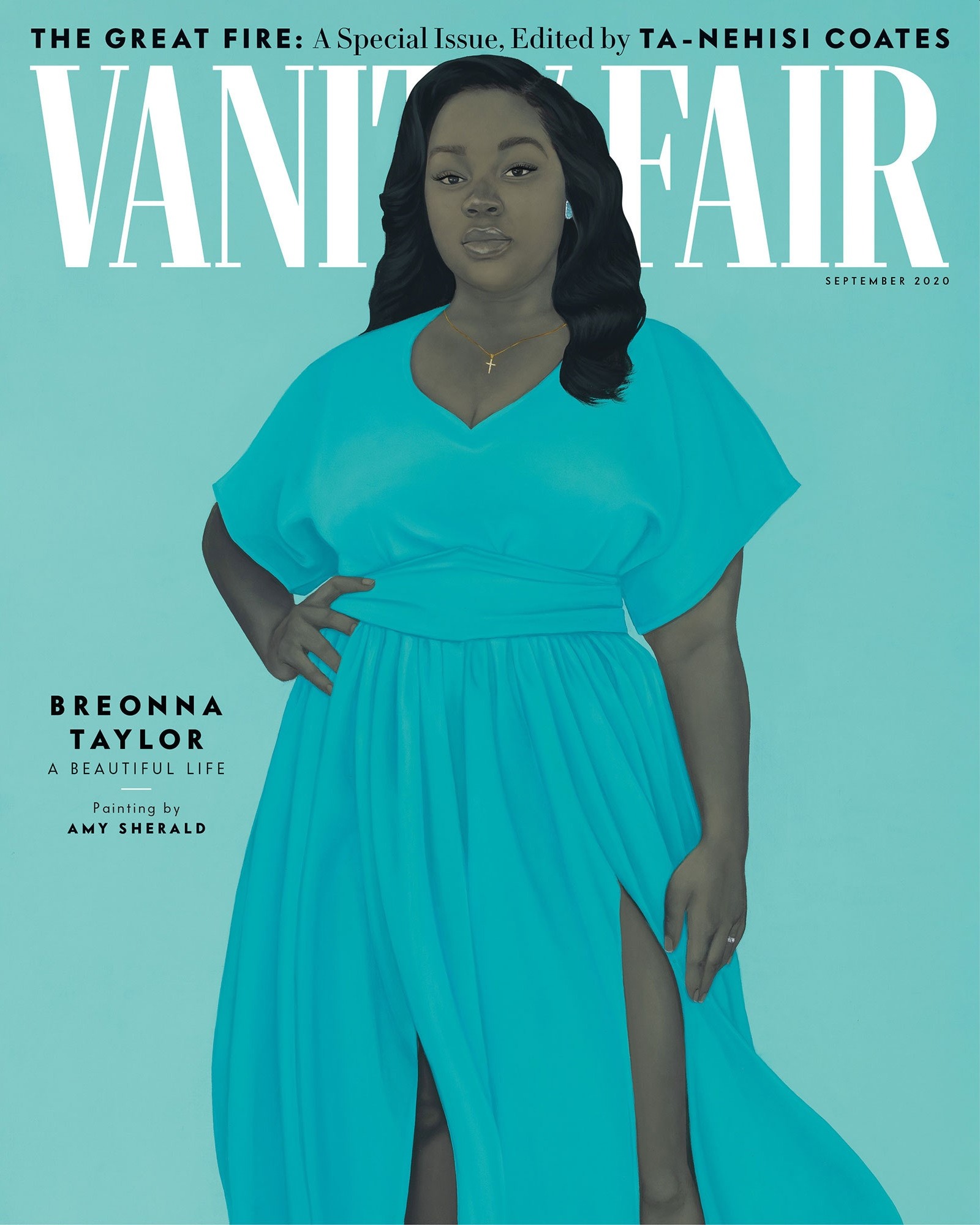 Breonna Taylor was murdered by Louisville cops in her home on March 13th of this year. It was after midnight, she was in her apartment with her boyfriend Kenneth Walker. The Louisville police obtained a no-knock warrant on her apartment with sketchy information about an ex-boyfriend, a guy she had not spoken to or seen in a few months. There is a lot of murkiness around Breonna's murder because the cops who murdered her lied in various police reports, lied to the media and lied to prosecutors and lawyers. Plus, right-wing media spent the last six months smearing Breonna, her family and her boyfriend. Breonna was unarmed and she was an EMT and she had no criminal record. The cops were the ones "looking for trouble." The cops were the ones who shot wildly into her apartment and murdered her. And none of those cops will be charged with her murder. Only one cop involved in the crime will be charged with anything and that was because he fired so wildly, he could have hurt Breonna's white neighbors.
No police officers will be charged with the fatal shooting of Breonna Taylor, an incident that led to months of protests and made Taylor a face of the Black Lives Matter movement. However, one of the three involved officers was indicted for wanton endangerment for allegedly firing bullets that risked injury to persons in an adjacent apartment, Kentucky Attorney General Daniel Cameron said Wednesday.

Nothing determined that former detective Brett Hankison, the lone officer who will now face criminal charges, fired the shot that killed Taylor, a 26-year-old aspiring nurse who had been working as an emergency room technician, on March 13 in her Louisville apartment, Cameron said at a news conference. That shot was fired by another officer, detective Miles Cosgrove, according to Cameron. But no additional charges were filed against Cosgrove or Sgt. Jonathan Mattingly because "our investigation showed, and the grand jury agreed, Mattingly and Cosgrove were justified in their return of deadly fire after having been fired upon by Kenneth Walker," Cameron said.

Walker is Taylor's boyfriend, who was with her when the officers entered the apartment while executing a search warrant in an investigation into a suspected drug dealer.

The decision against bringing murder or manslaughter charges, along with the absence of charges against Mattingly and Cosgrove, seemed certain to spark a backlash as the city's mayor prepared by enacting a curfew and Louisville Metro Police confirmed that the state's National Guard had been activated, reports local TV station WLKY.

Ben Crump, an attorney for Taylor's family, tweeted after the announcement: "If Brett Hankison's behavior was wanton endangerment to people in neighboring apartments, then it should have been wanton endangerment in Breonna Taylor's apartment too. In fact, it should have been ruled wanton murder!"
I wasn't expecting anything from the grand jury, because that's the go-to play for counties and cities who don't want to punish racist, violent murderers who hide behind badges. There was plenty of evidence for a DA or state's attorney to charge the cops. Instead, they hid behind a grand jury, because everyone in Louisville's legal system is a coward.
It's a special kind of cruelty that more protestors in Louisville tonight will be charged than men who murdered Breonna Taylor

— roxane gay (@rgay) September 23, 2020
#BreonnaTaylor was murdered by the state. It was rationalized by #DanielCameron and it will be justified by Trump who is a terrorist sympathizer. pic.twitter.com/avubsRmlit

— Jason Johnson (@DrJasonJohnson) September 23, 2020
Breonna Taylor should be alive today.

This decision is a disgrace.

We need accountability for the officers who killed Breonna. And we need to fundamentally remake a criminal justice system that endangers Black lives with impunity. https://t.co/RDScRCNB9O

— Elizabeth Warren (@ewarren) September 23, 2020
Cover courtesy of Vanity Fair, additional photos courtesy of Getty.