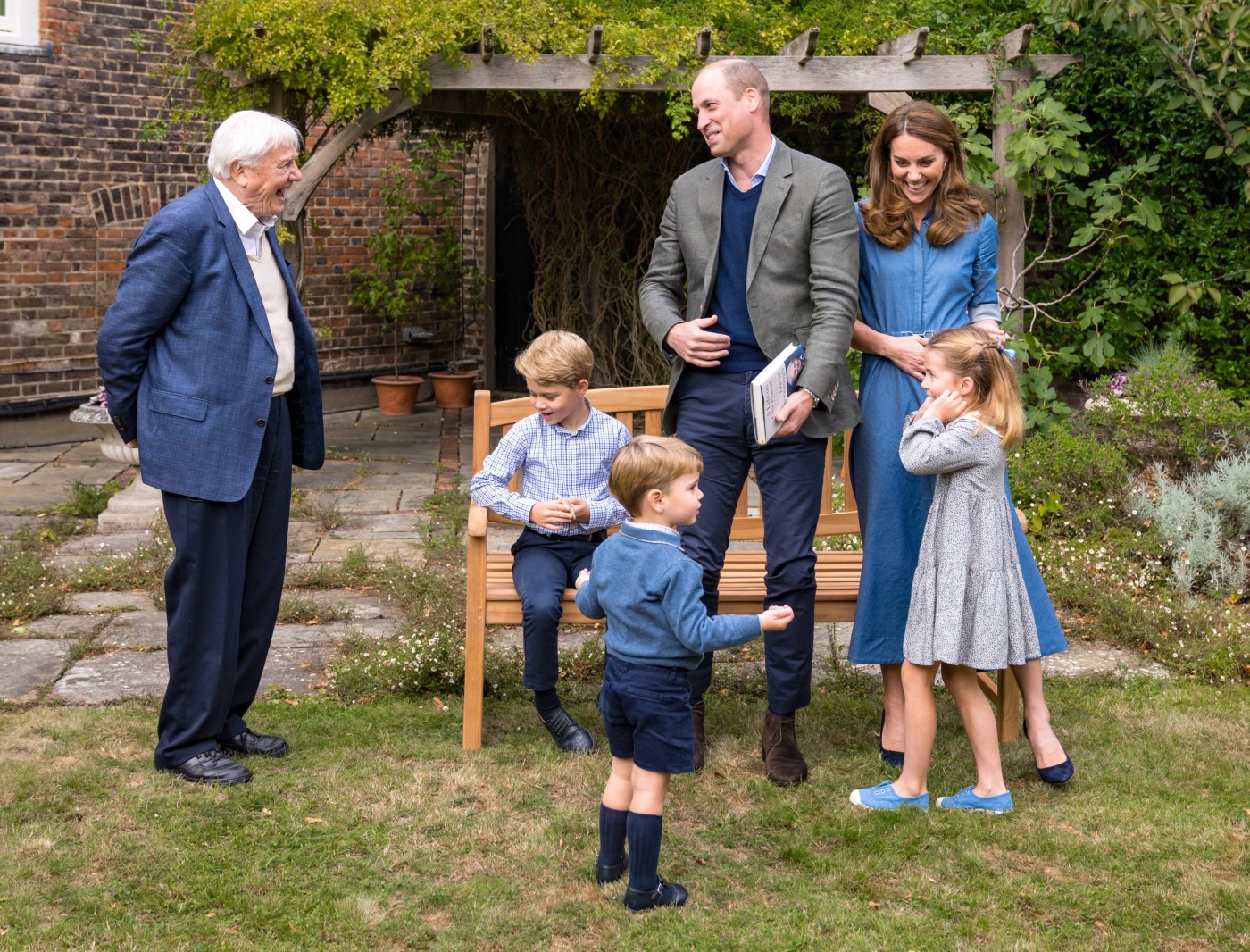 The Duke and Duchess of Cambridge posted new photos of themselves and their children on Saturday, I guess timed for the Sunday papers in Britain? Or were they aiming for online coverage today? These photos are not breaking news – the Cambridge family met with Sir David Attenborough "earlier this week" for a screening of his new documentary. Kensington Palace sat on the photos until they could be of use somehow. I'm not sure if these pics are really showing how "normal" the Cambridges are? I mean, Attenborough literally came to Kensington Palace to give the Cambridges an advanced special private screening. Pretty elite! But I guess we're only supposed to pay attention to the kids.
So, the kids… at this point, I do think it's kind of funny that Will and Kate color-coordinate their family photos so much. Considering Kate's insistence that blue is her signature color, I feel like she's the one color-coordinating everyone's outfits. Do you think she asked Attenborough to wear blue as well? From what we can see, the kids are cute. Charlotte's getting taller, as is Louis. I can tell from the kids' natural highlights that they spent a lot of the summer outside. Here's what KP had to say about the screening:
The Duke and Duchess of Cambridge are delighted to share new photographs of their family with @DavidAttenborough.

The photographs were taken earlier this week in the gardens of Kensington Palace, after The Duke and Sir David attended an outdoor screening of Sir David's upcoming feature film 'David Attenborough: A Life On Our Planet'.

With a shared passion for protecting the natural world, they continue to support one another in their missions to tackle some of the biggest environmental challenges our planet faces.

This includes working together on The @EarthshotPrize the most prestigious global environment prize in history – further details of which will be shared in the coming weeks.

When they met, Sir David gave Prince George a tooth from a giant shark the scientific name of which is carcharocles megalodon ('big tooth').

Sir David found the tooth on a family holiday to Malta in the late 1960s, embedded in the island's soft yellow limestone which was laid down during the Miocene period some 23 million years ago. Carcharocles is believed to have grown to 15 metres in length, which is about twice the length of the Great White, the largest shark alive today.
Ah, a mention of the Earthshot Prize, which we haven't heard about in months and months. Perhaps Earthshot will become for William what the Early Years project was for Kate: they'll mention it every so often as an excuse/explanation for what the hell he does all day. Royal busy work.
True story… David Attenborough: A Life On Our Planet streams on Netflix. I AM CACKLING. I guess the royals don't actually have a problem with Netflix after all, especially if they're hosting private screenings of Netflix documentaries at Kensington Palace. Too bad about Prince William's Attenborough knock-off documentary Prince William: A Planet For Us All. It does not appear on Netflix, probably because it's just about William being vaguely keen about the environment.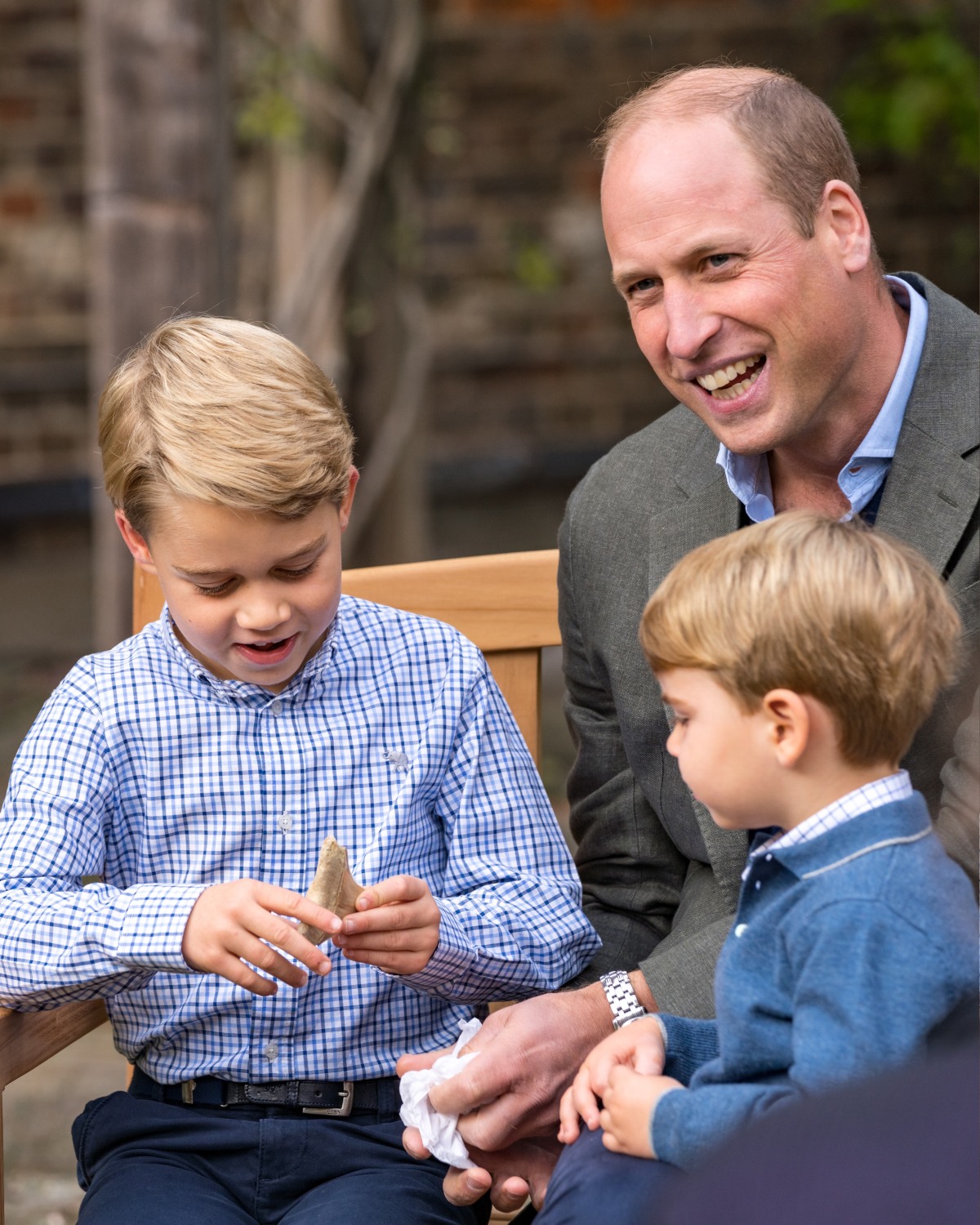 🎞️ Sir David Attenborough joined The Duke of Cambridge for a private outdoor screening of his upcoming film 'David Attenborough: A Life On Our Planet', at Kensington Palace. pic.twitter.com/Q62JkYESLE

— The Duke and Duchess of Cambridge (@KensingtonRoyal) September 26, 2020
Photos courtesy of Kensington Palace.