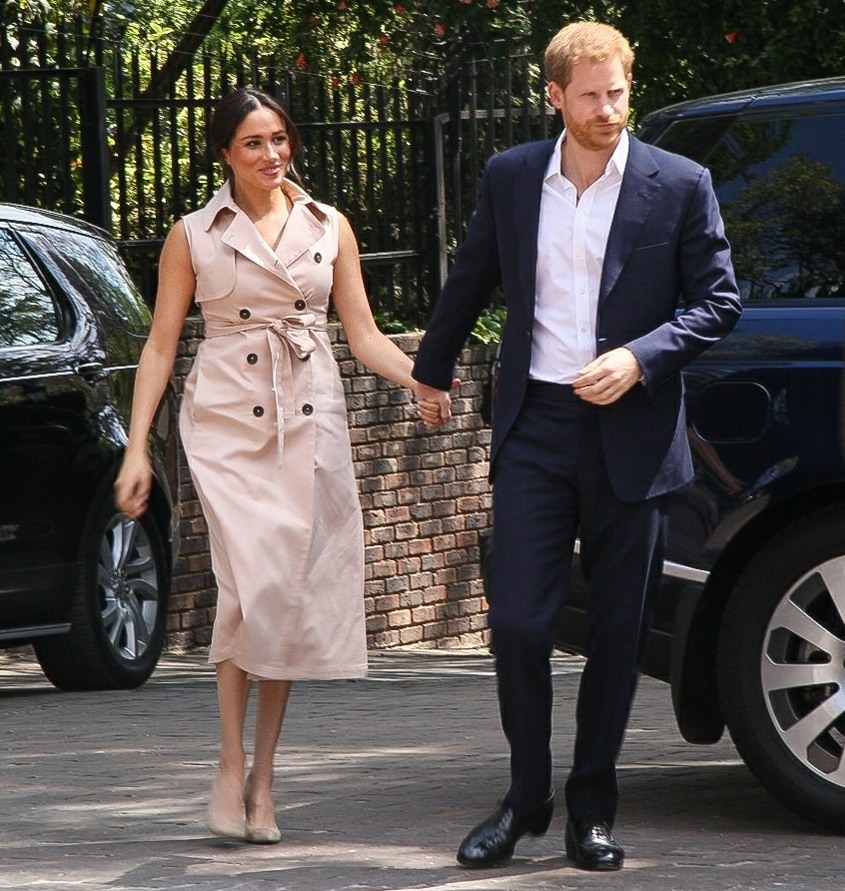 The Duke and Duchess of Sussex were interviewed on the Teenage Therapy Podcast for World Mental Health Day, which was Saturday (the interview was pre-recorded). Unlike certain other mental health advocates who just kind of say vague words about "talking to someone," Harry and Meghan come from a different place. Harry has talked about going to therapy to deal with his issues as an adult. Meghan gives and receives guidance from an assortment of self-help books and "mindfulness" philosophies. And then there's their personal narratives as two people who have been used, abused, smeared and trolled, at times by members of their own toxic families. Some quotes from what Harry & Meghan told the teen podcasters:
Meghan on internet trolling: "Yes it's a great way to connect, but it also ends up being a place where there's a lot of disconnection. I can speak personally too, I'm told that in 2019 I was the most trolled person in the entire world-male or female. Now eight months of that I wasn't even visible. I was on maternity leave or with a baby but what was able to just be manufactured and churned out, it's almost unsurvivable. That's so big you can't even think about what that feels like because I don't care if you're 15 or 25 if people are saying things about you that aren't true what that does to your mental and emotional health is so damaging."

Meghan on isolation and online bullying. "Even though our experience is unique to us and obviously can seem very different to what people experience on the day to day, it's still a human experience and that's universal. We all know what it feels like to have our feelings hurt. We all know what it feels like to be isolated or othered. And I think that's why the work you guys are doing here is so important … that people know there's someone to talk to. You're not alone in any of it. We're all figuring it out."

Harry on how vulnerability is a strength: "Vulnerability is not a weakness, showing vulnerability in today's world especially is a strength. The more we talk about it the more it becomes normal, and it is normal. It's very easy to be sucked in and consumed by negativity but we all have a choice to be able to cut that out of our lives. Hate-following has become a thing. We don't need to do that … for me I made the choice not to read it, not to see it and to remove myself from that and to very much focus on the uplifting and hopeful side which most of that I get from your generation." He added that meditation also helps him.

Meghan on that part of the 2019 ITV documentary: She was asked by ITV journalist Tom Bradby how she was doing, she was struggling more than the public realized and she said that she was not okay. "I was tired. I was just about to give Archie a bath. I was exhausted. I didn't think about that answer. I just answered honestly. I was in a moment of vulnerability, because I was tired, because there was no presentation. It was just, here's where I am: I'm a mom with a four-and-a-half month-old baby and we are tired. But I think the reason it resonated with people is because everyone wants to be asked if they're okay." Although the last few months have been difficult for everybody, Meghan said that "a year later I would say yes, I am doing well."

Harry on that Africa trip: "She was still breastfeeding at the time," Harry added, as Megan explained that although most people weren't aware of it, "between every official engagement I was running back to make sure our son was fed."
When she talked about being the most trolled person in 2019 and yet being mostly on maternity leave that year, I got a flashback to just how insane it was for Harry and Meghan last year. I mean, it feels like so long ago, but the Daily Mail, the Sun, the Daily Express and the rest of the British tabloids were just obsessed with making mountains out of molehills for months and months. It was insane. And social media amplified all of it. Also: go back to their mindset during the Africa tour, with Archie only 4 months old. They were exhausted and trying to do good work, they were being smeared and mocked 24-7 for months… and then the press got crazy-mad at them for dropping the lawsuits at the end of the tour. It was all so dramatic.
Here's the IG from the Sussexes' talk – Meghan is wearing a "When There Are Nine" mask to honor Ruth Bader Ginsburg. That was RBG's answer to the question of when the Supreme Court would have enough women.
Photos courtesy of Backgrid, Avalon Red.