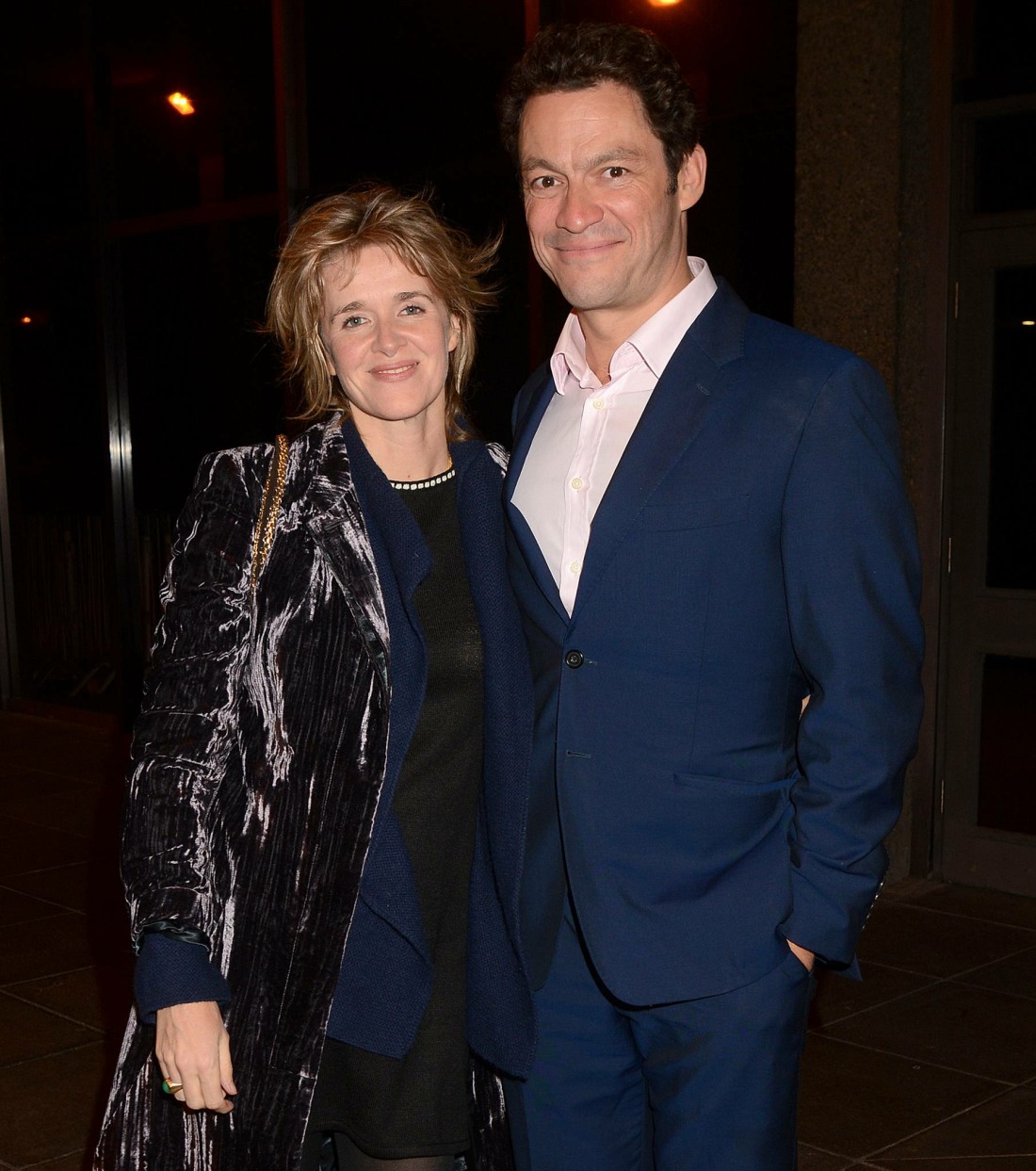 Dominic West, Catherine FitzGerald and Lily James are in a giant mess. Dominic and Catherine have been married for ten years, and they have three young children together. Dominic, as it turns out, has a lot of ideas about how fidelity isn't all that important. Not only does he cheat, he's incredibly indiscreet about it. He was photographed openly canoodling with Lily James in Rome, in photos which were taken over the weekend. The photos were published Monday morning, and by Monday evening, Dominic had flown back to England to see his wife. Tuesday morning, Catherine and Dominic stepped outside of their home, posed for kissy photos and Dominic told the paparazzo, "Our marriage is strong and we're very much still together." He even wrote it down and the paparazzo took a photo of the hand-written note.
I honestly don't even have words for all of this upper-class f–kery. But for context, I found this E! News story interesting – E! obviously spoke to the photographer who grabbed the photos of Lily and Dominic in Rome, and that photog is apparently being called an "eyewitness." LOL. But still, this thing between Dominic and Lily… it's not a misunderstanding. It's a full-blown affair.
Paparazzi captured numerous photos of The Pursuit of Love stars in a heated embrace, one of which shows Dominic kissing Lily's neck. An eyewitness tells E! News that Dominic, who is married to Catherine FitzGerald, engaged in plenty of PDA with his co-star during a lunch with their friend and manager, Angharad Wood. "At the end of lunch Lily sat next to Dominic and he couldn't resist kissing her neck and stroking her," the source describes. "They then visited the nearby church and Dominic placed his hand on Lily's butt."

Prior to their rendezvous with Angharad, Lily, 31, and Dominic, 50, did a bit of sightseeing around the Spanish Steps and Piazza di Pietra, according to the insider. And if their weekend getaway wasn't romantic enough, the eyewitness says Lily and Dominic rode around Rome on an electric scooter, à la Lizzie and Paolo in The Lizzie McGuire Movie.

The insider adds that the pair spent the rest of the evening at the centrally-located Hotel de la Ville, where they stayed in a suite with a panoramic view for their two-night trip. And when it came to their goodbye, the source describes a tender farewell, sharing how the two actors shared a long embrace and many kisses before parting.

Lily and Dominic are currently working together on the set of the period drama The Pursuit of Love. The Cinderella star is playing the lead role of Linda Radlett, but it's unclear if Dominic plays one of Linda's three suitors.
"…The eyewitness says Lily and Dominic rode around Rome on an electric scooter, à la Lizzie and Paolo in The Lizzie McGuire Movie…" Imagine using this as a frame of reference, OMFG!!! But also, yeah – this is an "on set" affair. Dominic left his wife and kids at home while he flew to Rome to make a movie, and he quickly started banging his younger costar (incidentally, West is playing her father in the movie!!). I mean, maybe his marriage IS fine, maybe they have an open marriage or whatever. But it still sucks. You can be in an open marriage and still not do THIS. Humiliate and embarrass your wife, leave your mistress exposed to social, media and career repercussions, all so you could get your rocks off with some strange.
The nation may be facing new chaotic creeping lockdown but here's what everyone really wants to talk about: Dominic West and wife put on united front after THOSE pics of him with Lily James https://t.co/TIjbzitaBq pic.twitter.com/GXSAhyzSgq

— Daily Mail U.K. (@DailyMailUK) October 13, 2020
Somebody hang Dominic West's handwritten note in the Smithsonian where it belongs pic.twitter.com/p1eiJU5AgZ

— Caitlin McBride (@mcbride_caitlin) October 13, 2020
WORLD EXCLUSIVE: Married star of The Affair, Dominic West, pictured passionately kissing Lily James in Rome https://t.co/cZLOuXGTOs pic.twitter.com/cwpCC4kC0e

— Daily Mail Celebrity (@DailyMailCeleb) October 12, 2020
Photos courtesy of Backgrid, Avalon Red, WENN.