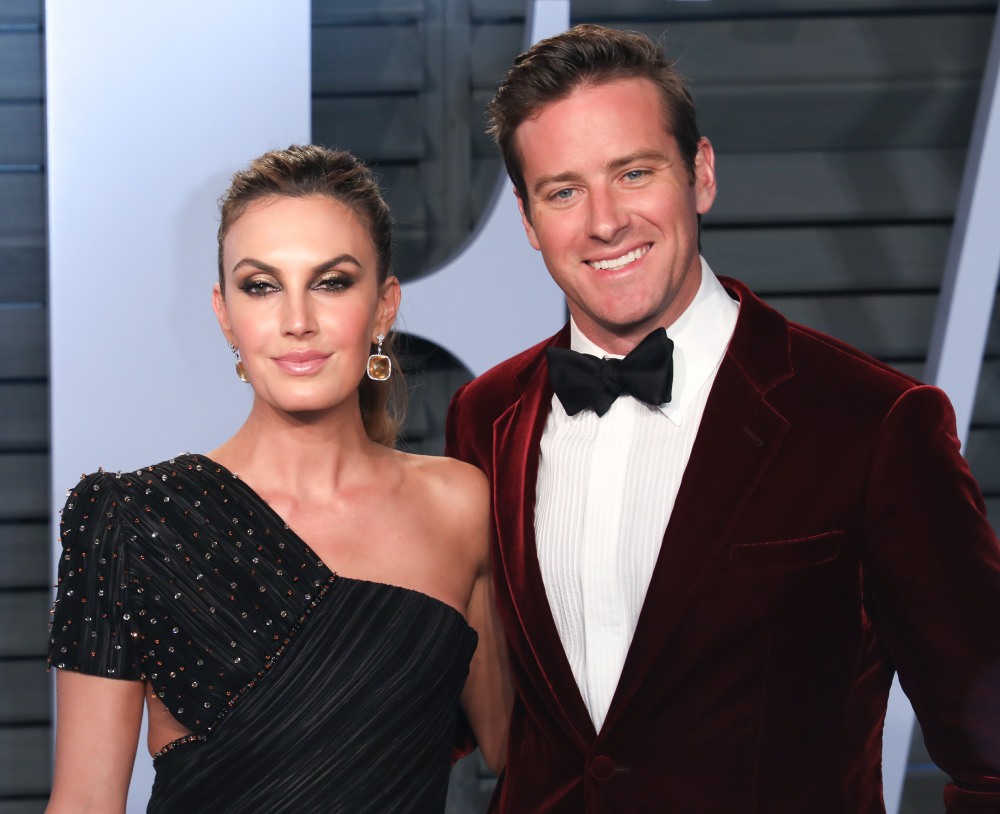 I don't know if this will turn out to be a bigger story in the weeks and months to come, but it definitely feels like there's a good chance it will. In July, Armie Hammer and Elizabeth Chambers announced that they were separating after a decade of marriage. They had apparently been having problems for a while, and the pandemic heightened all of it. They were in lockdown in the Cayman Islands for months and that's when their marriage became irretrievably broken. Armie flew back to LA in July while Elizabeth stayed on the island with the kids. She's been posting on Instagram about the kids going to school on the island. And now Armie is trying to force Elizabeth and the kids to come back to LA?
Armie Hammer is filing for joint custody of his two children whom he shares with his estranged wife Elizabeth Chambers. The Call Me By Your Name star is requesting Chambers, 38, return to the U.S. to arrange a custody schedule for their daughter Harper Grace, 5, and son Ford Douglas Armand, 3. Chambers is currently staying in the Cayman Islands with their kids where she and Hammer quarantined at the start of the coronavirus pandemic. Hammer, 34, returned to Los Angeles after the two announced their separation in July.

"As the coronavirus pandemic worsened in the United States, Elizabeth and Armie elected to stay with their children temporarily in the Cayman Islands where the pandemic appeared to be under greater control," the actor's lawyers state in legal documents according to The Blast. "Armie returned to Los Angeles this past July, with a promise from Elizabeth that she and the children would follow shortly thereafter. To date, however, Elizabeth and the children remain in the Cayman Islands and Armie has not seen the children in several months now."

A rep for Chambers could not be reached for comment. She previously filed for divorce in July, seeking primary physical custody and joint legal custody of their two children.

A source tells PEOPLE, "These are crazy times with COVID-19, shutting schools down in L.A. and Elizabeth just wants the kids to have a normal experience."

Harper and Ford have enrolled at the same school Hammer attended when he was younger. (The actor's family moved to the Cayman Islands when he was 7 where they lived for five years.) "The kids are able to attend school, play with their friends and lead a fairly normal life in the Cayman Islands. If they were in L.A., they would be stuck in front of a computer," adds the source.

In the filing, Hammer said, "When I asked Elizabeth when she was coming home, however, she first told me that the airports were closed. Then I was informed through her attorneys that flights were merely limited but that she and our children would be back in Los Angeles on the first flight in October." He continued, "It is now several weeks into October and they have not returned."

While living in the British territory with their mother, the children have also been spending time with the actor's father, Michael Armand Hammer, per Chambers' Instagram Stories.
While I do think this could become a major thing, I also sort of understand why Elizabeth is doing what she's doing? I mean… the kids probably are better off in the Cayman Islands at this very moment. She's clearly still spending time with the Hammer side of the family, and it's not like she's kidnapped the kids and taken them to parts unknown. She's staying in lockdown, and she doesn't want to travel with two small kids in the middle of a pandemic. But yeah, I can also see why Armie is trying to force her to come back, I guess. Messy!
Photos courtesy of WENN, Instagram.