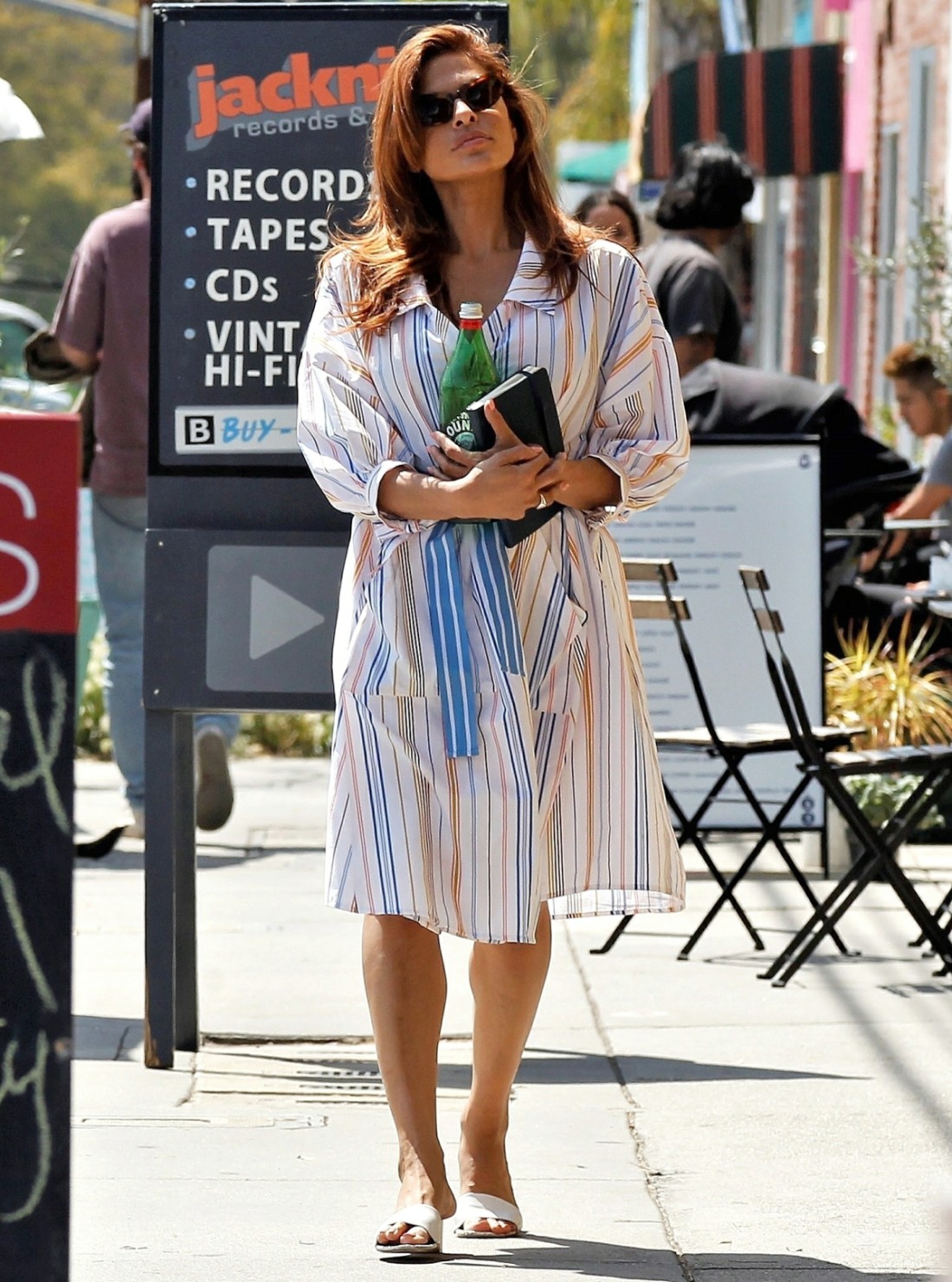 Eva Mendes used to get pap'd all the time and she used to be gossiped about quite regularly. She invited all of that, part of the tradeoff of "becoming a bigger star" and all of that. It never quite translated to consistent work in films, but she still made a name for herself and had enough of a celebrity brand to make serious money as a model and through fashion collaborations. Then she met Ryan Gosling and everything changed! She gave birth to two girls, Esmeralda and Amada, aged 6 and 4. Eva hasn't worked in a film in years, but she still has some revenue streams here and there, and she uses her name to promote charities too. Which is why she chatted with the Sydney Morning Herald – she's promoting her ambassadorship of Ronald McDonald House Charities. She spoke about her kids, and wanting to maybe get back to acting work.
Lockdown life in LA with two kids: "Sometimes it feels like we are running some kind of bed-and-breakfast with very drunk and aggressive guests. We really do feel like we are working in a hotel, and the guests are angry and bossy and demand food brought to them. And by the time they go to sleep, we're left to just clean up and talk about how they've treated us that day! When we feel like we're just 'in it', like all parents do during these times, we remind ourselves that these are the good times, because we're all together and we're all safe right now."

Her Cuban family: "I was definitely the baby of the family, and there was Cuban food and music and loud singing and yelling around the house all the time growing up. One of my earliest memories, around age 11, was having a girlfriend call me. She could hear my family in the background and said, 'Oh, I'll call you back later, it sounds like you guys are fighting.' I said, 'No, we're not fighting, we're having dinner!' "

Her brother passed away when she was pregnant with Amada: "It was surreal, but my brother didn't really want to talk about it, so I respected that and gave him other stuff to talk about, like seeing my pregnant belly and playing with his niece."

On returning to the screen at some point: "I feel like, as far as my ambition, it didn't go away, it just shifted onto the children. I applaud and look up to those women who can do it all, but I'm not one of them – and, thankfully, I have a choice not to work and I realise how fortunate I am that it's even a choice. I've been so happy to be able to incubate with my babies, but now they are four and six, I'm starting to feel like my ambition is coming back."
I've always felt – rightly or wrongly – that it was so easy for Eva to kind of slip away from Hollywood because she was never that in-demand anyway, and the scripts had already begun to dry up when she got pregnant with Esmeralda. And honestly, I think that's why Eva and Ryan worked for so many years too – she stays home with the kids or travels (with the kids) to where he's working. Everything is built around his career. It's just a regular old stay-at-home mom thing. And she's right, it is a choice and she is lucky she can walk away from her career for seven years to be a mom.
Photos courtesy of Backgrid, Getty.