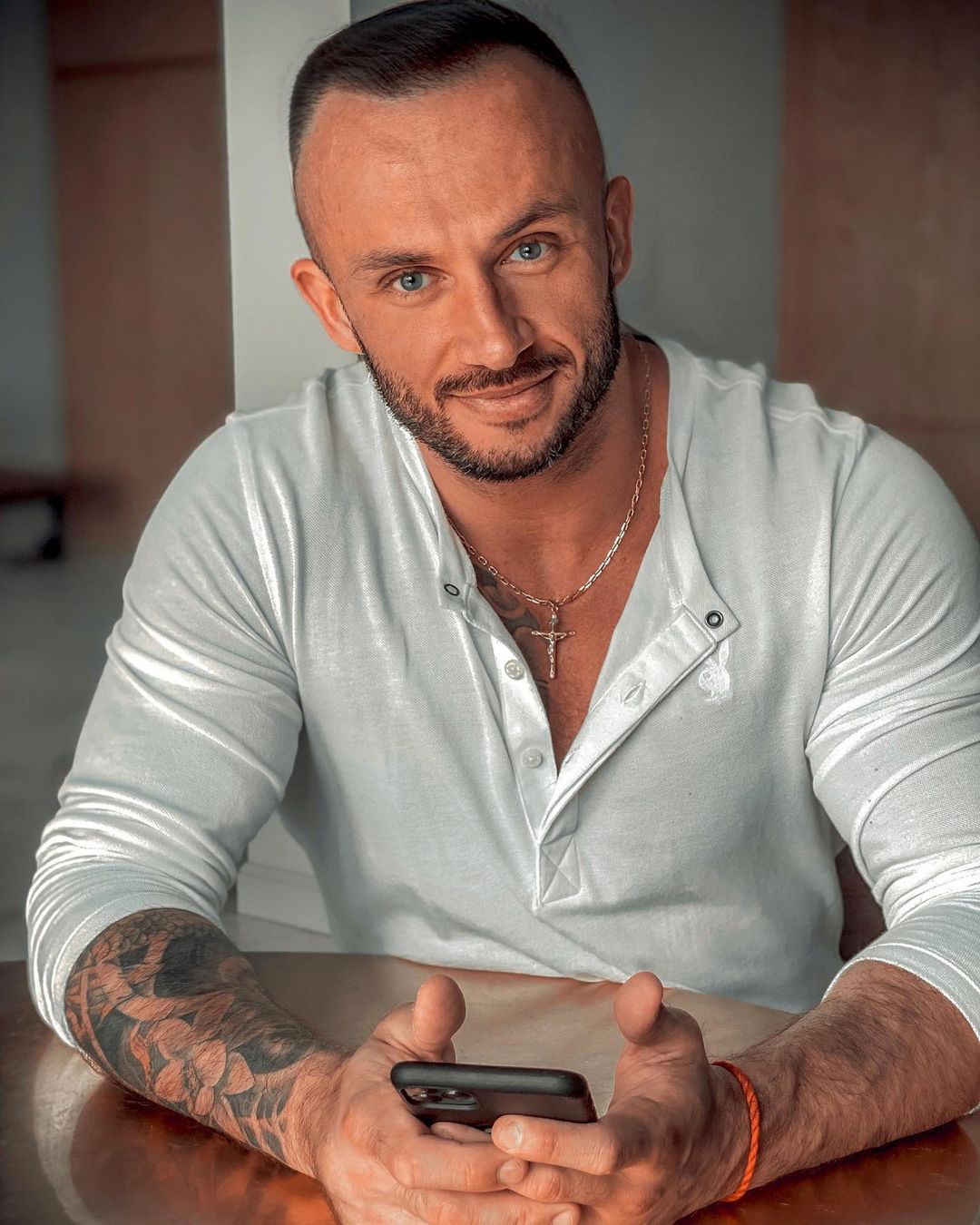 Last week we talked about a guy who regretted being a covid denier when his whole family ended up sick after he insisted on a get together. He was hospitalized with covid and his father-in-law died from it. Here's another covid denier who unfortunately learned the hard way. The original posts for this story are in Russian so I'm relying on E!'s coverage of this story. This got traction because the man who died, Dmitriy Stuzhuk, was a popular Ukranian fitness influencer with a million followers who didn't believe covid was real. When he was hospitalized he finally recanted and admitted he was wrong, then he passed away at just 33. He caught it right after visiting Turkey. In some posts from last month he was hanging out with friends and just walking around talking to people without a mask. Here's E!'s coverage:
Fitness influencer Dmitriy Stuzhuk has passed away at the age of 33 after suffering from complications related to COVID-19. The social media star's ex-wife, Sofia Stuzhuk, with whom he shared three kids, confirmed his death in a detailed Instagram post on Saturday, Oct. 17…

"We were no longer together, but it hurts me no less," she continued. "I am so sorry… I'm sorry. Thank you for everything, my important person, my main teacher, my guide, the father of my children."

In closing, she wrote, "You are our guardian angel and your love will always protect our angels. How painful it is to realize… Blessed memory of you, Dima Stuzhuk."

Earlier this week, Dmitriy updated his one million followers on his health in an Instagram post.

"CORONAVIRUS "COVID", DAY 8," he began his caption in Russian, which has also been translated to English. "As you all know from stories, I am sick with coronavirus. Today, after returning home, for the first time there was an enthusiasm for at least writing something. I want to share how I got sick and convincingly warn everyone: I also thought that there was no covid… Until I got sick."

According to The Sun, the fitness influencer contracted COVID-19 during a trip to Turkey and was treated in his native Ukraine.

[He] also touched on this in his Instagram post, writing, "I felt bad on the second day in Turkey. I woke up in the middle of the night because my neck was swollen and it was hard to breathe. At the same time, my stomach ached a little."

"The next day, a cough began to appear, but there was no temperature. There were no particular symptoms of the disease either, so I thought that these could be consequences after playing sports, changing the climate and nutrition, and plus sleeping under air conditioning," he continued. "After returning from Turkey, I immediately went to take various tests, do an ultrasound scan and, just in case, decided to take a COVID test. It turned out to be positive."

Dmitriy explained he took a CT scan, and was later "prescribed treatment and began to insist on hospitalization."

"This is another story, because now there are renovations going on, the hospital is completely filled with people, some of them live in the corridor," he explained. "There is no food, no paper, no cutlery either! Nobody warned me about this."

[Dmitry] also described his treatment in detail, sharing, "They gave me an oxygen apparatus for breathing, since I have a low oxygen level (although I think it is considered critical after 90, for me 94-96 it is quite permissible for treatment at home, the doctor in the waiting room told me the same thing)."

He explained that he did end up being treated at home, after feeling it was "more convenient and comfortable."

However, The Sun reports Dmitriy was rushed back to the hospital following his at-home treatments. Sofia said, per the outlet, that her ex-husband was in "grave " condition and "unconscious."

She revealed that the fitness star had problems with his cardiovascular system. "His heart is not coping," she expressed at the time. "His state is extremely grave. No one can do anything with this."

Shortly after, he passed away.
I just spent way too long looking through his Instagram and his estranged wife Sofia's instagram. They just had their third baby around Christmas and the last time she posted a photo with him was in April, so they split up sometime earlier in lockdown. Dmitry made the announcement on August 4 that they had split. There's video of Dmitry in late September, out maskless and talking to people. In the third video in this slideshow, he and his buddies are slapping women on the bare butts out on the street. It's confusing and I don't want to think about it, but he's clearly getting too close to people. He went to a big conference, in person, just earlier this month. I ran a bunch of his posts through Google translate and couldn't find any where he denied covid, but I may have missed it. He's certainly acting like nothing has changed.
He's so fit and young and the virus took him quickly. Of course a lot of people only get mild to moderately ill, but the more it spreads, thanks to people acting like it's not real, the more stories we're going to hear like this. Maybe this will be a warning to some people, but I doubt it. The type of people who deny it's real are the type of people who won't believe it until they get sick or they lose someone close to them. Even then, they often continue to act like selfish a-holes. I'm sorry he passed and I don't want to end on that note, but their actions affect so many other people.
This is from 6 days ago:
His ex's post announcing his death:
I ran this through Google translate and I think he's giving away this car. In other posts he's giving away phones and gadgets.