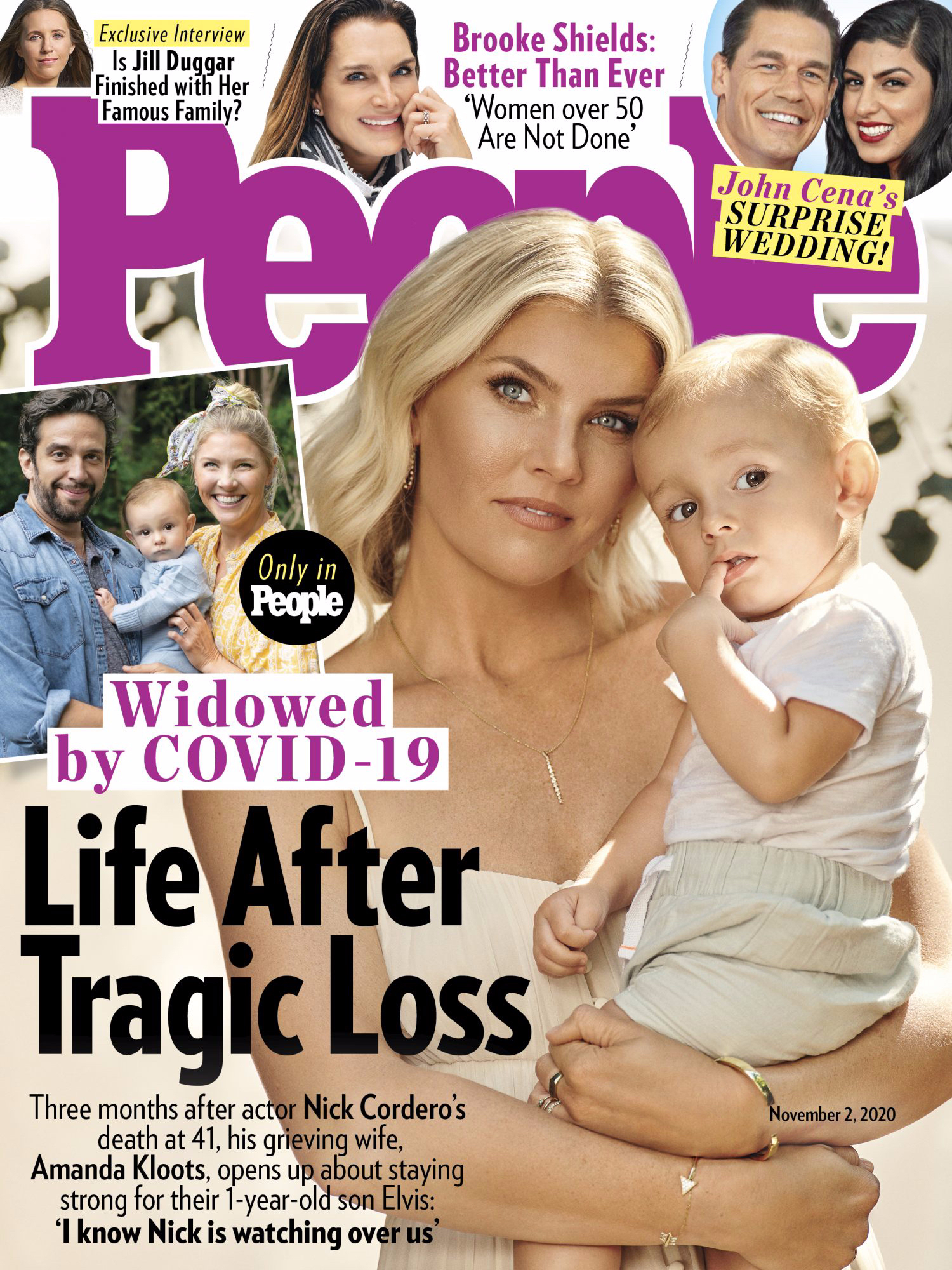 So much has happened in the past couple of weeks that it's hard to remember how Trump utterly smeared and deeply offended people who lost loved ones to covid. He was so tone deaf, so arrogant in his statements after being diagnosed and treated that it was staggering, even for him. He tweeted "Don't be afraid of Covid. Don't let it dominate your life." Amanda Kloots is the widow of Broadway star Nick Cordero, who passed away at just 41 this July after an over three month battle with the virus. Amanda spoke out about how awful it was of Trump to tell people not to be afraid of a virus that had taken her husband's life and over 210,000 lives at that point (222k now). She said it was "a gut punch" and "such an insult" and brought it all back. She also talked about how the virus "dominated" small businesses and workers who lost jobs and livelihoods and said Trump owed America an apology.
Amanda and her baby, 16-month-old Elvis, are covering the new issue of People Magazine. Amanda told People the ways she shows Elvis who his dad is, by showing him photos and singing his songs. It was sweet and sad and just reminds people that there families who have lost so much.
It's been three months since Broadway star Nick Cordero died from complications of COVID-19 at 41 years of age, and his wife Amanda Kloots is opening up about the ways in which she honors her late husband every day.

Kloots, 38, and her 16-month-old son, Elvis, often start their mornings by playing some of Cordero's music and every night, before bed, they look at photos of him.

"We say goodnight to Dad and give Nick a kiss," Kloots tells PEOPLE in this week's cover story, on stands Friday.

Kloots says even in her darkest times, it's her son who always cheers her up.

"Anytime I'm sad, he brightens my mood in two seconds," she says. "He looks at me with his big smile and his little teeth, and I'm instantly transported into a different mood."

The fitness instructor and founder of AK! Fitness says she already sees the similarities between her husband and her son. "Elvis is just calm and cool. He gets along with everybody. I think that's very much Nick," she says.

Her home is filled with mementos of Cordero — a rug in the living room has the title of Cordero's song "Live Your Life" on it; a painting of the family, made by one of Kloots's Instagram followers, hangs on the wall, and a pillow on the couch is covered in printed photos of him.

Kloots says she feels Cordero's positive energy watching over them.

"We have this beautiful little boy that we created together," says Kloots. "I love watching him grow, and I know Nick is watching him too."
People has a video with Amanda where she gushes about Elvis and it's sweet. They likely put Amanda on the cover right ahead of the election because she's been so open about her husband's illness and tragic death. Look at that headline "Widowed by Covid-19." I bet the fact that she spoke out against Trump made their editors pick her. (Amanda does have a memoir coming out, but not until next year.) So many people think covid is no big deal because they haven't been affected by it. For those who haven't yet learned the hard way, maybe Amanda's story will help bring it home. I'm really interested to see who People picks for next week's cover.
As an aside I've actually worked out with Amanda and didn't realize it until now! She has a dance fitness segment with PopSugar that I've done. It was tough but fun. Her choreography was just the right level of challenging too. She has on demand and live workouts available through her website for only $9.99 a month.