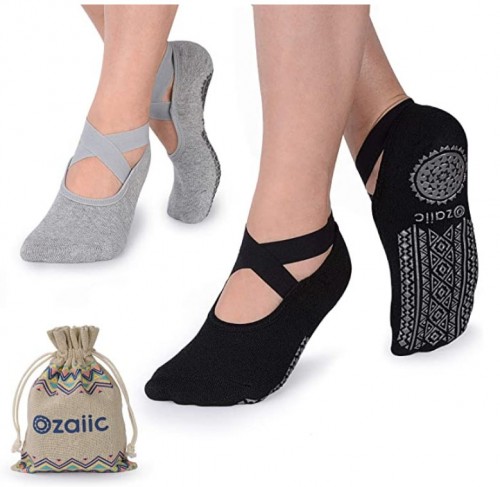 From CB: I got the yoga socks and like them so much I want to wear them every day. I even did one of those modern dance barefoot type workouts in them. (This is the one I did and thank you MrsRobinson for mentioning it in the Tia Mowry post.) I also got the outlet shelf and can recommend it. It was easy to install and works well for the Echo dot and my electric toothbrush. The magnesium spray is good and I do recommend it, but please be careful and don't use it every day. Frankly I got the runs after a few days and think it was from too much magnesium. I'm just going to use it once a week from now on. Here are some more things that Hecate and I are looking at.
Tea Tree shampoo and conditioner for color treated hair and itchy scalp relief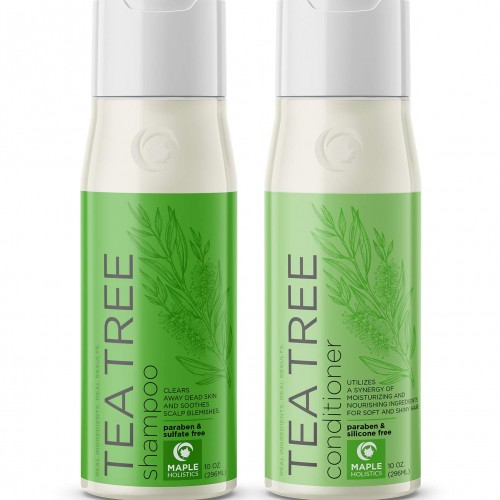 From CB: I'm having itchiness and sensitivity issues with my scalp due to how harsh my at-home hair dye is. I've gotten a tea tree oil spray by Hask I'm using and would like to try tea tree oil shampoo and conditioner. This Tea Tree Shampoo and Conditioner for Color Treated Hair by Maple Holistics is paraben and sulfate free. It's said to be great for treating dandruff, dry scalp and itchy, sensitive scalp. You get 10 ounces each of shampoo and conditioner for under $17. It has 4.5 stars, over 600 ratings and a B on Fakespot. Reviewers write that it really works to reduce itchiness and treat dandruff. "I have had issues with a dry itchy scalp throughout my life. I have tried so many different things that I was considering going to a dermatologist to seek relief. I have tried multiple anti dandruff shampoos that did not bring as much as relief as this. I like that this product is natural. The conditioner also works wonders compared to other natural conditioners that I have tried." and "My hair shines everytime I use this shampoo + conditioner, and no flakiness and itch due to dry scalp!"
A K-Beauty facial cream called the best, most affordable moisturizer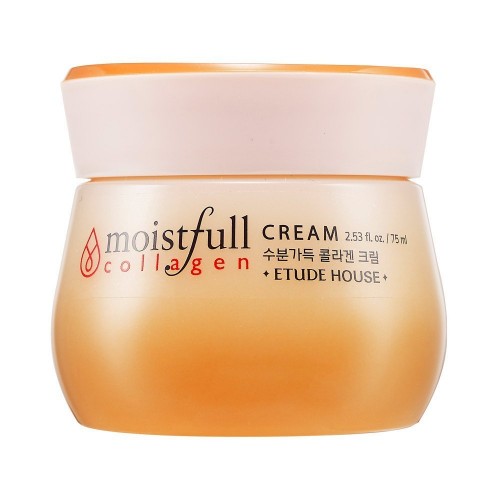 From CB: I don't need any more moisturizers but now that I've read the reviews for this I want it. Moistfull Collagen by K-Beauty brand Etude House has 4.5 stars, over 1,800 ratings and a B on Fakespot. You get 2.5 ounces for $18.50. Women say that it's just as good as much more expensive brands. They write "As far as I'm concerned, it's my holy grail of moisturizers, and I've tried Clinique, SKII, La Prairie, La Mer, La Roche Posay, Avene." "This moisturizer not only absorbs easily, it also feels light and leaves my skin fully moisturized." "This moisturizer is very lightweight, has a gel-like texture, and a nice scent (slightly orangey but not aggressive)." It comes in a new and old formula but people say to stick with the old one as it's not as perfumey.
A all natural nail fungus treatment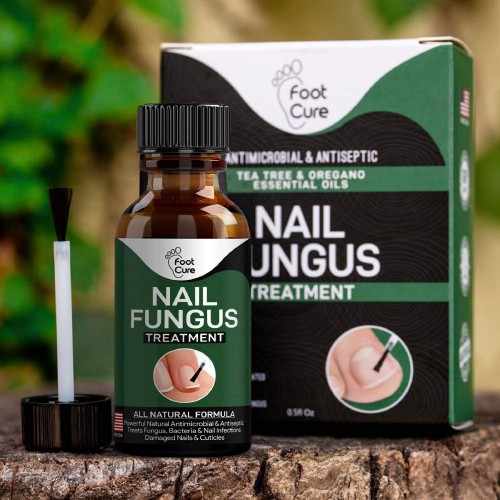 From CB: I've never had this problem before but one of my big toenails is funky now. I thought I must have smacked it, but I'm pretty sure it's nail fungus. I bought this and have been using it for three days so far. It seems to be working although the verdict is still out. This nail fungus treatment by Foot Cure dissolves the old nail so a new nail can grow in its place. It has 145 ratings, 4.1 stars and an A on Fakespot. So many people say that they went to the podiatrist and tried everything before finding this. (Note that these reviews are for a single bottle of the product, which is no longer available. They're selling them in 2 packs only now.) "My podiatrist has given me RX's for meds, I've tried Vicks and all the weird remedies that people come up with! I didn't have high hopes for this AT ALL. I cannot even tell you how much and how quickly this worked! Its only been a couple of weeks!" "Even went to the podiatrist and what they gave me didn't work. Within 3 days of using this product it literally disintegrated the bad infected nail and new nail has been growing." "I have been using this product for 5 days, morning and night. The change is already amazing. Color is noticeably improving. Cuticles are smooth and soft. Yes, there is an odor – oregano with light lavender undertones – but it doesn't last long and is not off-putting." Personally I don't mind the smell although you can definitely smell it.
A pretty shimmer eye palette for autumn that's super affordable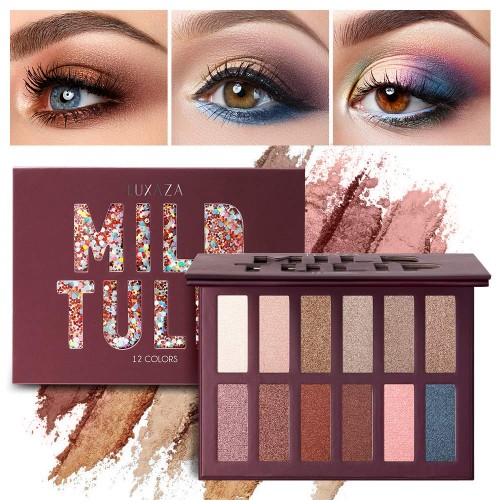 From Hecate: Amazon suggested this new release color palette for me and I thought it was so pretty I wanted to post it, even though it only has a few reviews so far. Back when I could afford it, I purchased some Fenty eye palettes with the shimmer and matte shadows and I just love how they look on. This LUXAZA reminds me a little of those and the whole palette is only $12.99! Plus the product is cruelty free. It has 23 reviews, 4.7 stars and the same score on ReviewMeta. Reviewers say you get great quality for the price, "I cant believe how much quality I got for such little money. The colors are super pigmented and beautiful." Another spoke to its versatility, "This would be a great set for traveling as you have a large variety of colors that can be used for day or night looks." I might get a couple for gifts.
Aromatherapy tablets for a spa shower experience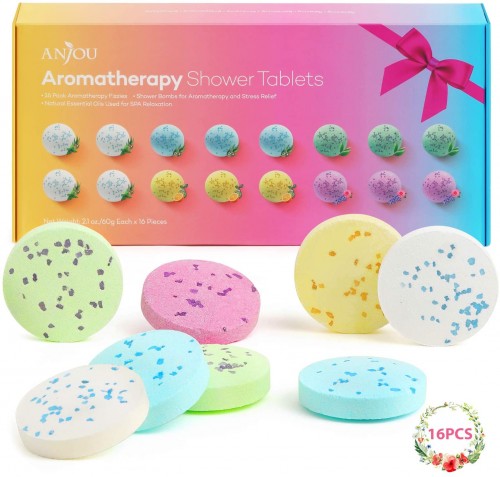 From Hecate: I've been enjoying weekend spa baths – adding salts and oils or bombs, if I have them. These tablets are designed to provide the same spa experience for the shower, which means I wouldn't have to wait for the weekend to indulge. The tablets are infused with essential oils that are released when you place them on the shower floor. Each gift set is $20 and contains 16 tablets that come in five scents: Eucalyptus, Tea Tree, Lavender & Rose, Sweet Orange & Bergamot, Eucalyptus & Peppermint. They have 400 reviews and 4.5 stars on ReviewMeta. Reviewers say they work great in the bath as well, "So soft and moisturized after a bath with one of these." One said, quite simply, they do exactly what they say they will, "With these bath bombs you can get spa like experience at home. They are just perfect size." These are listed as gift sets, but I am totally buying these for me.
A fancy cat swing for your fancy cat friends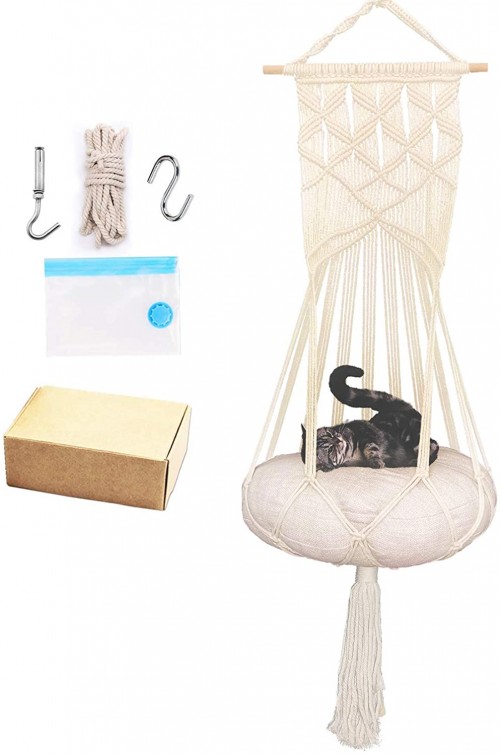 From Hecate: I saw this on Buzzfeed and it just made me so happy. As you know, I am fantasy shopping for my fantasy cat that I can't adopt yet. This is totally going on HeKitty's wish list. This macramé cat swing comes with all the hanging equipment to attach it plus an extension rope so you can hang it exactly where your feline overlord wants it. I love the look, I can think of five places it would look fabulous in my house. It does only come in one color – so hopefully that works with your aesthetic. The hammock comes with a cat bed for $54 or without for $35. It earned 4.3 stars on both Amazon and ReviewMeta. Reviewers say it's money well spent, "Worth every penny! My kitten loves sleeping and playing in it!" and that you get what you pay for, "This is very nice and came exactly as pictured." Most of the reviews talk about how much their cats like playing on it and how well made it is. Many of the folks who bought it recommend getting the bed with the swing both because it fits perfectly and because it's catnip infused.
Fun disposable masks for the holidays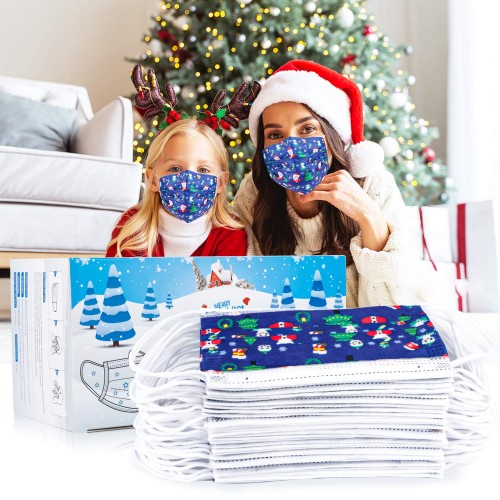 From Hecate: I know, I know – it's too early to talk about the holidays (is it, though?) but these are available now and they may not be when winter rolls around. I've started keeping a box of disposable masks in the car just case anyone forgets one. I haven't seen too many fun ones. These come 50 masks to a box, two designs to choose from, both under $20 and are currently in stock. They're brand new so there aren't a lot of reviews, but they did earn 4.6 stars, which ReviewMeta confirmed. One review said, they feel nice, "The material is pretty soft and comfortable," while a few others point out that they are not too tight around the ears like some disposable masks can be. Since we know we know we'll still be wearing them come the holidays, might as well have fun with it!
As an Amazon associate I earn from qualifying purchases. Thanks for reading and commenting on our affiliate post! If you make any purchases from these links we get a small percentage and appreciate it.