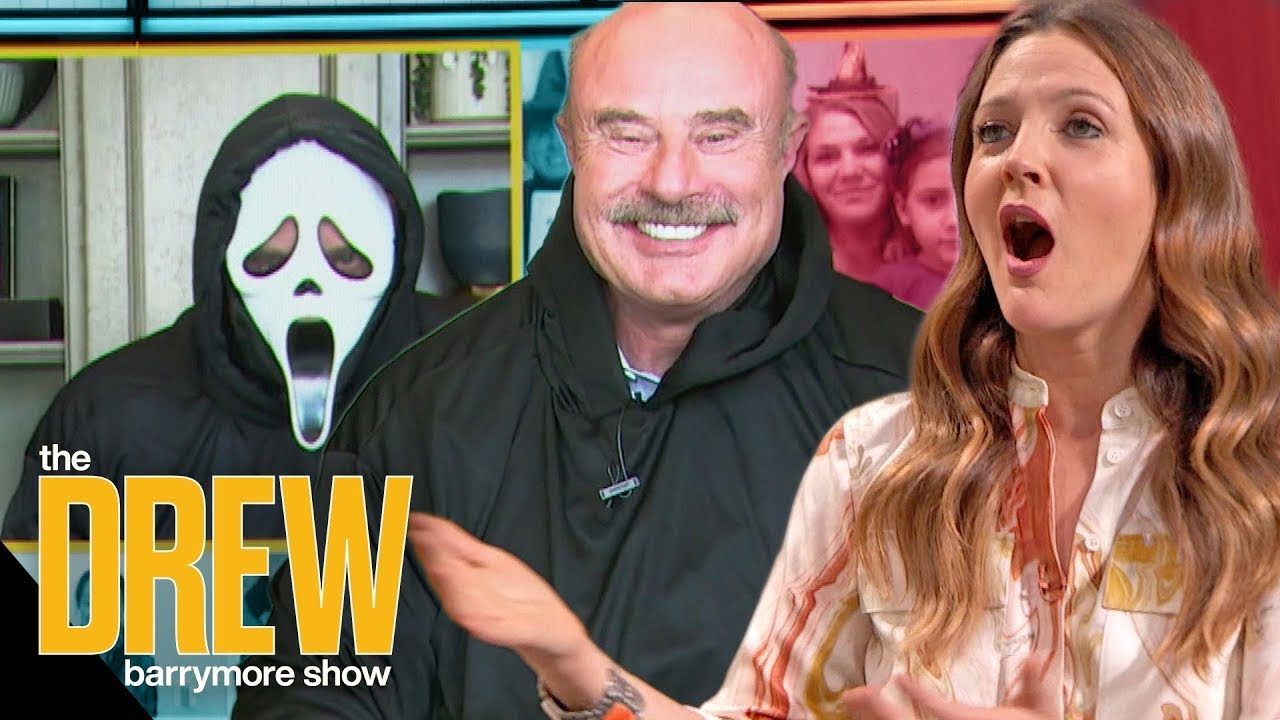 Dr. Phil has a new show he's promoting that highlights animal rescue operations around Austin, TX. It's produced by Richard Linklater (Boyhood, Before Sunrise) and Dr. Phil explained on Drew Barrymore's show that they match neglected animals with disabilities with kids who have similar disabilities. It's on CBS and is called That Animal Rescue Show. I wanted to talk about the part where Drew asked him for some advice about being chronically late. Dr. Phil was super blunt in explaining that being late all the time is obnoxious and selfish (my words). It was amusing because Drew made it clear she's rarely on time to things. She took the criticism like a champ though I have to say. Dr. Phil talked about growing up poor and how he used sports to escape that. Then Drew asked him if he had tips for being on time since that's always been an issue for her:
Drew: Do you have any tips for being five minutes early or dead on time because I'm still trying to master it. What is the key to being on time?

Phil: There's a lot of research about people that are chronically late. People that are chronically late are chronically late because they think they're so important they can't leave where they are because the world will fall off its axis if they do. They think that time will suspend for them because they really think the world revolves around them. They don't stop and empathetically think what does this mean for everybody else?

Drew: I feel like I'm at fault of all of it. I'm trying to do too many things I have too many things on my plate. I've got my head in the clouds I've got 80 things going on and 80

Phil: Think how nice it would be to show up early and get to just kind of… Put your feet up for a minute

Drew: That is what… my therapist [says], 'you have to get there five minutes early don't be afraid of wasting time, luxuriate.' I'm getting better at being on time I have not achieved the five minutes earlier. I will fix it. It might take like 40 years but I will fix it.
[From The Drew Barrymore show via Jezebel]
I'm usually right on time, but I can veer up to five minutes late because I try to cram too much into the day. Honestly I get a rush out of being exactly on time to things. This annoys my son, who likes to be early, so we're trying to compromise on this. People who are always late by ten minutes or more are super annoying to me. That's one of the first qualities you look for in a friend or partner, that they're reliable and show up to things when they're supposed to. If people routinely cancel things at the last minute that's even worse though I guess. I always found Drew Barrymore annoying and now I have more reasons for that. I like how Dr. Phil was so blunt about everything.
There's another section of the interview where Phil tells a woman who skypes in how to avoid dating a narcissist. His advice is so homey, but true. He says "Keep your standards high. You don't want to chase the wrong one because the right one won't run." He also said to pay attention to the red flags, basically. "They will show you early on who they are. Don't ignore that. When they show you that they're narcissistic, self absorbed, it's all about them… cut bait. The only thing worse than being in a bad relationship for a month, is being in a bad relationship for one month and one day." Dr. Phil bugs in many ways but I appreciate the way he phrases advice.
Here's that part of the interview. The talk about being late starts at 5:15.