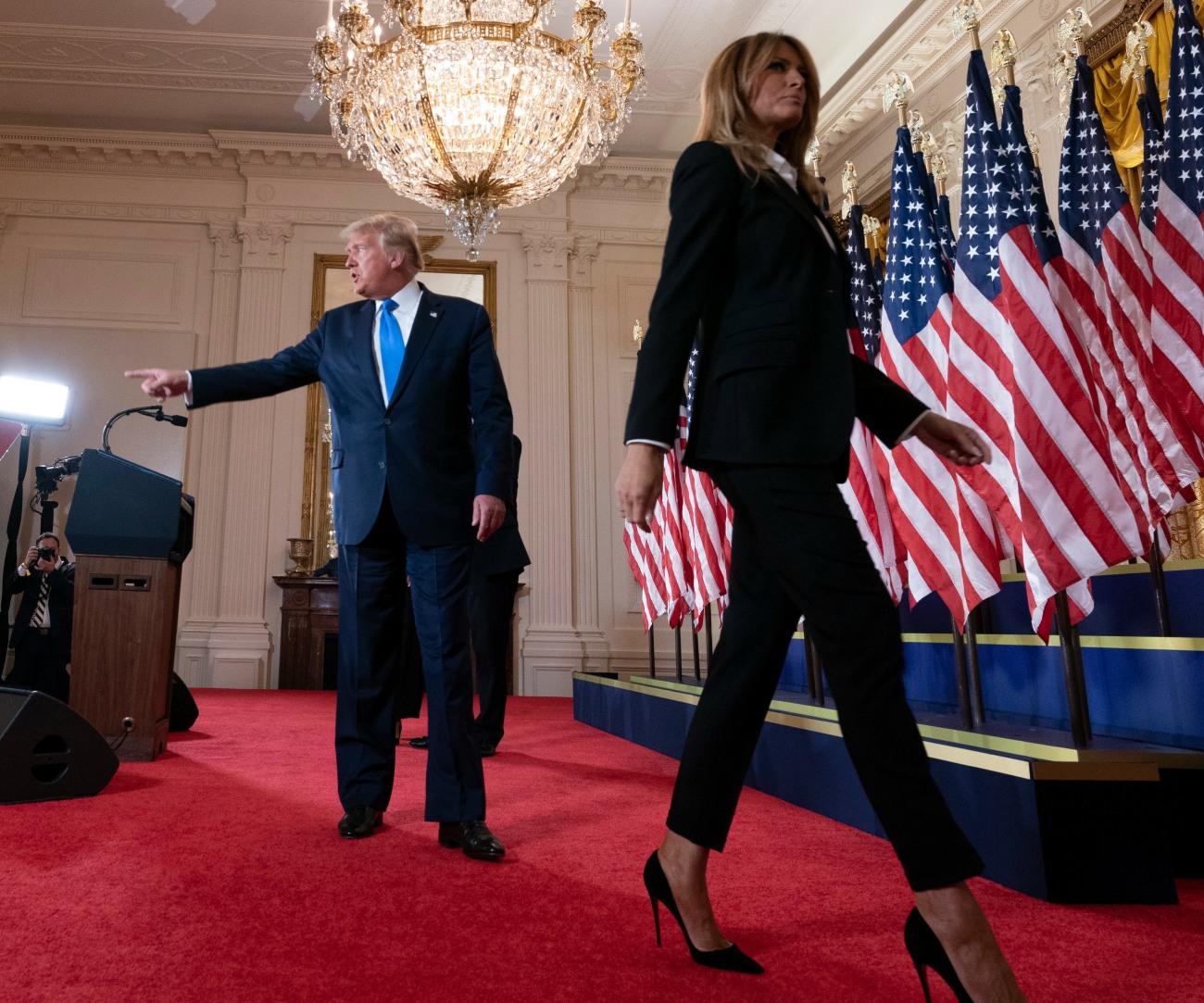 The NY Times has a terrific and hilarious story about the Sadness of Tangerine Trumplandia and you might want to get a glass of breakfast wine to truly enjoy every pathetic detail – you can read the full piece here. Election Night started out jolly in the White House, where Trump and his people were watching the returns on Fox News. They were happy with Florida being called so early for Trump. But the mood soured when Fox News became one of the first networks to call Arizona for Joe Biden. The rest is history:
When Fox called Arizona: Mr. Trump and his advisers erupted at the news. If it was true that Arizona was lost, it would call into doubt on any claim of victory the president might be able to make. What ensued for Mr. Trump was a night of angry calls to Republican governors and advice from campaign aides that he ignored, leading to a middle-of-the-night presidential briefing in which he made a reckless and unsubstantiated string of remarks about the democratic process. Standing in the East Room at 2:30 a.m., he dismissed the election as a "fraud" and claimed he wanted to stop the counting of votes and leave the results to the Supreme Court.

They called Fox News and whined too: Jason Miller, Mr. Trump's political adviser, disputed the accuracy of the call on Twitter and frantically called Fox News, asking the network to retract it. He was unsuccessful. Instead of retracting it, the decision desk at Fox News doubled down on its call, putting Arnon Mishkin, the head of the desk, on air to defend the call. Several hours later, The Associated Press also called Arizona for Mr. Biden. Jared Kushner, the president's son-in-law and senior adviser, was also in touch with Rupert Murdoch, the Fox News owner, as the night wore on. And on Wednesday morning, Mr. Trump's campaign manager, Bill Stepien, insisted the president would win Arizona by 30,000 votes.

Trump just sat in the residence all day Wednesday: Mr. Trump spent much of Tuesday evening and early Wednesday watching election results roll in on Fox News from the White House residence, where he connected with several Republican governors on the phone. In conversations with Gov. Greg Abbott of Texas and Gov. Ron DeSantis of Florida, he asked about the possibility that fraud was being committed, according to people briefed on the call. As the map closed in on the Trump campaign on Wednesday, with Michigan and Wisconsin being called for Mr. Biden, the president was not seen in public all day. A Marine who stands guard in front of the West Wing doors when the president is in the Oval Office had not been spotted all day.

Trump's East Room speech: Mr. Trump's advisers tried to persuade Mr. Trump to speak in the East Room before Mr. Biden made his remarks in Wilmington, but they were unsuccessful. Instead, they sat and watched as Mr. Biden set the tone for the night. So it was hours before Mr. Trump actually appeared in the East Room. In the Oval Office, he huddled with aides who discussed how to frame the state of the race and whether he could declare victory or should take a more subtle tone. He did not choose the latter approach. "This is a fraud on the American public," he told a crowd of supporters at 2:30 a.m., in remarks that were immediately criticized even by some of his allies, like Chris Christie, the former New Jersey governor. The president continued: "This is an embarrassment to our country. We were getting ready to win this election. Frankly, we did win the election."

The blame game about Arizona, and the election: Outside the White House, finger-pointing about what went wrong had already begun. Some aides said that Mr. Trump had often resisted entreaties from Ronna McDaniel, chairwoman of the Republican National Committee, and Brad Parscale, his former campaign manager, and others to spend more time in Arizona. But they said he had resisted in part because he did not like traveling west and spending the night on the road. They and several other aides had also tried and failed to get Mr. Trump to stop attacking an Arizona favorite son and war hero, Senator John McCain, a Republican whom the president has continued to criticize even after the senator's death two years ago.

Jared was making calls! Mr. Kushner was making calls, looking for what he described as a "James Baker-like" figure who could lead the legal effort to dispute the tabulations in different states, according to a person briefed on the discussions. (Mr. Baker led George W. Bush's successful recount case in 2000.)
Yesterday, I giggled every time I looked at the Arizona vote, and this is why. Arizona was John McCain's revenge. Arizona was what turned things around in Trump's fascist peabrain. While the vote margin in Arizona has gotten tighter in the past 12 hours, Biden will likely win the state with a bigger vote margin than he won Wisconsin and Nevada. LMAO. And just the thought of this fascist a–hole sitting in the residence all f–king day, calling people to whine about "fraud" because… you know, votes were being counted… it's just a wonderful image to have.
Trump: Don't mail in your vote. Vote in person

Trump when he doesn't have any mail-in ballots: pic.twitter.com/6DiPGpptTo

— Anthony Moore (@AllThatandMoore) November 4, 2020
Photos courtesy of Avalon Red.