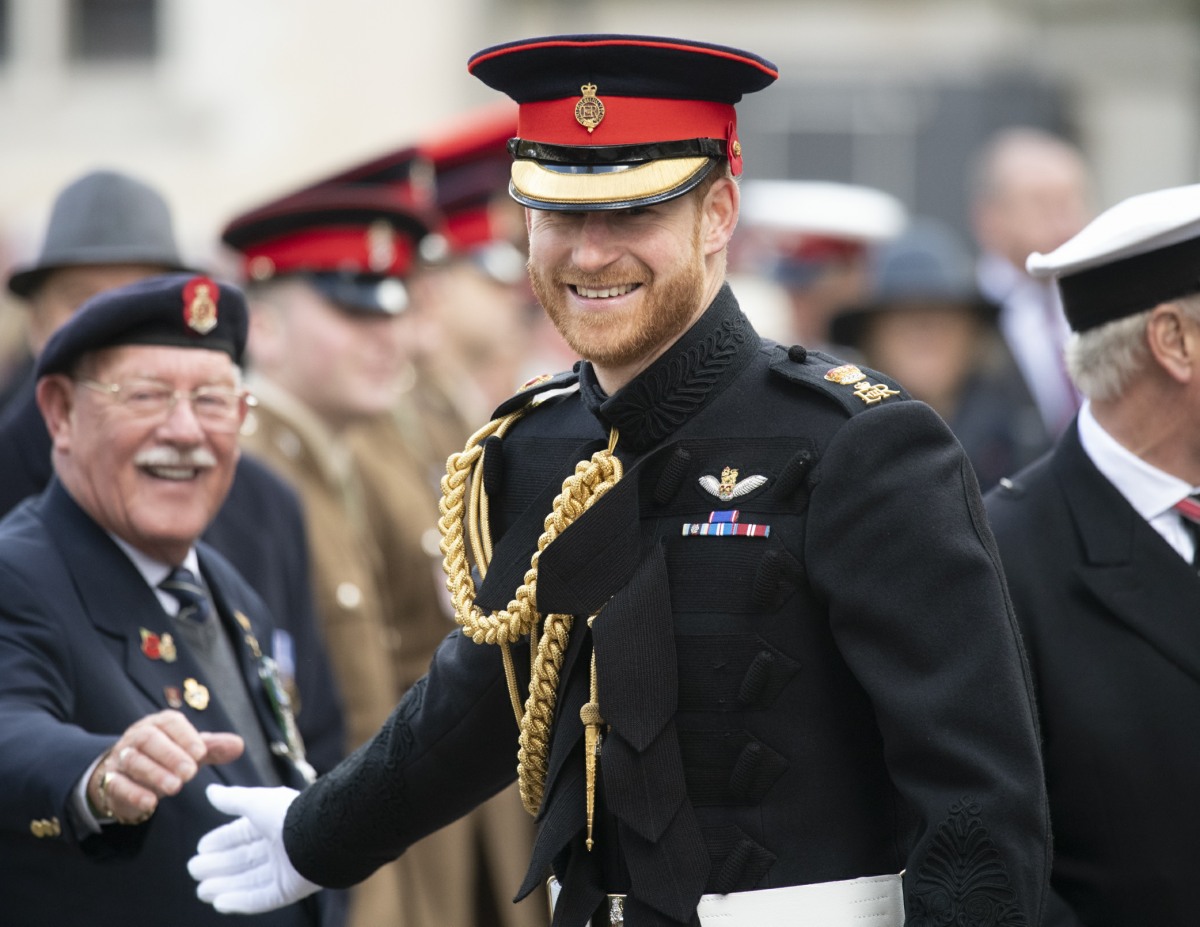 The Prince Harry-Remembrance Sunday snub just has so many layers of awfulness. Prince Harry is the only Windsor to actually serve in a war since Prince Andrew's service during the Falklands War. Harry served two tours in Afghanistan, and he devoted his post-military life to developing the Invictus Games and working on veterans' mental health issues. For Remembrance Sunday, he merely requested that someone, anyone lay a wreath at the Cenotaph in his name. He was refused because – according to the Buckingham Palace courtiers – he is no longer a senior royal. As if that somehow negates his service or his passion for the military and veterans.
The Sun got photos of the wreath Harry likely wanted laid at the Cenotaph – it was made and stored at the Royal British Legion's Kent headquarters. It cost £1000 to make. And the palace was too petty. Well, Harry isn't letting it go either. A source close to Harry went to People Magazine:
There was a wreath ready and waiting for Prince Harry — the official organizers of the event, which honors those who have been killed and wounded in war, had created a display and set it aside for Harry. But courtiers and palace officials decided that he couldn't have his wreath added to those from other members of the royal family because he and Meghan Markle are no longer working members of the institution.

Harry "understands that he doesn't have the same formal role in the family as he used to," a source close to him tells PEOPLE. "But he was saddened and disappointed by the decision."
Again, I don't see the connection between "he's not a working member of the family" and "therefore he cannot have his wreath laid at the Cenotaph." One thing doesn't have anything to do with the other. He wasn't asking for office space in Buckingham Palace. He wasn't asking to borrow the crown jewels. He was asking for someone to pay his respects to the fallen in absentia. It should have been a no-brainer. Speaking of, Robert Lacey had some thoughts:
Prince Harry's rift with the palace over his war wreath highlights how he is seen as "expendable," a royal biographer tells Newsweek. Historian Robert Lacey charted the rift between Prince Harry and Prince William in his biography Battle of Brothers.

He told Newsweek: "I think this is an indication that things are worse than we thought. If everything was hunkydorey there seems no reason why a wreath should not have been laid in Harry's name. If the royal family or the palace wanted to co-operate then it would seem to be a perfectly reasonable request to make that could have been fulfilled. I don't think it augurs well for the prospects of a reconciliation.

"On the face of this, it would seem that Harry is keener on reconciliation or maintaining some sort of link than the palace is to granting one."
I don't think Harry is particularly "keen" on reconciliation, he probably just thought that his family, the same people who claim to be all about duty to one's country, would simply agree that his wreath should be laid out of respect to HIS service and the service of every soldier and warrior. The fact that the Queen and the Men in Grey around her are so petty, so unpatriotic, so nasty and so small-minded isn't a shock to Harry at this point. As he said, he's just disappointed that there isn't more water under the bridge. Hey, but at least no one is talking about William lying for months about having Covid.
Photos courtesy of Backgrid, Avalon Red.