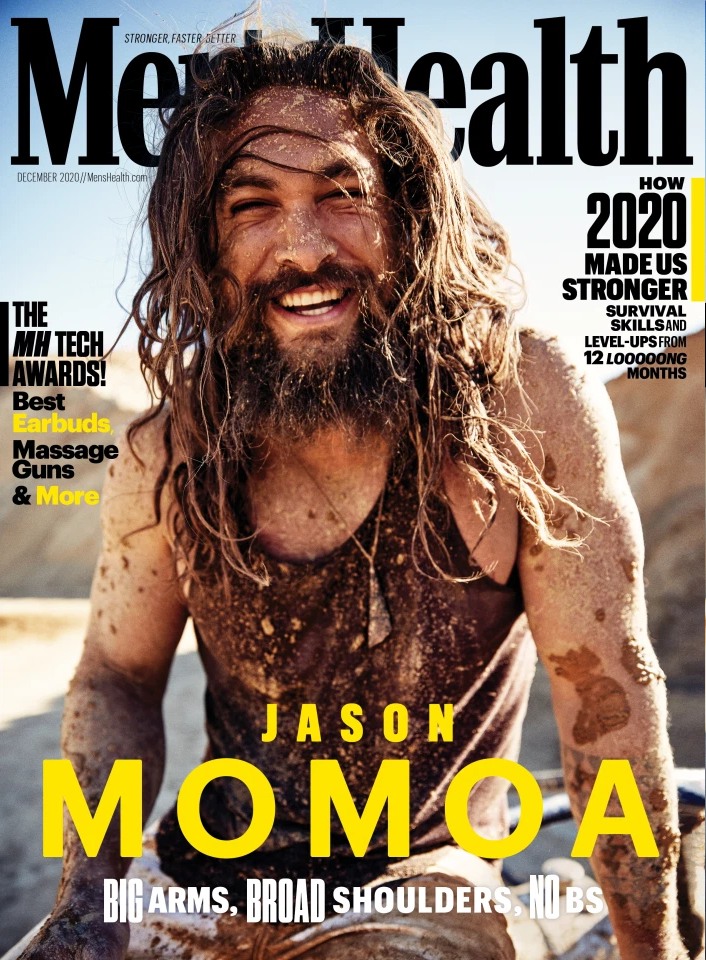 Reading a Jason Momoa interview is like trying to read the jumbled thoughts of a happy puppy. It's joyful, but scattered. Momoa covers the December issue of Men's Health to promote his work in Dune, and he's incredibly proud of the film and his performance. He's also just… happy. He's so much fun, and he really is that hot, big-hearted goofball he appears to be. You can read his interview here. Some highlights:
He loves old cars & motorcycles: "My wife makes fun of me all the time because everything I have breaks down. I like old, beautiful things. It feels like you're in a time capsule when you're riding an old bike."

He likes big, fancy things: "I don't do incognito. Here's this flamboyant Cadillac I've had since I was 22, because I love Elvis. Here's my top-hat collection, because I love top hats. Here's my ridiculous pink fur coat. I have a lot of weird things."

He worships his wife: "I'm nothing like Khal Drogo. I'm not even the king of my own house! I'm absolutely terrified of my wife. We've all gotten so much closer [during the pandemic]. My wife is very sophisticated and smart and [our kids and I are] kind of like animals that need to be trained a little better. I'm constantly a work in progress, and I've just been trying to get better as a father and a husband."

He loves his Dune costars HARD: He stands while I sit, bouncing on the toes of his boots while telling me all about his costars, from Chalamet ("as beautiful on the inside as he is on the outside") to Oscar Isaac ("my new man crush") to Josh Brolin ("who I look up to so much") to Javier Bardem ("like a god to me, the roof").

Midwestern values: "Even though I work in Hollywood, I'm 100 percent roots Midwest. I work hard and don't take anything for granted. I'm a big family guy."

He can't believe his kids like to read: "I can't believe it—they love reading. I'm like, 'Stop reading! Get outside.' It's insane." Now that they're doing remote learning, "they can do school on the road and come be with Papa. Woo-hoo! And I can take them everywhere, forever."

He was not cool about his stepdaughter Zoe Kravitz dating: Once Zoë started bringing boyfriends around the house, Kravitz played the whole thing super cool (no surprise there), while Momoa was the house worrier. "Lenny is way cooler than I am. I was baffled." He says part of the reason he cried about Lola turning 13 was that he knows at some point she will start dating and he will inevitably freak out. "I'm not going to do well with it. I'll just hate it if she brings home some dipsh-t bad boy. I'm like, 'If you find a man who treats you better than I [treat Bonet], good luck!' "

He doesn't have to work on his body that much: "It's just genetics. Hawaiians are big people. I rock climb a lot. Maybe I'm an ape. I love the way it feels. I like being upside down. I always loved climbing trees as a kid and swinging in the breeze. But lifting weights is challenging." Bonet is big into Pilates and yoga, and she's been urging her husband to join her. "So I tried yoga the other day, and it was the hardest thing I've ever done in my life. I'd rather squat a car. Climbing El Capitan would be easier than doing two hours of yoga. I can't bend over anymore! My hamstrings are so tight. It's pathetic. I remember one time I was all yoked out for Conan the Barbarian, and I was in a yoga class with these older ladies in Topanga and everyone was just holding their arms up and I was like, [screams] 'This is so hard!' "
I was laughing my ass off at Jason's complaints about yoga and how hard it was. He was literally screaming his head off about lifting his arms above his head. He's one of the most ripped guys out there and he can't handle a yoga class. It's amazing. I love him so much. He's pretty much the sweetest guy in the world. Anyway, there's tons more about his family in this piece, and how he considers Lenny Kravitz his family and how much he adores Zoe and all of that. Just good energy, all around him.
Cover and IG courtesy of Men's Health.