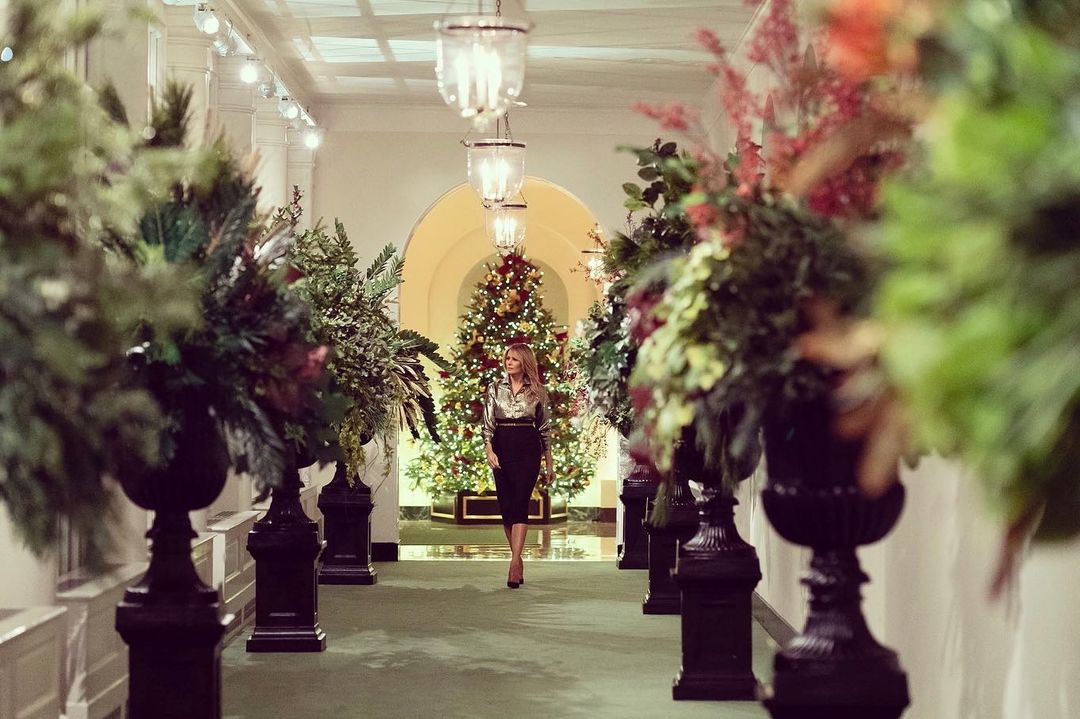 Melania Trump is famous for many things. She's famous for being a lazy golddigger and… maybe that's it. No, she's also famous for saying, "I'm working my ass off with the Christmas stuff that, you know, who gives a f–k about Christmas stuff and decorations but I need to do it, right?" Melania is definitely the Grinch. She hates Christmas, and she hates to lift a finger to take credit for all of the volunteers' work on decorating the White House for Christmas. But this is her last White House Christmas, so she actually tried to do… something. Honestly, I really like all of the decorations this year? This was the most colorful year in the Trump era? No blood trees of doom, no all-white decorations. This video was really chill:
During this special time of the year, I am delighted to share "America the Beautiful" and pay tribute to the majesty of our great Nation. Together, we celebrate this land we are all proud to call home. #WHChristmas pic.twitter.com/fdZmB3rdXL

— Melania Trump (@FLOTUS) November 30, 2020
Again, if you enjoyed this video – as I did, I could look at Christmas decorations all day – then it was in spite of Mel, not because of her. All she did was strut around after the decorating happened.
Meanwhile, did you know that Mel wants a book deal? LMAO.
Are readers ready for Melania Trump's side of the story? According to PageSix.com, the soon-to-be-former-First Lady is "taking meetings" about the possibility of penning a memoir. The book would be primarily about her time in the White House and, perhaps more importantly to her, would give her "a chance for her to earn on her own."

A source familiar with the Trumps said that husband Donald is encouraging his wife to pen the tome, which would come in the wake of former friend and staffer Stephanie Winston Wolkoff's exposé of the First Lady. A source added that if Melania makes a book deal, "It would be her money. It's her first chance to" cash in.

She will not be "going as quietly as you might expect," the source added, contrasting the First Lady's heretofore private nature.
Yeah… what's she going to call it? BECOMING… Melania! Becoming Be Best. Be Best: The Melania Story. Don't get me wrong, I would probably enjoy an actual, honest account of her life but we won't get that.
Photos courtesy of the FLOTUS instagram, Avalon Red.