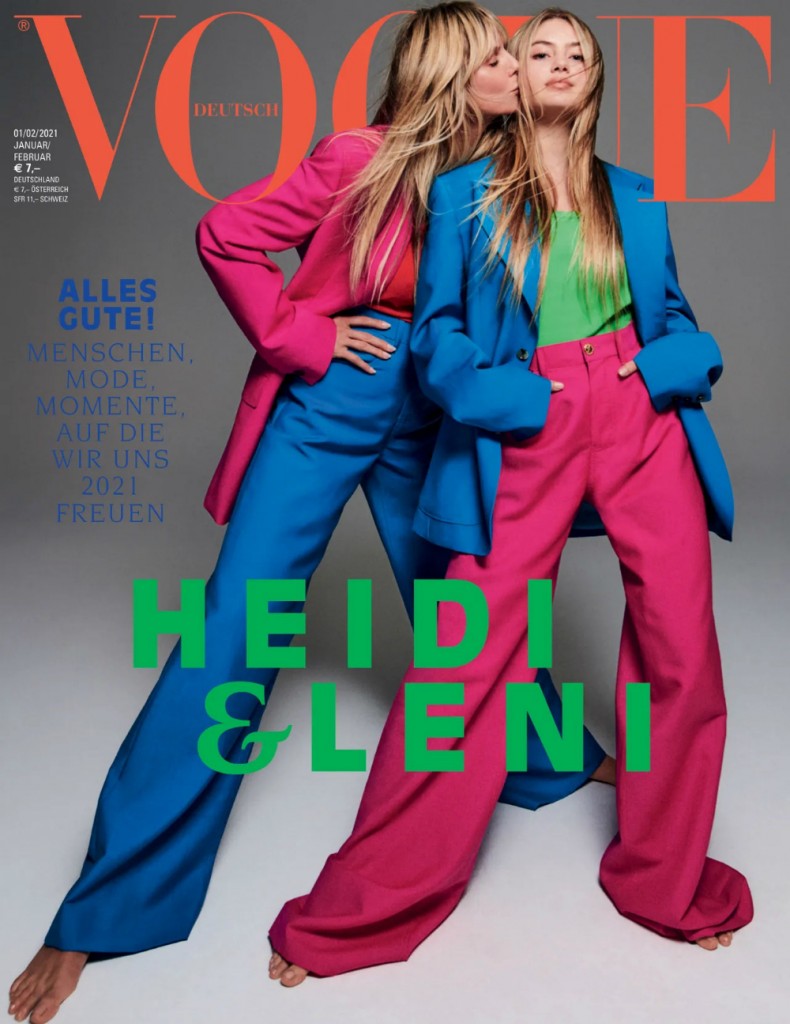 That was a short trip. No sooner did Heidi Klum mention something about her 16-year-old daughter Leni being old enough to model "if she wants to," than Leni showed up on the cover of German Vogue's January issue. And if that wasn't enough to show the modeling world she'd arrived, she appears with her very famous German mother next to her, literally sealing her approval with a kiss on Leni's cheek. A high-profile cover on her very first modeling job, not bad. American Vogue didn't give the duo the cover, but they did give Leni some interior shots and a little write up.
On Leni's desire to model: It was only a matter of time before I would try to become a model myself. The first offer came when I was only 12 or 13, from a brand I liked to wear: Brandy Melville. At that time I begged my mother, but no chance. Now I understand that it would have been too early.

Leni has Heidi's energy: That's what's great about being a model. With most other jobs, I would have to suppress my crazy nature to make a 'professional' impression. As a model, I can let everything out and just be who I am. The job is the perfect outlet for all the energy I carry inside me.

Leni's style: In her interview with Vogue Germany, Leni reveals that she wears "streetwear [above all else]. Dickies, Wrangler or no-brand basics". Her closet is pretty empty and only has a few T-shirts, trousers and jackets, as she often has clear outs and either gives pieces to her sister or sells them on Depop. The only thing she's attached to are the field-hockey sweatpants she stole from her boyfriend. "My younger siblings love high fashion with logos — Supreme, Off-White, A Bathing Ape. I am less interested in those brands," she says

Leni's real name: Contrary to the internet's shared opinion, Leni's real name is not Helene Boshoven Samuel, but Leni Olumi Klum. Heidi has no idea where people got that information from
[From Vogue, via Go Fug Yourself]
So clearly this has all been in the works for some time. Leni's been asking to model for years and this German Vogue shoot was obviously in the works if not fully in the can by the time Heidi gave that coy interview with People about Leni modeling. Like CB, I am curious about Leni's Instagram, which is already verified. Given Heidi's comments in the People interview, I think she might have restricted Leni from having one until she was 16. But the posts are bizarre. The first post is a from behind shot of Leni and her stepdad, Tom Kaulitz, embracing. That's followed by a baby pic of herself on her 16th birthday, some shots of her mom on Mother's Day, a landscape video and the rest are modeling shots from the Vogue shoot. It's highly curated, but by whom? I suspect that not only did Heidi sign off on Leni's modeling, she is managing every aspect of how it's going to play out. It's like Heidi took note of the criticisms the other nepotism models got and calculated Leni's plan of attack from there. It could also be, as CB suggested, that Leni's father, Seal, requested certain restrictions and Heidi is making sure those are honored.
As for the shots themselves, I only have the cover and this one interior to go off of so far. She's a pretty young lady but I'm not sold on her star wattage yet. I find her comments about modeling allowing her to release 'her energy' interesting. That's either going to come across as dynamic or chaotic on the page. Leni's probably already accustomed to the lifestyle of jetting around and living out of a suitcase, so she's ready in that respect. I guess 16 is when supermodels get their start, it just sounds so young to me. Good thing she's known this is what she wants to do for so long.
The interview also mentioned Leni got a friendship tattoo with her stepdad Tom and his brother Bill, which is "three dots on the inside of their fingers." You can't get tattoos under the age of 18 in the US, did she get it somewhere else? Did Seal have to okay it?
Photo credit: Chris Colls/Vogue Germany, Instagram and Backgrid