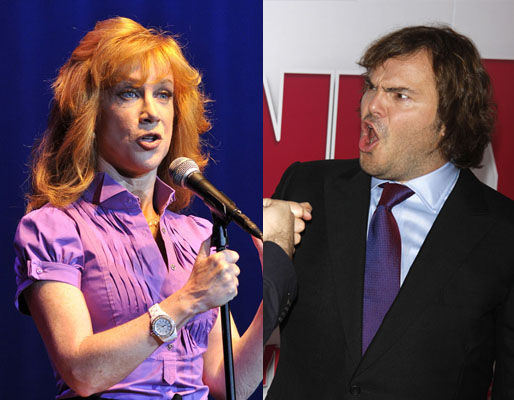 For fans of Kathy Griffin's My Life on the D-List, this news is nothing new. Kathy talked about her brief, torrid affair with comedian-actor Jack Black a couple of times, and she was always surprisingly nice about it. Apparently, they got together back in the day, before either of them had any kind of fame. It wasn't a permanent love match, and they both moved on to other relationships. Now Kathy is dredging up the past with her new book, Official Book Club Selection. Kathy includes her take on the Jack Black relationship, and Page Six has an early excerpt:
NOTHING IS OFF LIMITS in Kathy Griffin's new tome "Official Book Club Selection," out today from Ballantine Books, including her short-lived relationship with fellow comedian Jack Black.

She admits he wasn't the greatest catch . . . to say the least. "One time, I spent the night at Jack's place. I got up the next morning to take a shower so I could leave," she writes.

"When I got out, I couldn't find anything to dry myself with. 'Jack, where are the towels?' I yelled out. He said, "Um, I just have one that I use for a bathmat and a towel. So it's the one on the floor."
[From Page Six]
Totally gross. That reminds me of some of the hookups I had in college. But as a full-fledged adult? Not so much. I'd be willing to bet Jack Black is still like that – but whatever, he's hilarious, and so people forgive him such grossness and eccentricity. Kathy also reveals that she had an affectionate nickname for Jack: "Pig Pen".
Kathy also sat down with the Chicago Sun-Times to do some serious dishing on pop culture and current crop of celebrities. I'll just do a greatest hits:
On Kate Gosselin: "I think what happened is that she fell asleep and one of those kids got the scissors, probably Aaden."

On Octomom Nadya Suleman: "She needs better press. If I were her I'd start banging Tom Sizemore fast. Or maybe Macaulay Culkin. Or Rod Blagojevich!"

On the pope: "He looks like he has a hot [butt]."

On Steve Martin: "Steve Martin was such a douche bag it was like he was a caricature of a douche bag."

On Britney Spears: "She's as dumb as a stick."

On her now-deceased brother, Kenny, who was (in the Sun-Time's words) "a wife abuser, a drug addict and, in Griffin's estimation, a pedophile." Kathy cut off communication with Kenny years before he died: "I thought long and hard about [including that chapter] and there was no way I could have written the book without writing about him… My relationship with him was so much a part of who I am today. It's no coincidence that I do what I do and became kind of a whistleblower — hopefully in a humorous way. In many ways it's a typical comedian story: You tell jokes to survive and get people laughing. It's therapeutic."
[From the Chicago Sun-Times]
Kathy had already talked about her brother on her show, in the episode where she went to a women's prison. It was already a very affecting episode, but Kathy opened up about Kenny's incarceration and how it ripped apart her family. Kathy spoke about how she couldn't handle his addiction or his criminal behavior, and how she didn't understand how her parents could be so forgiving. Sad stuff… sorry to bring everybody down after the funny Jack Black story, but I found it interesting.
Kathy Griffin is shown performing at the Hard Rock Cafe in Hollywood, FL on 8/12/09. Jack Black is shown on 6/15/09. Credit: WENN.com