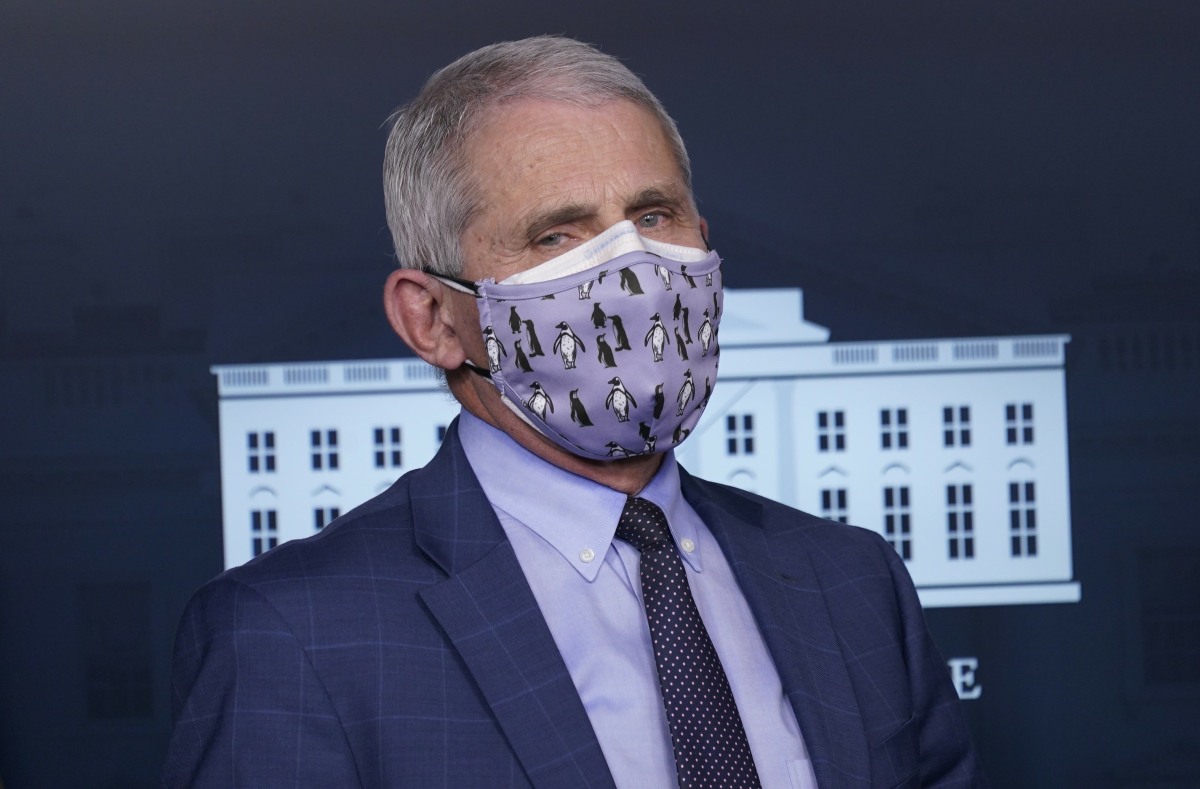 For weeks now, Dr. Anthony Fauci has been fielding questions about Santa Claus and whether Santa can catch or spread the coronavirus. Fauci was being asked about Santa before the vaccines even came out, and his answers were always great. He basically said that he had it on good authority that Santa had a special Covid-immunity and that kids shouldn't be worried about leaving cookies out for Santa, or gifts left for them by Santa. But now that there are two vaccines out there (Moderna's vaccine just got approved), Dr. Fauci wants kids to know that he personally visited the North Pole to vaccinate Santa just in case.
Santa Claus may be immune to COVID-19 but he now has an extra layer of protection thanks to Dr. Anthony Fauci, the nation's leading infectious disease expert. Fauci, who will celebrate his birthday on Christmas eve, told children watching a 'Sesame Street' town hall put on by CNN Saturday that he vaccinated Kris Kringle himself.

In the clip, a masked Elmo told viewers that his friend has a question for Santa. Lucy, 8, from San Rafael, California posed a question that is troubling many children this season: "How did Santa get the vaccine and is it safe for him to go in the house?" Connor, 9, from Mount Holly, New Jersey, and Paxton, 6, from Geneva, Illinois, voiced the same question.

"Well, I have to say I took care of that for you because I was worried that you'd all be upset," Fauci said in response. He explained that he took a trip to the North Pole to visit Santa. "I vaccinated Santa Claus myself," Fauci said. "I measured his level of immunity and he is good to go."

Santa is ready to don his red suit and come down the chimney, leaving gifts behind. "You have nothing to worry about," Fauci assured his audience.

This isn't the first time that Fauci has said that children should feel safe given Santa's immunity.

"Santa is exempt from this because Santa, of all the good qualities, has a lot of good innate immunity," Fauci told USA TODAY in November. "Santa is not going to be spreading any infections to anybody."
The kids are alright, but I hate that these tiny little kids are now thinking about these things, like immunity and vaccines, "who is a spreader" and mask-wearing. It will take a while to really understand what this year has done to the younger generation. But I absolutely love that Dr. Fauci has always engaged people – even little kids – at their own level. He's been blanketing the media for months, and he always keeps his message simple: be responsible, wear a mask, social distance, etc. And now, don't worry about Santa. Santa got the vaccine.
Dr. Fauci's popularity might have another effect: apparently, there's a significant spike in medical school applications, and various American medical schools are referring to it as the "Fauci Effect." I think he's probably part of it, but I would guess that kids are seeing how doctors can truly save the world and they want to be part of that.
Santa Claus will be coming to town this year, Dr. Anthony Fauci says.

"I took care of that for you," he says. "…I took a trip up there to the North Pole; I went there and I vaccinated Santa Claus myself. I measured his level of immunity, and he is good to go." #CNNSesameStreet pic.twitter.com/CNJ520XTew

— CNN (@CNN) December 19, 2020
Photos courtesy of Avalon Red.