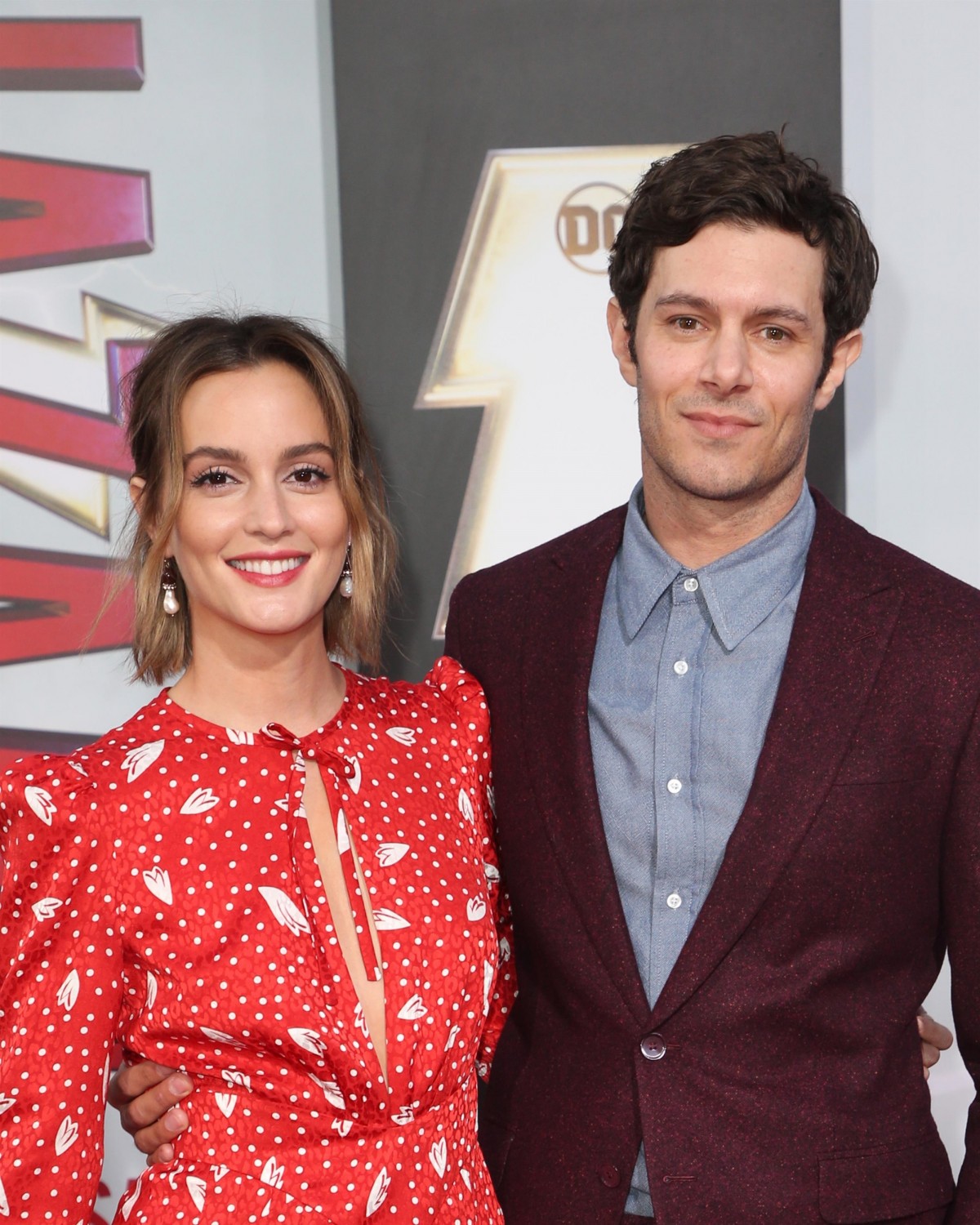 Adam Brody has a new profile and interview with Wall St. Journal Magazine. I just realized he's 41, which makes me feel so old, but I guess he was playing a teenager on The O.C. well after he was one. Adam is very much settling into dad life with his wife Leighton Meester and their daughter Arlo, five. (Update: They had their second child in September, a little boy! I'm sorry I missed this.) Adam has a small part in the awesome-looking Promising Young Woman and he's also promoting his film available soon on demand, The Kid Detective. He gives a day in the life interview to WSJ. I love those because they get celebrities to give details they consider mundane but which I find fascinating. Adam surfs just about every morning and Leighton joins him. He's very progressive and active on Twitter but has learned to limit his time on it. He comes across like a California dad just chilling and doing family stuff in quarantine. It was a fun read. Plus I love when celebrities talk about the shows they're watching.
If you have a bad Monday, how do you steer yourself back on course for the rest of the week?
Ideally attack the problem, but it just depends on what the problem is. That said, a big part of our quarantine life is that my wife and I have been surfing our brains out. My wife will come down with our son half an hour, 45 minutes after I'm up and join the party and we will check the surf on our phones. I've been off and on a lifetime surfer. My wife's relatively new to it but is very dedicated. She is going surfing right now.

Aside from surfing, have you guys developed any hobbies or fun ways to stay busy when you're at home?
Go Fish was big for a while. We've stepped it up to Monopoly Junior. A little piano, a little karaoke. [Our daughter] has flirted with wanting to learn to ride a bike without training wheels and then kind of backs away when it gets real. And then a lot of walks through the neighborhood. And a lot of role-playing, me in particular with my daughter. The books we read change too, and that's fun. Other new hobbies? Honestly, we're just beach bums.

Have you been reading or watching anything good recently?
All sorts of stuff. I was on Twitter so much up until the election and I enjoy it, I really do, but it's very addicting. I found myself, as most people, just so pissed off for most of this year and was really happy for about 48 hours after the election and then 48 hours after [that], I was so pissed again. So my wife put a 30-minute time limit on Twitter and my life has changed. I don't know if I could have concentrated on anything else pre-election anyway, but post-election, I was like, I don't f—ing need to know what Ted Cruz just said. I can't let that infuriate me 24 hours a day. [So] I'm back to reading books and I felt my blood pressure lower instantly—I feel a new sense of calm and accomplishment. I was working on a Wright brothers biography. I read this little novel called At Night All Blood is Black that's this very dark, World War I trenches [story]. I listen to Dan Carlin's Hardcore History podcast, [episodes about] World War I, and I've just been fascinated by it since because it just seems like the most hellish place man has ever made. I just launched into The Emperor of All Maladies: A Biography of Cancer. Of course, it's making me think every little ache and pain I have is a tumor.

Shows…. We just finished The Reagans, I enjoyed that. We watched Mank, the Fincher movie, last night. We watched The Crown, The Vow, [and] Moonbase 8, which I thought was kind of sweet, lovely. And then also randomly in the Tim Heidecker–verse, we just did Beef House, which I really like, which is just like a crystal-meth Full House.
Last night I watched the first episode of that four part Reagan Showtime documentary he mentioned. It was surprisingly awesome, thank you Valiantly Varnished for recommending it! It's hard to find a show that my son wants to watch with me and we're both enjoying that one.
Their life sounds really sweet actually. Just Jared has photos of Adam and Leighton surfing and chilling on the beach! I am really wondering how Leighton gets Adam to only use Twitter for a half hour a day. Is it just a verbal agreement? Because that would never work for me. I have to do "work stuff" on my phone and end up glued to Twitter for an hour or more a stretch. That's one of my New Year's resolutions, to use Twitter less, but I'm going to have to install an app that forces me to do that. Also, I really like that they have the kind of relationship where Leighton can say "you're limited to 30 minutes of Twitter and day" and Adam is ok with it and actually does it. In some contexts that could be controlling, but the way he explained it sounded healthy. I also have a resolution to just sit and read more, because I barely make time for that.