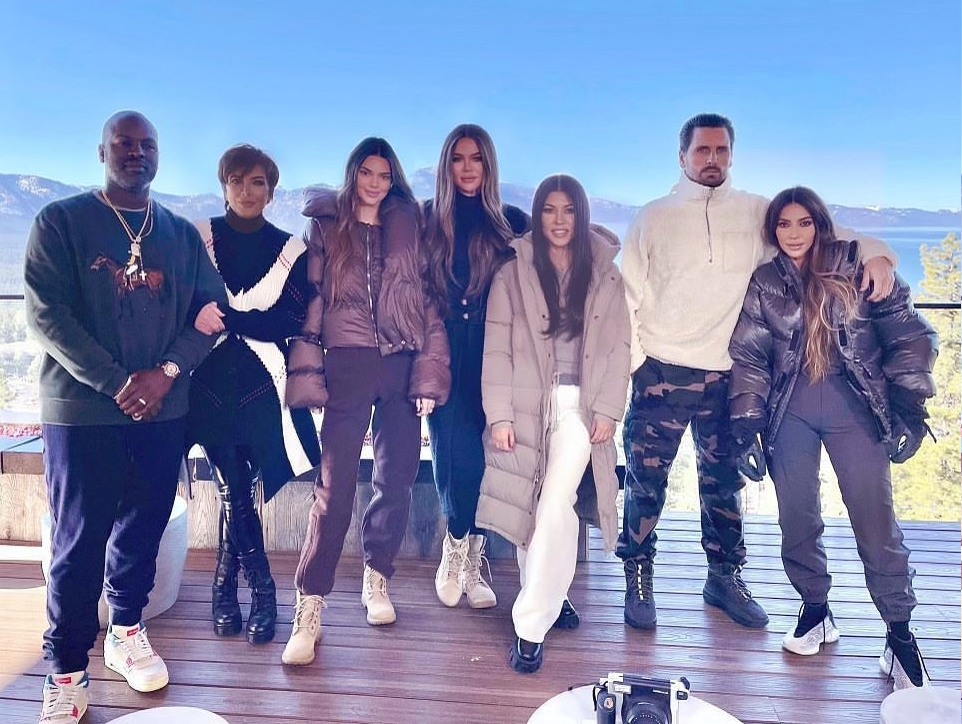 Apparently, the Kardashian-Jenner clan decided to spend the Christmas holiday in Tahoe, which… I mean, on one side, good for them, on the other side, I'm sure they are breaking tons of pandemic guidelines. Here in America (for our foreign readers), every state is issuing their own guidelines and at the federal level, most people just try to do whatever Dr. Fauci tells them. Dr. Fauci has said that different households shouldn't mingle for Christmas. There are six different households represented in this "Christmas photo." I don't get it.
When the Kardashians posted this pic on social media, the biggest complaint wasn't that they're breaking pandemic guidelines though. No, the biggest complaint was that… Kourtney Kardashian looks like she was Photoshopped into the pic in between Scott Disick and Khloe Kardashian. Really look at the pic though… my best guess is that Kris Jenner, Cory Gamble, Khloe and Kendall were all in the same photo, and then Kourtney was added separately, and Scott and Kim were added separately too. Those three don't have any connection to the other four. It's super-weird. People are saying that Kylie possibly took the photo. So… did they not invite Rob?? So strange, this clan.
Oh, E! News has the scoop – Kylie was not actually in Tahoe at all – she's spending the holiday in Texas with Stormi, with her on-and-off lover and baby-daddy Travis Scott. Sources also tell E! that Kourtney *was* in Tahoe, despite not showing up on anyone else's IG Stories this week, and despite the fact that Kourtney seemed to be posting on social media from LA. Huh.
— Kim Kardashian West (@KimKardashian) December 21, 2020
Photos courtesy of the Kardashians' social media.