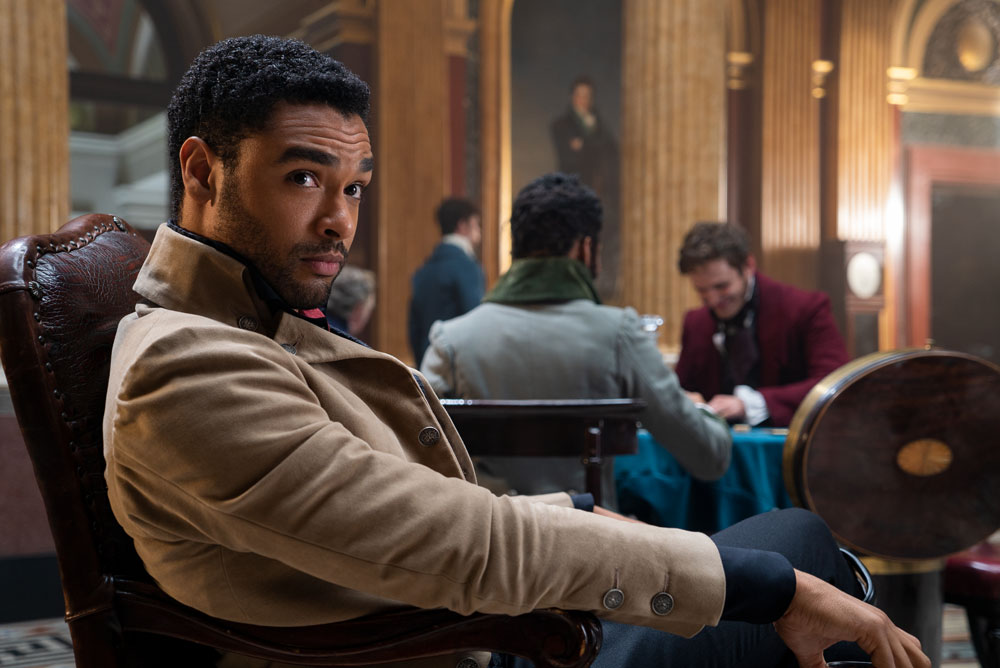 Rege-Jean Page is a god. That is all. If you don't know who Rege is, then you have obviously been sleeping over the holidays. Rege plays the deliciously hot Simon, Duke of Hastings, in Shondaland's new Netflix series, Bridgerton. I spent all day Saturday binge watching this raunchy, sassy, trolling-the-royal-family show and I was not disappointed. I couldn't stop watching it. I sat on my sofa like a massive couch potato until midnight and ended up binge watching it twice. The draw wasn't just the Jane Austen meets Gossip Girl meets The Tudors plot or the compelling characters, it was the hot AF Duke of Hastings. He's the quasi-suiter of the main character with the tragic baby bangs, Daphne Bridgerton.
Did I mention that there is a lot of sex? Like a lot. It was sweaty, raunchy, earthy and sexy. There were times I had hot flashes watching those scenes. The sweat dripped down my heaving bosom, ok no, I can't. Speaking of bosoms and corsets, Bridgerton had several corset ripping scenes, but I'll get to that later. Bridgerton also had gossiping biddies (the courtiers), unfashionable bumbling, sometimes jealous redheaded sisters a la the Yorks and Middletons, and a social climbing mother sort of like Carole Middleton. There was also a grifting father, an heir afraid to strike out on his own, and a manipulative monarch. What I liked the most about Bridgerton was how the writers were able to make each episode feel like its own short movie in an eight part series. Each episode takes you on a drunken ride and by the end of it, you are hungover and cannot wait to watch the next one. Below are a few quotes about the show from Linda Holmes from NPR who explains everything I felt about Bridgerton but better:
Are parts of this show silly? Of course. Are some of these brothers dull? So far, yes. But let us not linger on details. Let us not fuss over where, exactly, the orgy question arises. Let us simply celebrate good television, made by a shop run by a woman who loves good television and written by people who are experienced in television.

Shondaland makes television and makes it well. There are eight episodes of Bridgerton, and they all have endings that are like chapters in a good book: They leave you in a spot where you just want to read one more chapter before you turn off the light for the night. The end of the season concludes several stories, teases several more and has a couple of delicious mic-drop moments.

It's made with wit (several classical arrangements of pop songs are used in the score), with flair (the duke's mother figure, Lady Danbury, marvelously played by Adjoa Andoh, has the most fabulous hats) and with an earthy kind of abandon. (There is … a lot of sex. If you are the kind of person who is uncomfortable watching enthusiastic sex scenes with members of your family, be forewarned about a holiday sit-down with this one. Let it be known I warned you about all the butts, if this causes problems with your household.)

In closing, Lady Whistledown has cleared me to share the following scandalous tale in case it is of use: This reviewer began watching Bridgerton at 4:30 on a Saturday afternoon and did not stop until she, normally an early-to-bed, early-to-rise type, finished it at 1 in the morning.
Bridgerton proves to us again the magic that is the mind of Shonda Rhimes, although she is not the showrunner, that's Chris Van Dusen. Needless to say, ABC/Disney lost out when they lost Shonda over a damn Disneyland ticket. I am excited that she has moved over to Netflix because there are things you can do with materials on streaming services that you can't do on network television.
Bridgerton does not disappoint and if you are looking for frivolous, riotous fun, this is definitely the show for you. I have yet to see a bad tweet about Bridgerton. Like I said, I personally have binge watched Bridgerton twice over the weekend and I'll probably watch it again. It's that good. My favorite scene in the entire series is when Simon, Duke of Hastings, explains how to masturbate to Daphne. Ya'll that sh*t was sexy AF. I also enjoyed the fact that Queen Charlotte of Mecklenburg was depicted accurately as a mixed race woman with some African ancestry. It also shows that the aristocratic court during the reign of King George III was a bit more diverse than we are lead to believe, but maybe not AS diverse as depicted by the show.
Even if you are not a fan of period dramas, Bridgerton feels refreshingly modern. The characters, as ridiculous as they were in many instances, remind me of people I've known. I cannot wait until Season 2. But while I wait for a second season to be confirmed and begin filming, I just may go find the book series Regency by Julia Quinn. Despite several questionable situations, my only critique of the show are those horrible bangs that the women had. Particularly the lead character Daphne. Those damn bangs were driving me mad the entire series.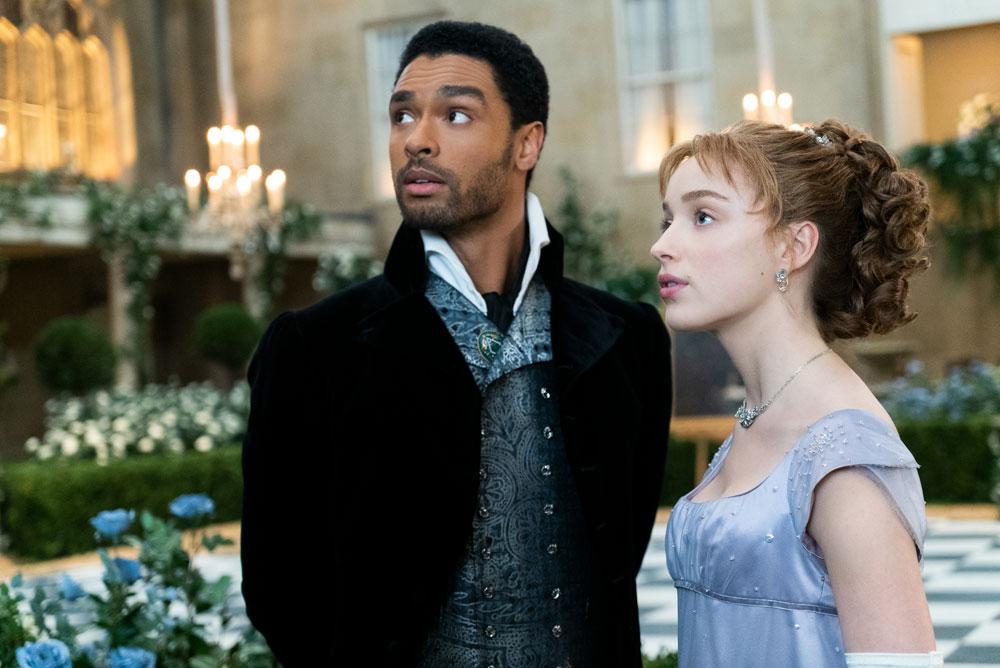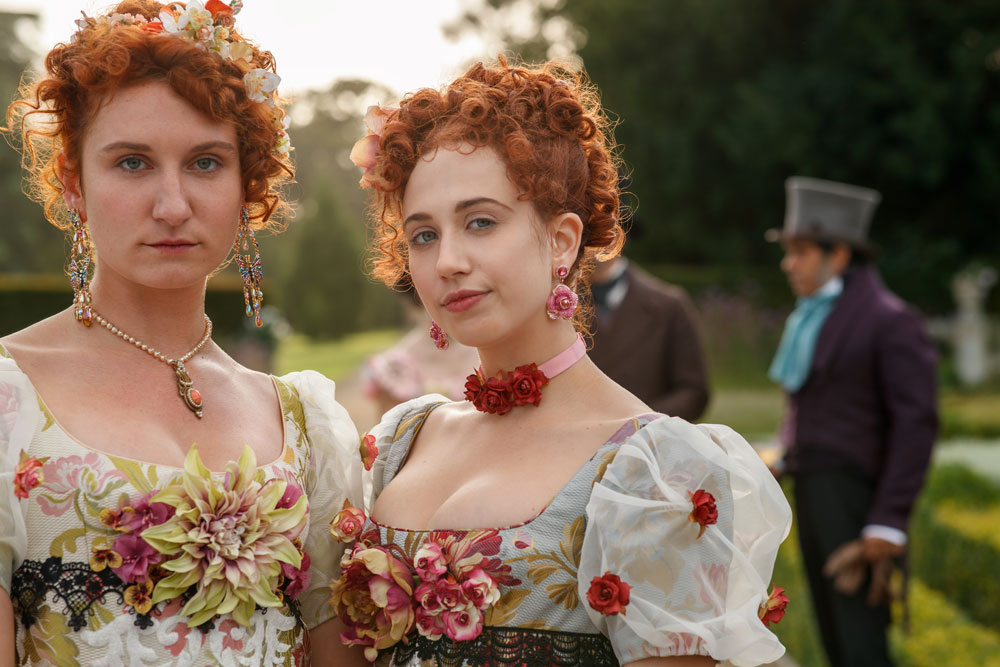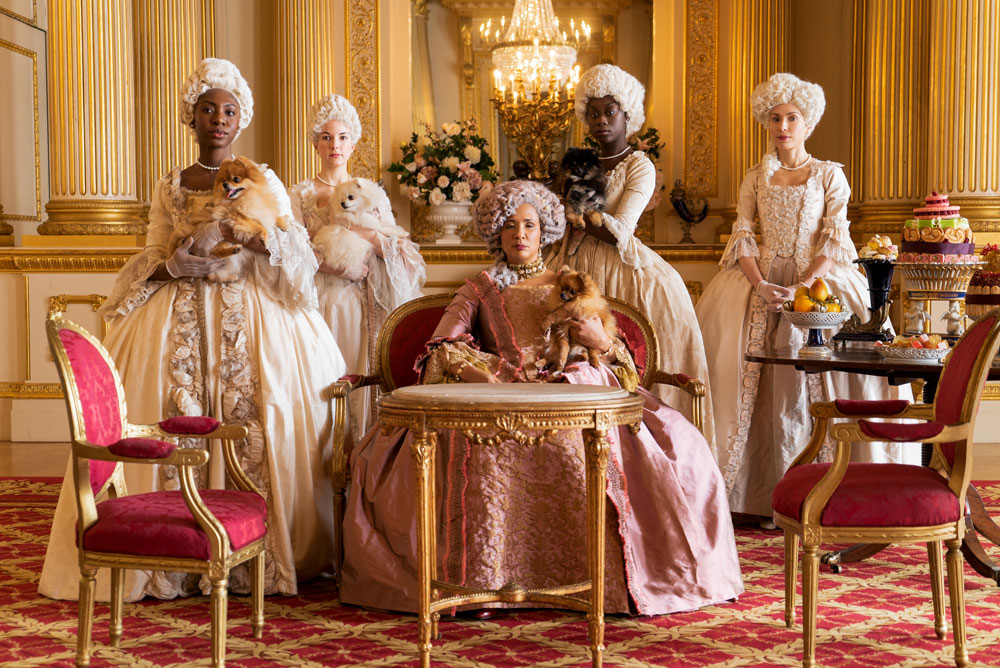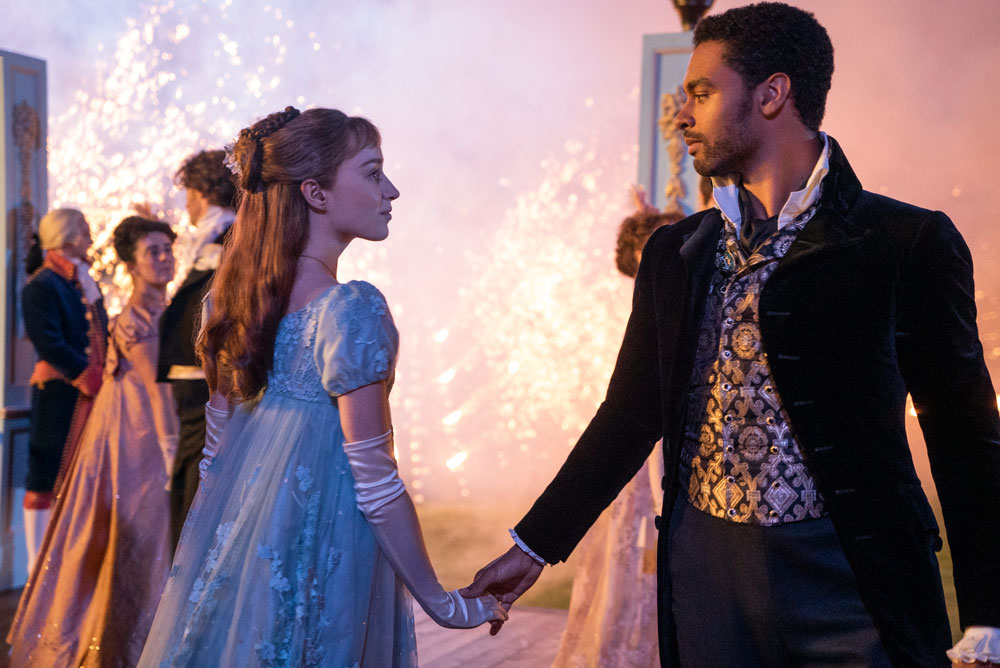 Photos credit: Liam Daniel/ Netflix © 2020