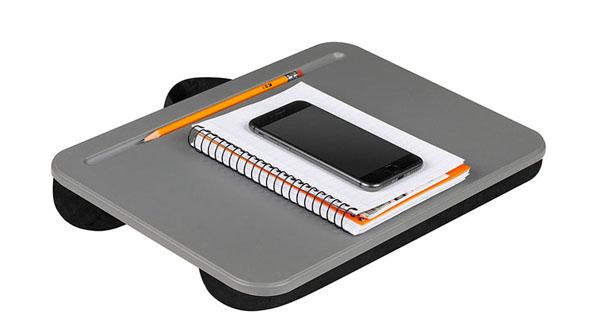 It feels really weird to have an Amazon post today but I also think getting back to work is the best way to handle things in most cases. Plus we need to talk about superficial sh-t too and shopping always hits that spot for me. Hecate does her list way ahead too, so blame me. I got the lap desk so that we can more easily eat in the car! I already have an old lap desk and figured two would be perfect. I know my son will tell me we don't need them so I just bought it and didn't tell him about it. The next time we get take out I'll win him over with how useful they are. Here are more things Hecate and I want.
Ten ounces of everything bagel seasoning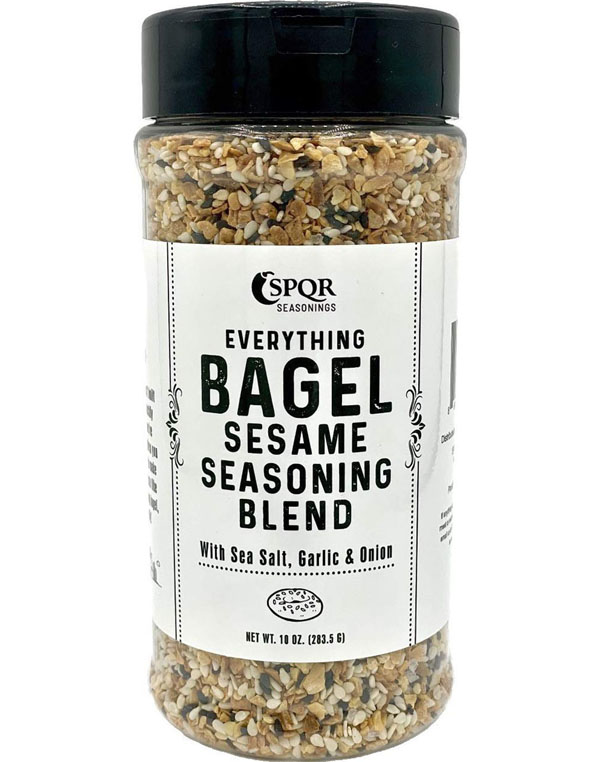 From CB: Sometimes I look through my mom's Amazon purchases to get ideas for these posts. She recently bought everything bagel seasoning to make bagels for my dad. This is 10 ounces of seasoning, making it over four times the size of Trader Joe's Everything But The Bagel Seasoning! The price reflects that, but my nearest Trader Joe's is over an hour away and I'm almost out. I use this awesome bagel recipe about once a week, it's so easy and my son loves these bagels. This seasoning by SPQR Seasonings has 4.6 stars, almost 9,000 ratings and a B on Fakespot! It's the number one bestseller in seasoning gifts and contains sesame seeds, sea salt flakes, dried minced garlic, dried minced onion, black sesame seed and poppy seed. Reviewers say it's comparable to Trader Joe's blend with some saying they like it more. It's a great all around seasoning blend for vegetables, salad and sandwiches too. " If you love avocado toast this is a must buy! I rate this product personally 5 stars and I'd definitely label it a game changer." "I used it in meat loaf and my husband loved it." "Not only good to use on bagels but I use it to bbq meat and veggies on the grill and it didn't even need anything else!"
A hydrating serum that works well for all skin types


From CB: Neutrogena Hydraboost is the number one bestseller in facial serums. This is a hyaluronic acid-based serum. It's $18 for an ounce, so it's not the cheapest but is still affordable. This has over 47,000(!) ratings, 4.6 stars and a B on Fakespot. Women write that it works very well on older skin and is also great for acne-prone skin. "Doesn't clog your pores. Great hydration. Not sticky. Makeup applies awesome afterwards." "It doesn't take much to apply to my whole face, dries quickly and makes my skin feel super soft. It also seems to be balancing out my skin- not super oily/dry anymore."
A squirrel-resistant birdfeeder to brighten your days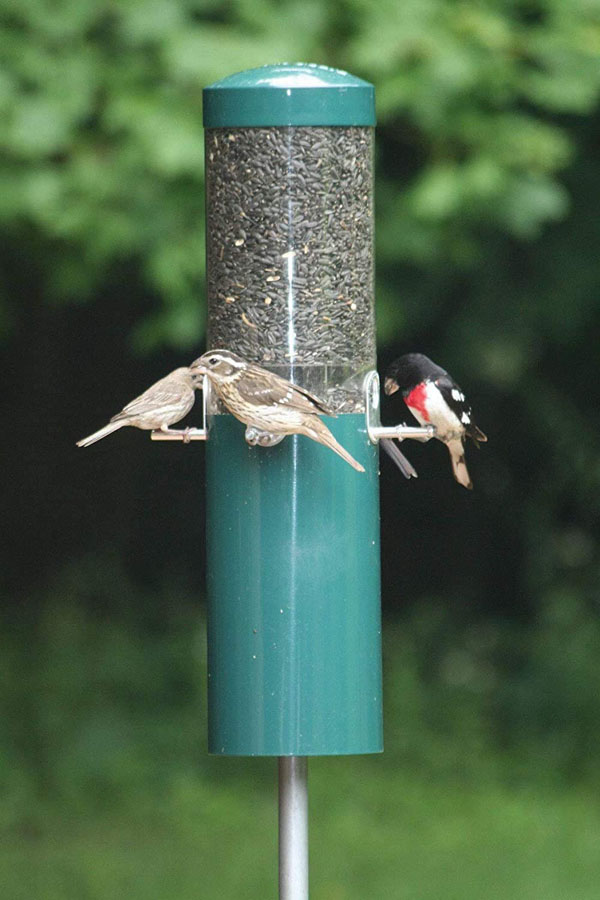 From CB: As I mentioned in the last Amazon post, I moved my office around so my desk is now over a vent I needed to divert. (Those vent diverters work great and are so easy to install!) I can also look out the window finally. I got this squirrel-resistant birdfeeder so I can watch the birds and be even more distracted when I'm working. It's coming tomorrow so I'll let you know how it is. This birdfeeder comes with its own pole. This is on the pricier side at $52, but I looked though so many squirrel-resistant birdfeeders before finding this one. When you add in the price of a shepherd's hook it's about the same cost. (The Squirrel Buster was my second choice.) This has 4.6 stars, 408 ratings and an A on Fakespot. There are so many great reviews for this, including one from a reviewer who has had this birdfeeder for 12 years! People say it's truly squirrel-proof too. "This is a great feeder. The birds seem to love it. Its design seems to discourage the larger birds, like Jays, so they feed for a few seconds and then move on. This prevents the large birds from dominating the feeder. The small birds feed at will and seem very happy." "I have had this bird feeder for almost 5 years now and I can tell you it is the best at deterring squirrels. As long as they can't jump down onto it from a tree branch, you're good."
A vegetarian protein powder to improve your health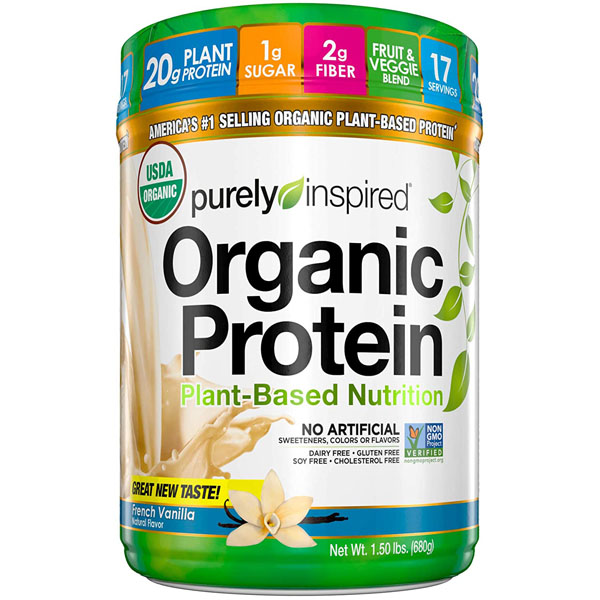 From CB: I'm having some weird things happening with my hair falling out and I'm getting easily bruised. I had a zoom visit with my doctor and she's ordering me some tests. In the mean time I'm taking iron and prenatal vitamins and and am trying to eat better, particularly iron and protein-rich foods. The Internet knows me and showed me ads for this "vegan" protein powder. (I'm not vegan but am allergic to beef and pork. This powder is not truly vegan, and if you are you will want to skip it.) I've ordered it and it's coming this week. This organic protein powder by Purely Inspired is under $20 for 17 2-scoop servings and comes in chocolate and vanilla flavors. It has over 4,700 ratings, 4.4 stars and a C on Fakespot. There are complaints that this is not vegan as it now contains milk and soy and is processed in a facility which also processes milk. If you are allergic to milk or soy you will want to avoid this. Reviewers say "I've used this protein powder for years and I like it because it doesn't congest the system like many whey proteins do. It's also naturally sweetened, no maltitol or other artificial sweeteners. I blend it with frozen berries, coconut milk and water and it tastes great." "I've been using it as a breakfast meal replacement and I've been impressed by how long it actually holds me over."
Reusable food bags to cut down on waste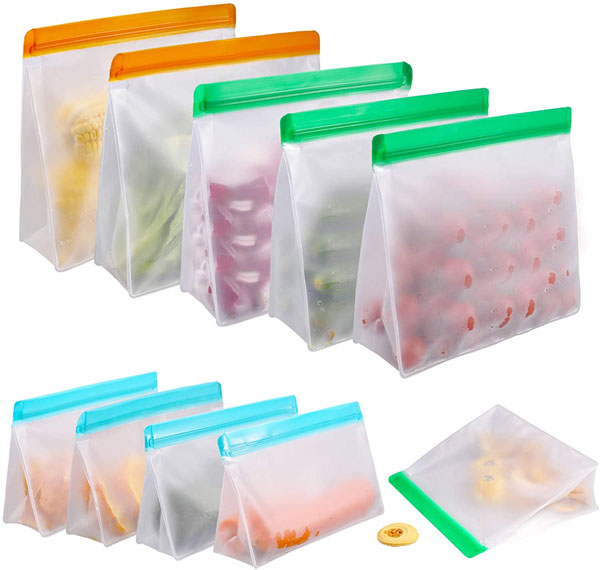 From Hecate: My son got upset with the amount of plastic we used at the grocery store over the holidays. I've been consolidating trips to avoid exposure to COVID and still haven't gotten my act together on the bagging thing, so I panic and let the store bag for me. Between the vegetable section and the checkout, we end up with a lot of plastic. Although we find ways to use them around the house, this has become a big priority for us, to work out COVID and avoid single use plastic. Things like these storage bags might be the answer. This set comes with two Gallon Bags, four Sandwich Bags and four Lunch Bags for Snacks, so it's a nice starter pack. I like that they stand up so they are easy to put things in, but can lay flat so you can carry them to the store with the rest of your bags. These got 4.6 stars from 466 reviews and Fakespot gave them an A. One reviewer said they worked better for her bread, "I was worried that my croissants would be squished putting them in the bags and then freezing, but they're actually better than regular ziplock bags," while another said it worked better for her fruit, "my fruit has lasted longer this time around being in these bags." So there you are, Resolution 1 – check!
Your new favorite spice blend


From Hecate: Let me introduce you to your next kitchen fave – xawaash spice mix. All the Somali CBers just nodded in unison. I'd never heard of this, but then my mom made me Digaag qumbe (coconut and yogurt chicken stew) and I begged the recipe off her. Even though the recipe gives you the xawaash blend to make, Mom told me I could order it so I did. We found out xawaash is ubiquitous in Somilian cooking with cinnamon, cumin, coriander, black pepper, cardamom, cloves and turmeric. We've been experimenting with a few recipes we've found like beef stew, a meat sauce for pasta and a stuffed bread loaf. I explained it to a friend that it would be like your Tuscan grandmother having her Italian blend at hand, xawaash goes in all the basics. And it's delicious and even though I am not Somolian, it tastes like the comforts of grandma's kitchen. Not surprisingly, this blend gets a high 4.6 stars from 139 reviews and Fakespot gave it an A. Reviewers said this blend hit the note they were looking for, "Hawa Hassan made her family's version of Somali Pasta for Bon Appetit. I ordered this blend to try to make it. The recipe came out delicious so I keep making it." And another said it reminded her of home, "So Fresh! I've been looking for along time for my home flavors with out crushing and grinding! Xawaash is my go to spice for everything I cook for my family all natural and fresh." The recipe I used for Digaag qumbe is out of a magazine that doesn't have it online, but here is Hawa Hassan's version that many people reference. Bon appetite!
A silver bracelet gift for yourself



From Hecate: I am much more generous to myself in January because I am done buying for others (December) and it's my birthday month (me,me,me). So I thought I would throw a little something for us to get ourselves, although this would make a lovely gift if you had someone special on your gift list this month. It's just a simple mesh bracelet that sits against your wrist to zhush up your day-to-day wear. And at $15, you won't feel guilty for getting it! This particular bracelet is only 4mm wide, but there's a 12mm version for $40 if you want something bigger. The thinner – or more delicate, in jewelry speak – version is quite durable, according to reviews, "I've worn them for two months (never taking them off) and they have withstood everything that I do," and it hits all the high points, "High quality, pretty, sturdy, & comfortable." Out of the 478 reviews, ReviewMeta confirmed it earned 4.4 stars. Treat yo'self.
Thanks for reading and commenting on our affiliate post! If you make any purchases through these links we get a small percentage and appreciate it.