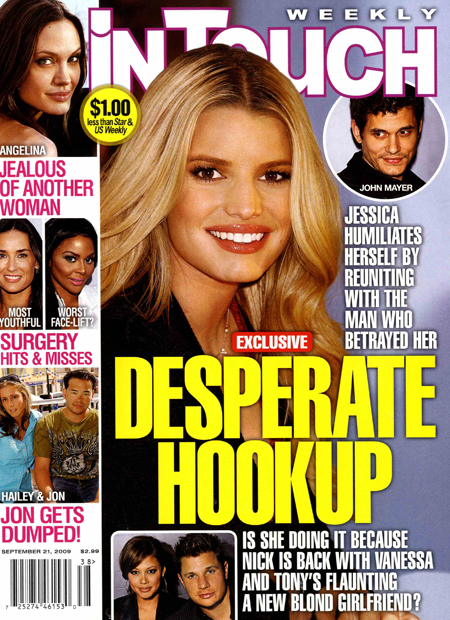 There have been rumors about Jessica Simpson and John Mayer rekindling their relationship ever since Tony Romo unceremoniously dumped Jessica the night before her birthday. There were even some rumors that Mayer was one of the reasons Tony dumped Jessica – something about sexy, naughty texts from Mayer that Tony allegedly found on Jessica's phone. After the Romo-Simpson split, many were surprised that John kept his mouth shut. He neither defended Jessica, nor kicked her when she was down. His famewhore side was kept in check. Which, in my mind, meant that John probably wanted to rekindle something with Jessica, or the two were already in contact. They were even spotted at a few of the same places – but they never left with each other, and Mayer's friends denied the rekindled romance.
Now In Touch Weekly's cover story is claiming that Jessica has had a "desperate hookup" with John Mayer. "Desperate" because Jessica is "humiliating" herself by going back to the guy who treated her like crap, I think. But I could make a case for any hookup involving John Mayer, no matter what the extenuating circumstances, being "desperate".
Just a few short months ago, Jessica Simpson had her entire future mapped out. She'd marry her boyfriend, Dallas Cowboys quarterback Tony Romo, and start a family, just like she'd always dreamed.

But Jessica has not been so lucky in love. Tony dumped her the day before her 29th birthday in July — and now he's already moved on with 22-yearold local sportscaster Candice Crawford, whom he's brought to some of the same restaurants in Dallas he and Jessica used to frequent.

"She can't believe it," an insider tells In Touch. "She doesn't want Tony back, but no one wants to see that their ex has moved on with a hot, younger girl."

While Jessica's career is going great — she's starring in a new show for VH1 called The Price of Beauty — her personal life is kind of a disaster.

"This couldn't have come at a worse time for Jessica," the friend adds. "It's opened up a lot of old wounds. She's pretty insecure about herself."

It's that insecurity that has led Jessica down a dangerous new path — an insider reveals that, in a state of desperation and loneliness, she's been secretly hooking up with her ex John Mayer, who unceremoniously dumped her in 2007 after they dated for a year.

"They've always had an amazing connection," a business associate of Jessica's tells In Touch. Ignoring her friends' warnings that the notorious player will just use her and then break up with her again, Jessica has jumped headfirst into a relationship with the singer now that she and Tony, 29, split.

"Jessica is kidding herself that her and John stand a chance," says a source.
[From In Touch Weekly]
As Lainey from LaineyGossip likes to point out, Mayer's shameface when he was with Jessica was totally epic. Would John be capable of having a relationship with Jessica that didn't involve equal parts humiliation, rage, lust, apathy, embarrassment and degradation? Is he just using Jessica for a quick booty call? Or does his silence speak volumes – that he's serious about her this time?
There are some rumors spreading around that John has been keeping silent on Jessica because there is literally nothing to say. Janet Charlton is claiming that John has been secretly hooking up with none other than Kristin Cavallari, that waste of space reality star from Laguna Beach and The Hills. According to Charlton's sources, "They have been hooking up secretly at a mutual friend's house in the Mt Olympus area of the Hollywood Hills for the past two years! Our source says that Kristin was hesitant to date John publicly because she didn't want to be added to his long list of conquests, and they were both dating other people off and on. Recently their "friends with benefits" relationship has evolved, and they are actually considering going public." I have to admit, Kristin seems more Mayer's type. Mayer doesn't seem like the kind of guy who revisits old flames very often, so this scenario is probably a lot more likely.