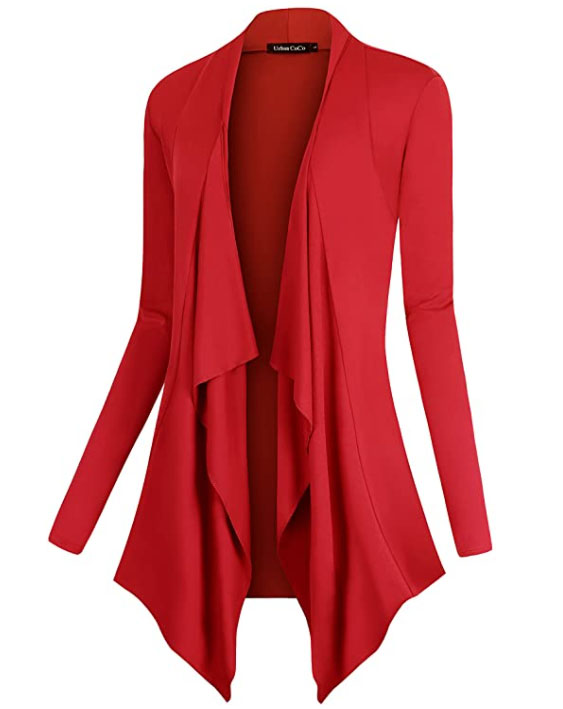 Treat Yo'Self to Hecate's Birthday GiftList
I warned you bitches this was happening and here it is. Today is my birthday and if there is one thing I am absolutely insufferable about it's my birthday, or, as we refer to it in my house, Empress Day. I thought today we could all celebrate by treating ourselves to gifts I've loved over the years. I didn't get all of these today – and some weren't b-day gifts – but you should definitely consider them because you deserve them.
A squishy duck to entertain your dogs and you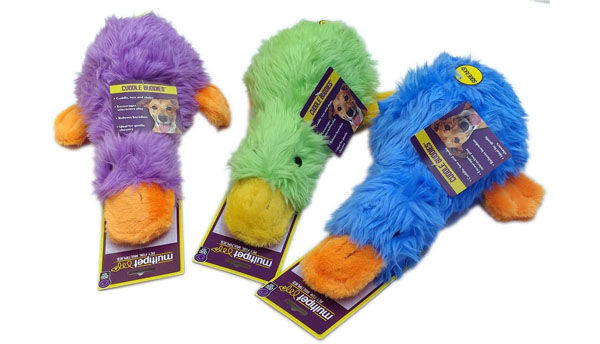 Obviously this squishy duck wasn't my gift… or was it? We recommended these dog plushies for Christmas and my dogs adore these things. But watching them carry them everywhere is my treat. They punk each other to steal Ducky away – even though they both have one! The sweetest part is when they fall asleep with Ducky under their head or in their arms. As a reminder, ReviewMeta confirmed these toys at 4.6 stars with 314 reviews. If you need a review, here are my dogs' comments. One plush for $10 or two for $18
A plush and affordable robe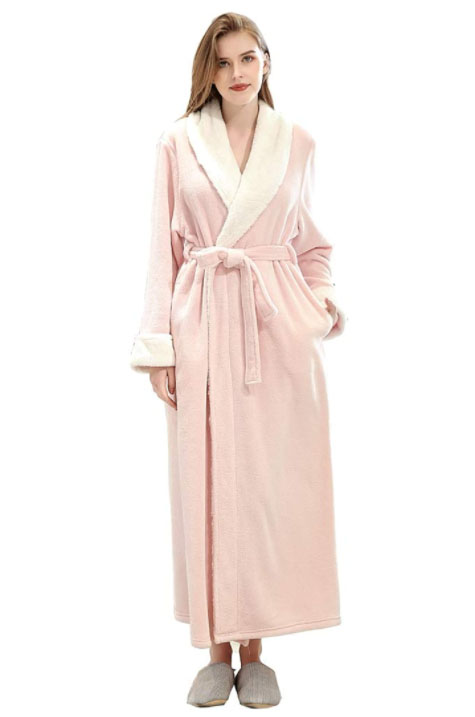 Okay, enough stuff for others, this is for us! Wrap yo'self up in this super soft robe that we Empresses deserve. I was looking for a long robe but they can be so expensive. This one is only $37 and Amazon often offers a 5-10% coupon for it. It's thinner than those really plush ones Macy's sells, but I like lighter robes because I wear them year round. So far I've washed this a handful of times (cold/delicate) and it's just as plush as when I opened it. Hecate Empress tip – buy the XL if you want the length. It doesn't add that much to the rest of the robe because it's a lighter robe. It's just luscious! It comes in 24 fabulous colors. There aren't that many reviews for it yet (like you need more than mine!) but one said, "It feels like being hugged in a really nice way!" which is true. Don't we all need a hug first thing in the morning?
Fuzzy slippers for everyday luxury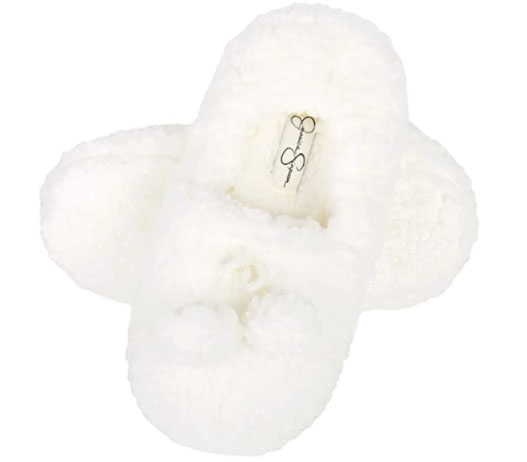 I am very particular about my slippers, which is something new I discovered about myself at 52. I need one that is squishy, covers my whole foot and can look ridiculous, but not like my grandmother's slippers. Oh, and I'm a cheapskate because I wear them for less than an hour a day. Enter my girl Jessica Simpson. I'm a fan of Jessica's footwear in general, so I thought these would be safe and at under $16, it was worth the risk. They come in five colors and the grey and pink come with a leopard print face mask. I opened mine this morning, first thing, so I could settle into my cup of coffee in style. 296 reviewers gave these 4.1 stars. One said they're like walking on air, "It's like putting your foot in a light, warm cloud of comfy softness!" Another said, the mask was a nice bonus, for those getting the mask, "I didn't care about the mask but, it's my new favorite mask now!"
Bath soaks with reusable bottles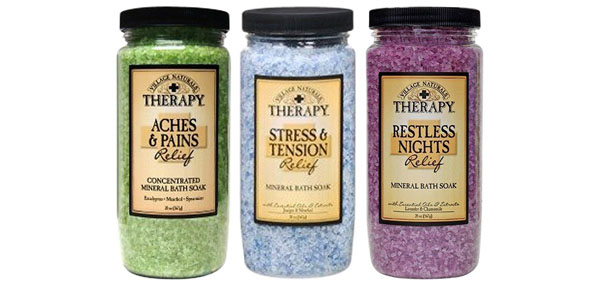 These were on sale for $29 for all three bottles when I looked them up for you. Normally they're $35 for three but here's why these are on my giftList. Baths are my number two indulgence in life. I would run about 90% of daily functions from a bathtub if I could. I love bath bombs and all bath additions, but salts and soaks are my preferences. I was given these a few years ago and they really do relax the heck out me. I know bathing at night helps you sleep, but if you add the Restless Night Relief soak to that bath, it's restorative. I've used these soaks with mild bubbles, too, when I absolutely needed a Diva Bath so go wild, my Empresses. And, the bottles can be reused for your own salt mixes when you've finished with these. 767 reviews and ReviewMeta give these salts 4.7 stars. Fellow bathers confirm they work quickly "I ordered these bath salts for myself as I suffer from chronic pain and they worked almost immediately!" and that they are better than their richer cousins, "these are an excellent product and much cheaper than my old brand. Hard to beat." If you need a more economical soak, I have quite enjoyed this multi pack as well, six for $16.
A wearable masterpiece that's almost as fabulous as you are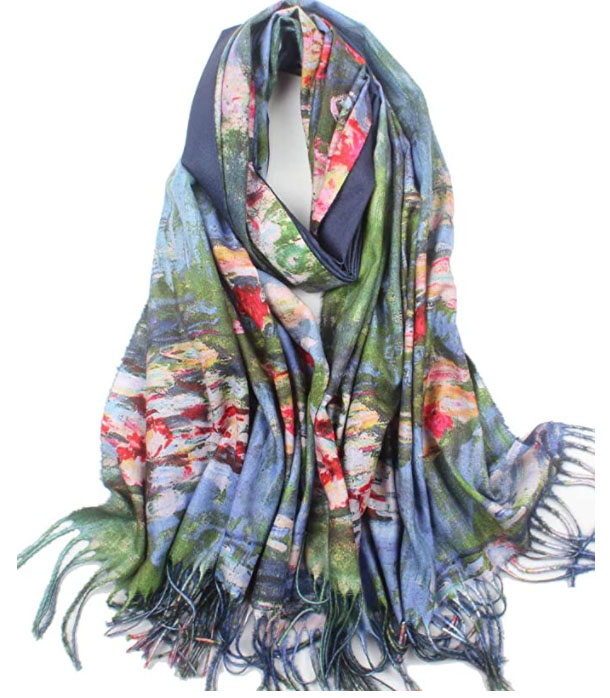 The quickest way to zhuzh up any outfit is with a vibrant scarf. These long scarves feel like cashmere and come printed with works by Van Gogh, Klimt and Monet. I got the scarf above as a gift this year and I Love it with a capital L. Plus, when people ask about it, it'll be so bougie to say, "oh this, it's Monet." There are 25 masterpieces to choose from, all around $21. 395 reviews give them 4.7 stars and Fakespot gave them a B. One reviewer confirms my fabulous report, "Larger than expected (I was worried) and soft–and fabulous!" while another gives the great suggestion that in addition to you, these make great teacher gifts, "This is a great gift for your children's teachers, btw. Surprise them with a school delivery. This is a nice hug and a thank you. You can't go wrong."
The executive house cardigan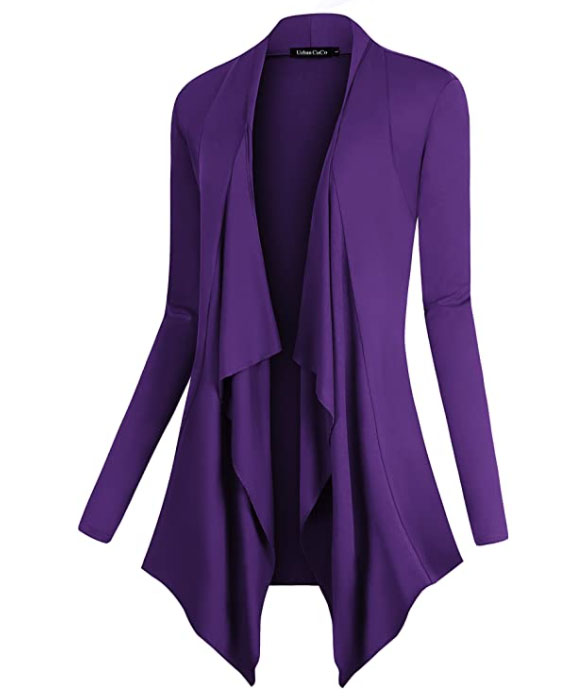 My mother got me this last year and I cannot tell you how much this exerts my Empress of the Temple attitude to the rest of the minions who live here. It's lightweight fabric, so it's comfortable while working from home, but the tailored fit and flare of the jagged hem just screams Boss Witch. It comes in 22 Yes Ma'am! colors. (I have the purple because, you know, royalty). This has over 11K reviews and 4.2 stars on ReviewMeta. Reviewers say it's a fave, "The best cardigan I have ever had in my closet, and holds up well, " Washed and worn many times over and they kept shape, didnt wrinkle and look great with trendy jeans and a nice blouse or a simple tee." I concur with all that.
A crossed "diamond" ring in silver, rose gold or yellow gold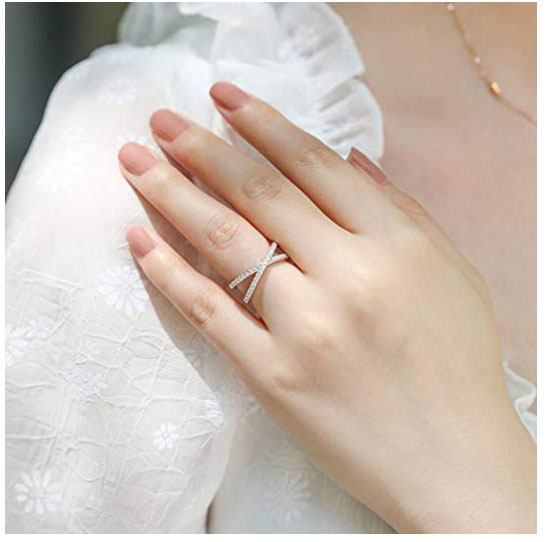 We are going to need some bling if we are going to do this thing. Full transparency, I don't have this exact ring, but I have one just like it and I love it. I got it for my middle finger and I love how it looks. With the thin bands of silver with cubic zirconia crossing, it's both delicate and dramatic at the same time. Just enough to give your hands pizzazz when you're making a point (especially when you are making certain points with your middle finger) but not distractingly big. 364 reviewers gave this 4.4 stars and Fakespot gave it a B. Fancy fans said it looks snazzier than what you pay for it, "This looks much more expensive than what it costs," and that it doesn't lose it's zazzle, "I've wore it everyday for the last 6 months and it still looks brand new! " Go get yo'self some!
And, this simply would not be a Hecate GiftList if it didn't have my numero uno indulgence: BOOKS! Here are the ones I have gotten (so far) this year. I haven't read any of them yet but they all came highly recommended:
Mexican Gothic by Silvia Moreno-Garcia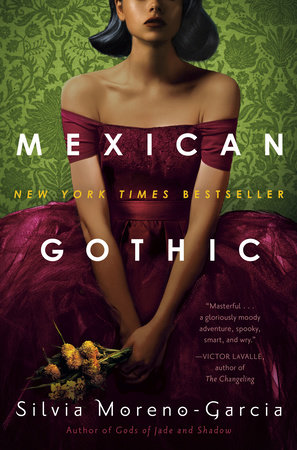 Everyone is talking about this book and it's already being developed for a Hulu limited series. NPR's Fresh Air said about it, "An inspired mash-up of Jane Eyre, Ann Radcliffe's The Mysteries of Udolpho, Dracula, Rebecca and that 1958 classic sci-fi movie, The Blob . . . Inventive and smart, [Mexican Gothic is] injecting the Gothic formula with some fresh blood." Protagonist Noemí Taboada heads off to High Place, a mysterious house in the Mexican countryside after her recently wed cousin writes to her begging her to save her from imminent doom. And then their seductive, standoffish heirs and lurking shadows, plus the house might be alive – I mean come on! This actually arrived unwrapped and I rationalized for days that that meant I got to read it before my actual birthday. I was overruled. *ahem* Who is the g-d Empress 'round these parts? Mexican Gothic has 3.75 out of 5 stars on GoodReads.
Plain Bad Heroines by Emily M. Danforth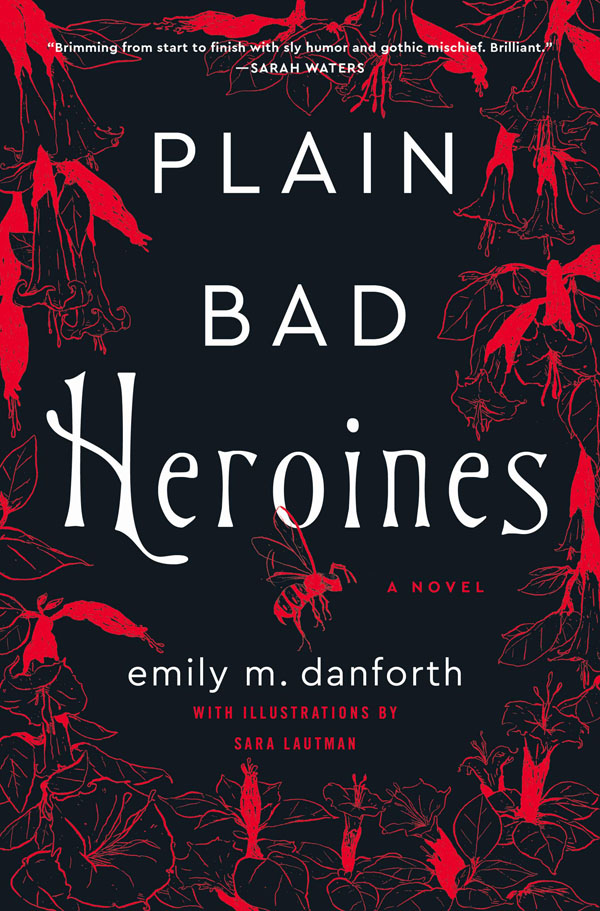 T. Fanty recommended this one to me and I know my mom bought it for me (she always gets me what I ask for). It's still under the birthday tree, to be unwrapped at my party on Saturday, but I've been asking for it for a while now. The blurb on this is: "The award-winning author of 'The Miseducation of Cameron Post' makes her adult debut with this highly imaginative and original horror-comedy centered around a cursed New England boarding school for girls—a wickedly whimsical celebration of the art of storytelling, sapphic love, and the rebellious female spirit." The Washington Post said it was, "A delectable brew of gothic horror and Hollywood satire." Heroines earned 3.73 out of 5 stars on GoodReads.
Piranesi by Susanna Clarke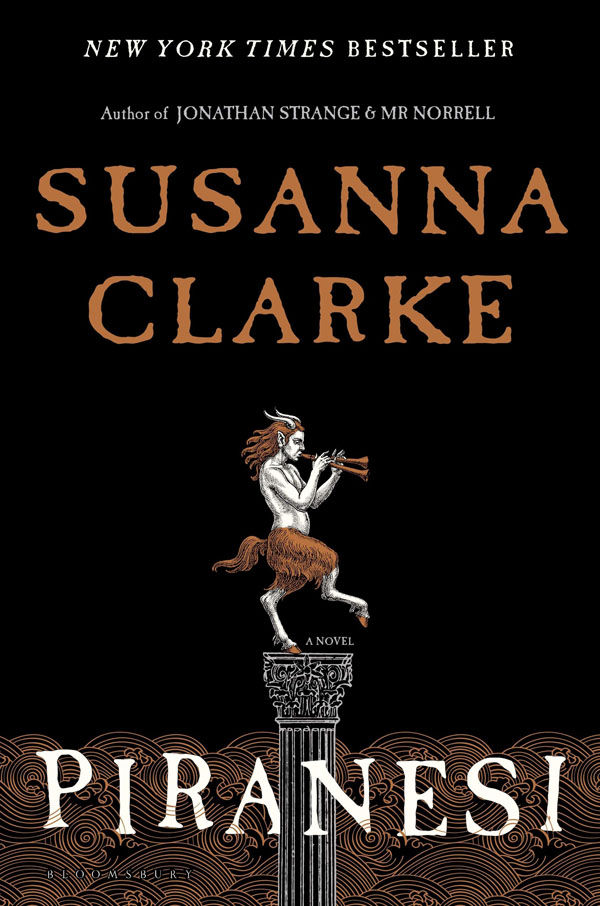 I'm new to Susanna Clarke. The Professor got this for me after his co-worker raved about it at a staff meeting. I read the write up on this book and it sounds like something I'd like. Once again, the story deals with a weird house and I love when the house is a central character. I was really encouraged by all the comparisons to Neil Gaimain's The Ocean at the End of the Lane, which I adored. It's heralded as, "an intoxicating, hypnotic new novel set in a dreamlike alternative reality," and earned 4.3 stars out of 5 on GoodReads. I'm hopeful. My only hesitation is I was convinced I needed to read Clarke's first book, Jonathan Strange & Mr. Norrell, prior to reading this and I am having a very hard time getting into it. We'll see.
Last, but never least – The theme of my party on Saturday (yes, a party. Full costume. Three-course meal. Dancing. Six guests – Me, my husband, my kids and my dogs – in my living room) The Great Gatsby by F. Scott Fitzgerald, in honor of it becoming public domain this year. Always the Diva of Divas.