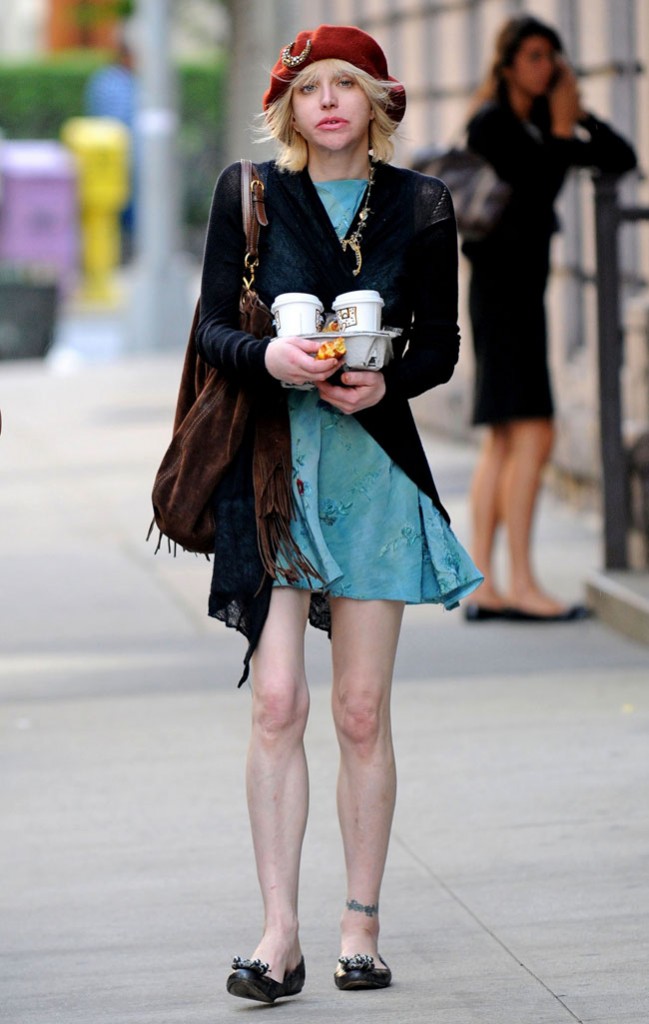 Courtney Love, the insane too-skinny pill addict who once posed for a photo in which she cradled a dead look-alike of her deceased husband, Kurt Cobain, has compared users playing with the new Guitar Hero avatar of Kurt to committing "necrophilai" [sic] and to "raping me and my family mother in law child" whatever that means exactly. You can read some of her tweets on the matter if you have a high enough tolerance for crazy. Love is apparently in a dispute with her dead husband's ex Nirvana bandmates over their decision to license Kurt's image for use in the popular home video game. Idolator breaks down the controversy and explains Love's confused outrage: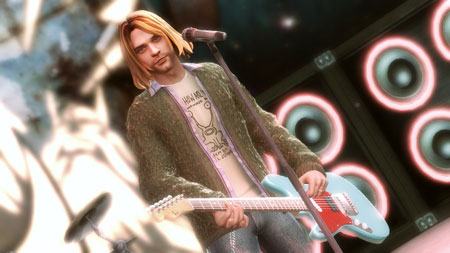 Were you kind of cheesed off when you found out that the Kurt Cobain avatar in the forthcoming installment of Guitar Hero would be able to sing songs by the likes of Bon Jovi and Bush? Well, it turns out that Kurt's widow Courtney Love is none too pleased about the development either, as evidenced by a string of Tweets she sent earlier today that complained about this appropriation of her husband's license.

It all started when rock journo Everett True got cranky about the Kurt-Guitar Hero synergy on his blog a few hours ago, calling Love and Dave Grohl—who he blamed for this fully—"F*cking corporate c*ck-sucking memory-destroying fret-wanking MTV-supporting fame-chasing money-grabbing grave-turning publicity-loving vacuous spoiled jaded cunting rock wh*res.". He mentioned Love by tweet-ID while linking to this blog post on Twitter, and she fired back over a series of 140-character missives:

"when did @everetttrue get bitter, i own my rage but im not yet bitter, and if you think for one second from the lunchbox and now this..NO"

"the goddammed Lunchbox was it for me i get crucified over Converse shoes i didnt approve and stood it, then spy a lunchbox and nowGHERO?NO!!"

"btw @everetttrue Jack f'ing White your personal god is doing Ghero, do you think they told me that this mf*cking avatar's(badenuff)"featur"

"yeah Jack WHite,Dylan,Petty,Kings of Leon, i dragged my ass and never signed of on the avatar, let alone this f*cking"feature"i have NO say"

"correction i do have say, theres been 4 breaches of a very strict contract, eg i was forced by lying bankerlawyers to sell some publishing,"

"wich forces me to lose some power, the loser bully who put money in the bank commissioned illegally a child and then stole every pennydid it"

"and @everetttrue he did it in breach of contract if you had listened to my ranting raving "bizarre"etc youd see that i speak only the truth"

There were also a few gratuitous Dave Grohl insults, just 'cause. I guess what she's trying to say is that she didn't sign off on this, and her being crucified in the blogosphere is off the mark? Let's see what the folks at CLTranslated think:
"i may have been forced by some lying lawyers to sell some publishing, but i never signed off on this guitar hero thing. breach of contract!"
[From Idolator]
Oooh I'm so glad that Idolator included that link to CLTranslated! I've never heard of it before, but it's a Twitter account with the tagline "Basically, I translate Courtney Love's tweets into plain English for the rest of the world." Even with a human filter, Love's tweets still don't follow any kind of order or make much sense.
Courtney also got all up in arms a couple of years ago about some Doc Martens ads that featured Kurt and other rock stars of late as angels. At that time Courtney actually had a publicist who was able to issue a very coherent statement about how his client wasn't informed about the use of her late husband's image. Celebrity Tweet tells us that Love is the most second most prolific celebrity tweeter of the day and has penned a whopping 91 tweets and counting so far today. She's behind Tila Tequila in her lame attempt to make #Chargers Suck a trending topic, though. Tequila has posted 141 tweets so far. So who's crazier? As JayBird has said many times before, someone should unplug Courtney Love's Internet. I would include Tila Tequila in that statement, but I kind of like how she's incriminating herself in whatever case she would have had against Shawne Merriman.
Courtney Love is shown out in NY on 8/31/09. Credit: ANDERSON/VILA/bauergriffinonline.com. Screenshot from Guitar Hero thanks to Idolator.