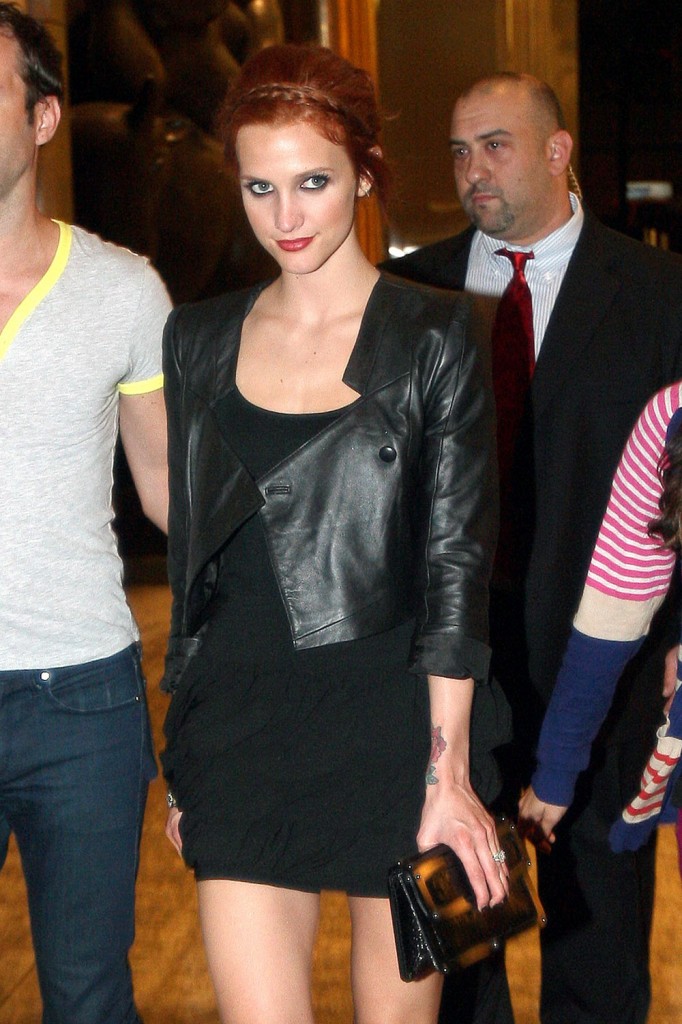 Ashlee Simpson makes a kind of bitchy comment about her sister, Jessica, in an interview in the new issue of Redbook Magazine. Ashlee, 24, reveals that her older sister Jessica, 29, is "always saying 'oh, I want a baby!'" Given how much of an oversharing, open book Jessica usually is I would think that Ashlee would realize that if her sister is so eager to have a kid she should be the one to tell the press, not her. Maybe Ashlee knows this and is trying to get her digs in at Jessica somehow. It just doesn't sound like a friendly comment to me, especially when Ashlee says she doesn't envy Jessica's freedom at all, but it's hard to tell from this excerpt I guess:
Ashlee Simpson may only be 24, but she's got one thing older sis Jess wants: a baby.

"She's always saying, 'Oh, I want a baby!' " Simpson tells October's Redbook, on sale Sept. 22. "Being a mom's so empowering and incredible. I'm one of those people who believes that life brings things to you at a certain time for a certain reason, and if you just go with it, that's where the best moments come from."

Having her son, Bronx, not only calmed down the once wild singer-turned-actress, it also helped her mature as a person, she says.

"I've grown up so much," she says. "Your body is changing, and it's such an amazing time to feel that connection … Being pregnant was the healthiest I've ever been in my life. Except for the cupcakes."

When asked about whether she envies sister Jessica, 29, for her freedom as a single gal, Ashlee responds: "I really don't."
[From People]
I don't have a sister so I don't have a lot of experience with this type of thing, but I've had similar experiences with girlfriends trying to one up me in a roundabout way. Earlier this week I heard an interview with linguist Deborah Tannen, author of the famous You Just Don't Understand: Women and Men in Conversation. She has a new book out about sisters called You Were Always Mom's Favorite!: Sisters in Conversation. Callers told some really jaw-dropping stories, both good and bad, about their relationships with their sisters. One woman revealed that her sister sniped "it's been 21 years, get over it!" when she asked her if she remembered the anniversary of the death of their sister, the caller's twin, who perished in a car accident. When compared to that incident, Ashlee gloating to the press that her sister wants a baby kind of pales in comparison. There's probably some jealousy there and I would bet that Ashlee is having serious problems in her marriage with emo-fool Pete Wentz, as has been rumored. At least she has a baby and her sister doesn't, right?
Kaiser and I were talking about this and she offered this piece of insight that sounds dead on. "Ashlee is totally being passive-aggressive in that interview. There's a lot of stuff going on in that family, mostly because Papa Joe so clearly prefers Jess."
Ashlee Simpson is shown out at Nobu on 9/3/09. Jessica Simpson is shown in that Bride of Frankenstein outfit on the catwalk in Paris on 9/4/09. Credit: WENN.com