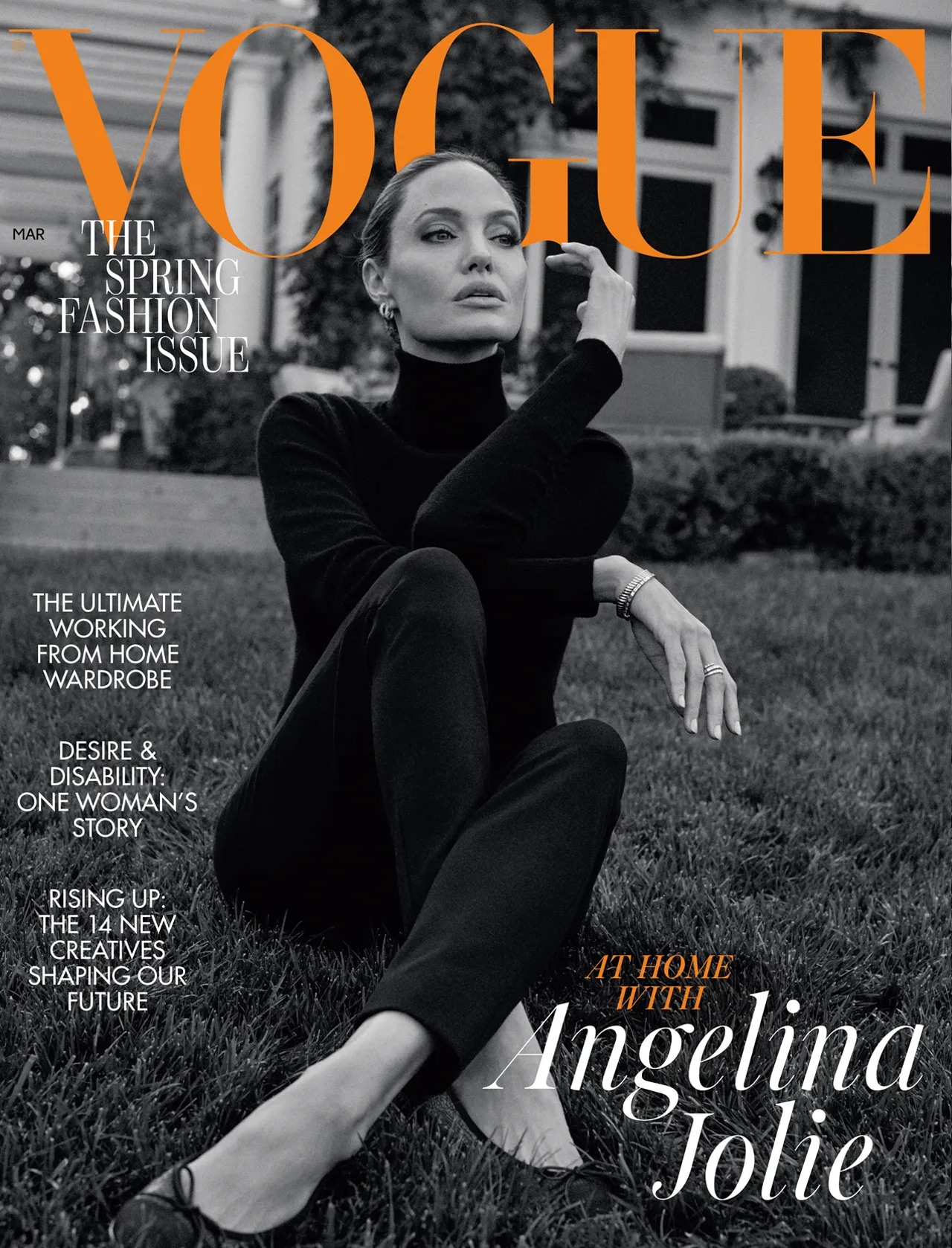 Angelina Jolie covers the latest issue of British Vogue and the photos are magnificent. The photoshoot took place at the LA mansion she bought following her separation from Brad Pitt, and it's some kind of big, historic LA property. Angelina's kids are all animal lovers, so little surprise that in recent years, the Jolie-Pitt clan has collected quite the menagerie as well, including two dogs who seemed to want to be in the editorial. British Vogue says these dogs are named Dusty and Sophia! Angelina also modeled some of the clothes in her own closet, including one caftan which makes my heart sing. "Angelina and her sack dresses" is the true untold love story. British Vogue also highlighted Angelina's charity work, and her love of vintage fashion. You can read the British Vogue profile here. Some highlights:
Her personal style: "I invest in quality pieces, and then just wear them to death. Boots, a favourite coat, a favourite purse, I don't change things often, you know? That's one of my things." Her favorite things include "a Phoebe Philo-era Céline Clasp bag, Valentino Vlogo sandals, Salvatore Ferragamo's classic wool coat, Saint Laurent jeans, The Row's Martina dress, and Gabriela Hearst's Hermina and Iris dresses." At home, it's "robes… lots of robes, and kaftans," she adds. Jolie recommends "enjoying your vintage pieces, if you have them, and rediscovering some vintage shops." Her most prized pieces worn every day say a lot about her character: her mother's Cartier watch and Guerlain beauty products, the smell of which also reminds Jolie of her.

Being at home in LA during the pandemic: "I think that like most families, we have had this bigger thing happening with the pandemic. But of course you also have these life markers. We went into it having just gotten out of the hospital with Zahara [who underwent surgery early last year], and we were so happy she was OK that we entered lockdown in a different state of mind. But, you know, there are also these other markers of life: Pax going into his senior year, but not being able to enjoy all that it is to be a senior; Zahara finally getting her driving licence, but she's taking the test with the driver wrapped in the full outfit with the masks. It's not how you imagine these moments. But birthdays go on, and I think that for many people, it's made us all feel very human together. There's something beautiful about that.

Her home, which is Cecil B DeMille's former estate: "I wanted it to be close to their dad, who is only five minutes away. I felt a little pressure moving in. Like I had snuck into where DeMille and Chaplin would hang out. I love most that there is no entertainment room, but lots of pathways and places to walk and think. I feel very fortunate we have that at this time.

She never wanted a traditional life: "Well, I was never very good at sitting still. Even though I wanted to have many children and be a mom, I always imagined it kind of like Jane Goodall, travelling in the middle of the jungle somewhere. I didn't imagine it in that true, traditional sense. I feel like I'm lacking in all the skills to be a traditional stay-at-home mom. I'm managing through it because the children are quite resilient, and they're helping me, but I'm not good at it at all…. I love them. I feel like we're such a team. It may sound clichéd, but you love and you try, and even if you burn the eggs, that doesn't matter in the end. But also, you've met our kids. They're pretty capable.

Her outlook these days: "I'm feeling that I've come through a few things. I'm trying to be hopeful. I think this is something we've all discovered through the pandemic.

Punk Rock: "Young people are engaged and ready to fight. But there is a level of misinformation we never faced growing up. We want the book to help give them the tools to strengthen their fight and empower them in a very practical way. Maybe it's just the young punk in me, but I like the spirit of the youth. I believe they can see right and wrong with more clarity. I see a lot of older people making excuses for certain behaviours, and it tends to be the younger person who is quicker to say, "But this is simply wrong, and we stand against it." I've wanted to remain that person.

On Marvel's 'Eternals': "I love this cast, and that we all came together. I signed up to support Chloé [Zhao]'s vision and Marvel's commitment to expand the way we see "superheroes". Running around in a gold bodysuit was not how I imagined my forties. But it's good crazy, I think.

Whether she's happy now: "I don't know. The past few years have been pretty hard. I've been focusing on healing our family. It's slowly coming back, like the ice melting and the blood returning to my body. But I'm not there. I'm not there yet. But I hope to be. I'm planning on it. I do like being older. I feel much more comfortable in my forties than I did when I was younger. Maybe because… I don't know… maybe because my mom didn't live very long, so there's something about age that feels like a victory instead of a sadness for me. So I like it. I'm looking forward to my fifties – I feel that I'm gonna hit my stride in my fifties. Though we were on the trampoline the other day, and the children said, "No, Mom, don't do that. You'll hurt yourself." And I thought, "God, isn't that funny?" There was a day I was an action star, and now the kids are telling me to get off the trampoline because I'll hurt myself.

She loves her kids' teenage years: "I was best friends with my mom. I loved having babies, but I love sitting up at night and talking to my kids. I like the teenage years. I like the older years. I love hanging out with them… They think that I'm a bit ridiculous, as they should. And they all know me in different ways. You know, they've all crossed into that moment when they realise that there's nothing special about me. I'm just older. I don't have all the secrets. I just mean well. I'm Mom.
I always figured that Angelina would be the "cool mom" to teenagers, the one who would stay up with them and watch movies with them and be the one they could come to about love drama and grades and friendship advice. Which is a lot like Angelina's mom was with her. Anyway, I like that she admits that everything wasn't smooth sailing, that she's taking a while to get her bearings and she doesn't feel quite okay yet. It never fails to stress me out that Angelina is so hopeless when it comes to just basic cooking stuff or as she calls it, the "traditional stay-at-home mom" stuff. She's been stuck at home in LA for a year, surely one of the kids taught her how to make sandwiches or cook pasta? It's not that hard, Angie!!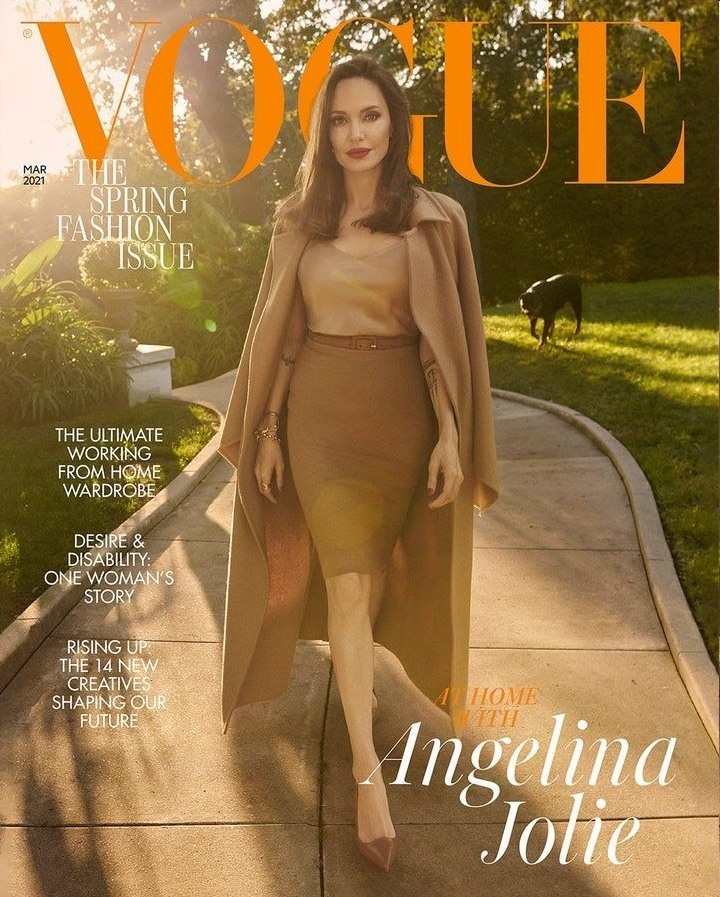 Photos and covers courtesy of British Vogue.