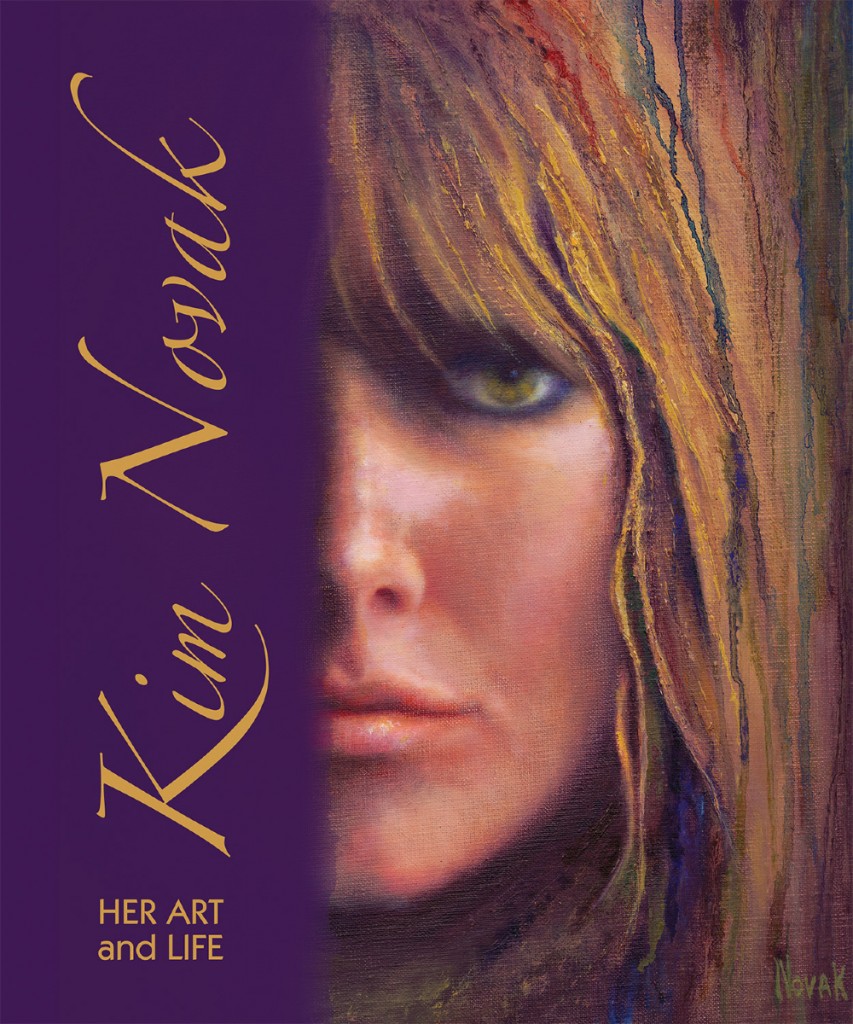 My father said the name Kim Novak so many times when I was growing up, I began to think she was related to us. Kim made movies throughout the 50s and 60s. When I say she made movies, I mean movies. Films like Picnic, Pal Joey, Bell Book and Candle, Of Human Bondage and, of course, Vertigo. She continued to work into the 90s, but by the 1970s, the shiny veneer of Hollywood had already begun to flake off for Kim and she planned her exit strategy. Kim is mesmerizing on screen. In addition to her talent, she possessed a breath-taking beauty. And she was a powerhouse both on and off the screen. Not only did she strike to protest her salary in 1957, she famously stood up to powerful studio head Harry Cohn twice. The first time was when she refused to change Novak to Marlowe. She also told him to stuff it when he told her she couldn't date Sammy Davis, Jr.
Tired of being told to "be seen not heard" in Hollywood, Kim returned her original loves: art and animals. Successfully living outside Hollywood for decades, Kim still paints, lives with her animals and thrives on the Oregon Coast. She has just released an art book, Kim Novak: Her Art and Life. Recently widowed, her second husband, Robert Malloy, passed last November, Kim's looking back on her extraordinary life.
On putting out an art book: I've never done one of those tell-all books that they wanted me to do for so long, and I thought this is the kind of book I'd like to do. Actually, I had written my autobiography and it was almost complete but I had a house fire and the house burned down and I made no copies. I just couldn't go through it again because I had spent so much time. But it was okay because it was a catharsis just to do it

On Hollywood: In Hollywood a lot of people assume who you are, because of the character you play, but also just because of who they expect you to be, how they expect you to dress. It influences you because if you're in some gorgeous sequined gown, you can't run along the ocean and run on the beaches.

I kept feeling like I was going deeper and deeper, lost in almost like a quicksand, where it's swallowing you up, your own personality, and I'd started to wonder who I am. I realized needed to save myself.

On leaving Hollywood: I needed the Pacific Ocean to inspire me, the animals, the beauty. I wanted to live a normal life and a life with animals.

On returning to what she loved: My teachers were the animals, not just dogs and cats, but other animals, horses and llamas, whom you have to meet half way, because they're not ready to accept humans. I had to learn to win them over. They understand a person who's genuine so I had to become more real and that made me rely on my inner self — and that also encouraged me to paint. Everything seemed to flow from that

On age: I don't feel 87. I don't keep tract of the time. If I did, I'd be an old lady and I'm not an old lady. I'm still riding my horse. I stay as healthy as I can.
Kim is a lot more Zen than I would be if I wrote an entire book and lost my one and only copy to a house fire. I can see her angle of it being cathartic to have written it out. And then it was burned, which many cultures believe is the way to release those memories. But Kim holds so many fond memories, I would want to share them. She actually liked working with Alfred Hitchcock, not many women did. She remained friends with many of her exes, including Sammy, whom she visited right before he died. She also remained friends with her first husband for his entire life, even though they were only married a year. She and Jimmy Stewart remained lifelong friends as well. Kim sounds so grounded and if you look through the art on her website, it's amazing. Maybe she's on to something, letting the animals teach us how to be better people. It certainly worked for her.
I love Kim's comments on age. I know a few octogenarians who feel the same way, they aren't old people, the people in the mirror are old people. Just reading what she says here, it's clear Kim has so much life left in her. You can buy copies of Kim's book at The Butler Institute.
Photo credit: Butler Institute of American Art and Getty Images