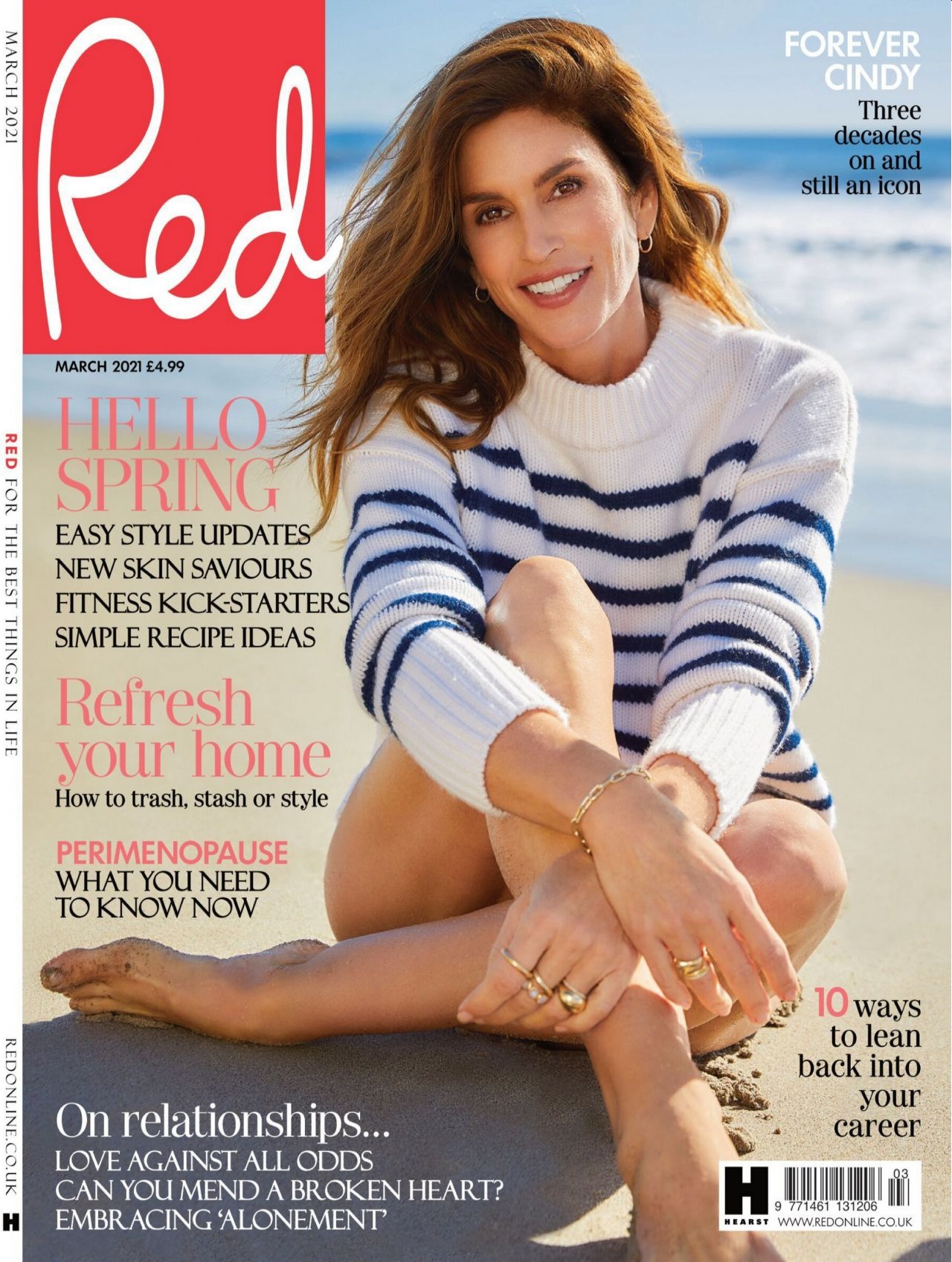 Cindy Crawford covered a recent issue of Red, not really to promote anything, just to model and talk about her life. She's 54 years old and she's been able to shepherd her daughter Kaia into a pretty successful modeling career. Cindy hasn't had the same luck with her son Presley, who seems to give off Rebel Without A Beach House vibes. Still, I actually do think Cindy is probably an okay mom. She seems very involved with Presley and Kaia and their careers, and I don't really get the feeling that she's living vicariously through them. She knows she was the OG. Some highlights from her Red interview:
The secret to her marriage: 'Friendship. With my husband, I feel even if we weren't together, we'd be friends. Of course, you have to have sexual chemistry, but our relationship is based on friendship and mutual respect.'

Parenting skills: 'Parenting is the hardest and most rewarding job. Rande and I made our kids feel included. If we had friends over for dinner, they sat with us and I think that's served them well. They've always been comfortable being around older people and asking questions. What could I do better? Probably not offer help unless it's asked for. You want to do everything for your kids, but when I stand back and they come to me for advice, they're more likely to listen. When I offer it unsolicited, it just annoys them.'

Pressured into photoshoots: 'I have done a lot of nudes and swimsuit shoots, but the ones you regret are the times you feel pressured in the moment. When I did Playboy with Herb Ritts, I felt totally comfortable. I could have killed the whole shoot if I wanted and that allowed me to do it in a way that felt safe. But there were times when I haven't felt I had a voice. I did the Sports Illustrated swimsuit issue early in my career and the woman overseeing it was very controlling. I remember getting to Thailand and she wanted me to wear a turban for the first shot. At the time, I thought, I am not sure the guys who read Sports Illustrated think that turbans are very sexy, and I voiced that, and she did not like it. I ended up only having one small picture in the magazine. I thought, "Wow, I'm being reprimanded for speaking my mind – I'm not really down with that."'

Her movie debut: 'I did a movie called Fair Game. I never really wanted to be an actor, but a guy I met, who was a producer, begged me to be in it and kept upping the price until I thought, "I'm an idiot to say no." But I should have said no, or prepared myself better. The valuable takeaway was that I'm very comfortable in front of the camera, but only when I'm being me. But that was a gift, because as a model, a lot of people send you scripts and I was tempted – I was dating an actor at the time – but I let all that go and I realised that as much as I love watching actors, I don't think I am one.'
I like what she said about Fair Game because it gave me so much nostalgia for that era, when people expected models to transition into acting, and very few of those models were any good at it. In the 1980s and early 1990s, the models were the ones bringing all the glamour, while actresses just… were not, for the most part. Anyway, I remember how Cindy was mocked for Fair Game and I'm enjoying her insistence that the producer just kept offering more and more money. Something else to think about: after Cindy did her Herb Ritts photoshoot in Playboy, she booked a million jobs. That shoot made her incredibly famous, even more than anything else she had done at the time.
Cover courtesy of Red.